By Nancy Brown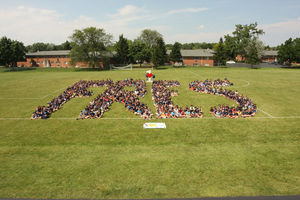 Kids growing up in Brighton, New York know they'll be spending the third, fourth and fifth grade at French Road Elementary School.
And they know that every February they'll have a celebration like nowhere else.
French Road Elementary School has become the epicenter of the Jump Rope For Heart universe — a small school using this fundraiser to make a big difference in the fight against cardiovascular diseases. Folks in this community have been doing it since the 1980s, long enough that children who once jumped are now watching their children jump.
Taking on heart disease and stroke — the leading causes of death in the world — has become a rite of passage for kids in this Rochester suburb.
"One of the first questions the incoming third grade students ask is, 'When is Jump Rope For Heart?'" said physical education teacher Mark Salerno, one of the event's main organizers. "It has trickled from generation to generation, sibling to sibling, cousins to neighbors. They can't wait to be part of it. They are so excited about being at French Road and finally having the opportunity to do this."
While French Road's fundraising totals are amazing, what makes their story so powerful is the way the event has become part of the framework for the school year. From planning the three-day extravaganza to the ongoing lessons of what it means to lead a heart-healthy lifestyle, Jump Rope For Heart is a regular part of the daily school routine.
"The common way to describe our event is that success is breeding success," said Rick LaPaglia, a physical education teacher in his 23rd year of overseeing French Road's Jump Rope For Heart program. "The kids want to participate and want to enjoy it. And we get to further explain the importance of being healthy."
Hopefully your local elementary is already participating in this program, and your local middle school participates in the next step up, Hoops For Heart. Regardless of what fundraiser your community supports, French Road's formula is clearly worth modeling.
First and foremost, it's fun. LaPaglia, Salerno and crew make sure of it.

PE teachers Mark Salerno (left), Rick LaPaglia and Ella Schultheis, who've run French Road's event the last 16 years
The months of anticipation certainly help, as does the fact it's held after school in the gym, with each grade getting its own afternoon all by itself. This school year, it will be Feb. 10-12, with fifth graders starting and third graders finishing.
"It's not really an event — it's three events," said principal Matt Comeau, who is in his third year at the school. "What really amazes me is that it's not a big disruption. It's hard to imagine that's possible with something this massive, but isn't."
Maybe that's because organizers have thought of everything.
Kids are divvied into six-person teams with adults ensuring that even the shyest child feels wanted. Of the 820 kids in the school last year, more than 600 participated, a phenomenal rate of about 3 in 4.
Each team gets its own area of the gym that's sectioned off by tape, marking it as their turf to patrol for 1.5 hours.
"They get to break rules and eat and drink in the gym," LaPaglia said. "Only healthy snacks, though!"
(In the 1990s, well-meaning parents made the ill-advised decision of having greasy, gooey pizzas delivered to the gym; the next year, another set of parents brought donuts. Those innocent mistakes live on as wonderful teaching tools. "We tell those stories to the kids and they laugh; we have to say, 'It's true!' They giggle, then we focus on what it means to eat healthy," LaPaglia said.)

Throughout the event, there's plenty of jumping and sweating and laughing. Then there are the interludes — dances like the limbo, the "Cha-Cha Slide," the "Macarena" and more. Quite often, local celebrities get in on the action.
"The kids get excited when nearly 7-foot basketball players jump with them," Salerno said. "Spikes, the mascot of our minor-league baseball team, he comes from time to time and does the dances."
"They also like it when the TV stations come around with cameras," LaPaglia added with a laugh.
The excitement — so draining that one year a tired child sprawled out on the floor and fell asleep amid the cacophony around her — is the foundation for everything else.
A second pillar is the lessons kids learn. They're taught the importance of exercise and a proper diet. It all facilitates conversations about what it means to make healthy choices.
The next layer is philanthropy and community spirit, ideals that go hand-in-hand.
Seeing their neighborhood rally together for a good cause is important in the development of children. Plus, they have the opportunity to help others, which hopefully sets them on a path toward becoming generous adults.
Here's how generous this community is: Over the past 30 years, French Road students have raised a whopping $1.5 million, making it the top earner in the program's 35-year history. And they've done it the hard way. Contributions come almost strictly from family, friends and neighbors. Last year, they raised $107,415 without a single donation larger than $1,000.
"It's about kids being excited and getting lots of people to give a little," said Salerno, whose daughter jumped rope at French Road. "The kids are genuinely interested in wanting to save a life and be part of this."
When LaPaglia arrived in 1993, French Road already was approaching top status in New York, but nowhere near the national rankings. Why do they do it?
"When we ask kids in classes if anyone in their family has been affected by heart disease or stroke, every hand goes up," he said. "Everyone in school knows somebody affected. Simply put, that's the reason we do it — to prevent these things from happening.
"I like to tell the kids that at some point, maybe in our lifetime, enough research will be done, enough progress will be made, to prove there is a cure. I like to tell the kids, `You're going to be a part of that. You're going to know that what I did in elementary school helped make a difference.'"

Read more here:: Huffintonpost