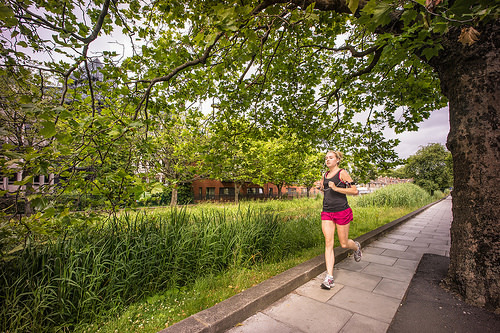 Summer might be winding down, but you'd never guess it from this set of sunny songs. The top 10 list below kicks off with a remix of Calvin Harris' ode to the warmest season and continues to heat up from there.
The biggest winner of the month is Nicki Minaj — who appears once with some help from Sir Mix-a-Lot and again alongside Jessie J and Ariana Grande. Her first song "Anaconda" is perfect for starting a workout — with its abundance of energy and attitude to spare. Meanwhile, her collaboration "Bang Bang" is the month's fastest cut — with a tempo of 149 beats per minute (BPM) — making it ideal for running.
If your playlist is already heavy on Top 40 tracks — and you're looking to branch out — the last few weeks have provided a number fun, accessible tracks that have been making more noise in the clubs than on the radio. To that end, you can check out the latest in Nero's string of nightlife epics and a remix of Robyn and Röyksopp's latest single. The hook of the latter finds Robyn announcing that she's going to do what she wants — and then do it again. So, if you're looking for a go-to track when your energy is running low, this blast of assertive enthusiasm might be just what you need.
Generally speaking, the competition between acts to release the biggest song of the summer should have died down by this time of year. Nevertheless, the last few weeks have seen the release of one anthem after another. If you take advantage of this bumper crop of pop and get yourself outside for some exercise, you just might be able to squeeze an extra month out of this summer.
Here's the full list, according to a poll on Run Hundred — the web's most popular workout music blog.
Calvin Harris – "Summer (Twoloud Remix)" – 128 BPM

Nicki Minaj – "Anaconda" – 130 BPM

Röyksopp & Robyn – "Do It Again (Zoo Station Radio Edit)" – 125 BPM

Nero – "Satisfy" – 124 BPM

Meghan Trainor – "All About That Bass" – 134 BPM

Neon Hitch – "Yard Sale (Radio Edit)" – 128 BPM

Maroon 5 – "Maps" – 120 BPM

Pharrell Williams – "Come Get It Bae" – 120 BPM

Jessie J, Ariana Grande & Nicki Minaj – "Bang Bang" – 149 BPM

Cash Cash & Bebe Rexha – "Take Me Home (Chainsmokers Remix Radio Edit)" – 129 BPM
Check out this month's top 10 workout songs on Run Hundred: www.RunHundred.com.
For more by Chris Lawhorn, click here.
For more from HuffPost Workouts, click here.
Read more here:: Huffintonpost