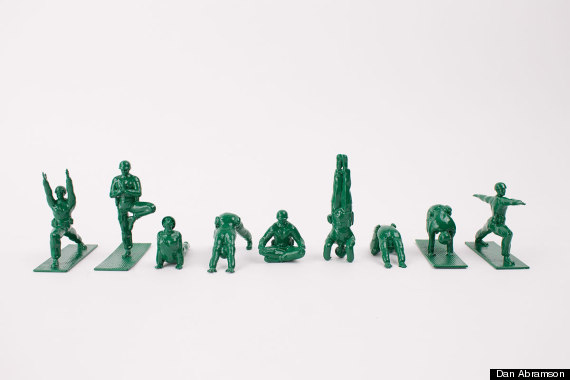 Walk into any yoga studio and chances are the majority of students will be female. But it doesn't have to be this way! After all, the numerous benefits of yoga don't discriminate based on gender.
Enter Dan Abramson and his army of Yoga Joes, green plastic soldiers molded into yoga poses. Abramson is on a mission to make yoga more appealing and accessible to men everywhere.
Abramson told The Huffington Post that men who are interested in yoga have to overcome a stigma. "It is still often written off as a 'chick sport' because women are the ones you usually see carrying the yoga mats. But the truth is it's fantastic for both men and women."
According to the Kickstarter campaign Abramson started to fund this project, Yoga Joes are "peaceful action figures designed to inspire children, men, and military veterans to try yoga."
Yoga has become increasingly popular with professional athletes (LeBron James is a fan), and it can have huge benefits for veterans struggling with PTSD. Scientists say that trauma-sensitive yoga, which focuses heavily on stretching, breathing and meditation, can help to calm the part of the brain that deals with severe stress.
Abramson also hopes the toys provide a bit of comic relief since, as he says, "yoga culture seemed too serious to me."
The toys serve as models for accurate yoga poses, but Abramsom also hopes that "people find them funny as hell."
Prior to Yoga Joes, Abramson launched Brogamats, a line of yoga products that would fit in any man cave, including yoga mat bags that look like burritos, archery quivers, and ninja sword holsters.
"For some reason carrying a giant burrito bag on your back makes it okay to give a go at an unfamiliar sport," he said.
We don't care what gender you are, don't tell us you wouldn't proudly tote one of these around.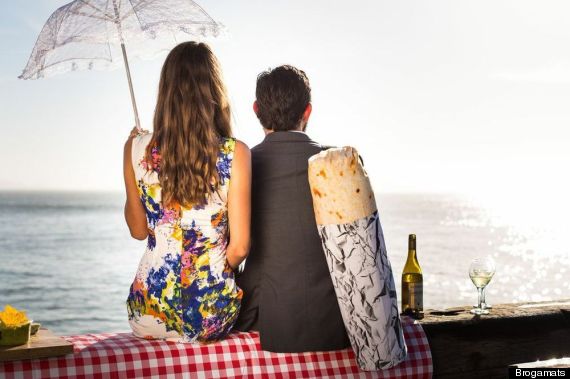 So, how 'bout it, men? Ready for some sun salutations?
H/T Colossal
Read more here:: Huffintonpost