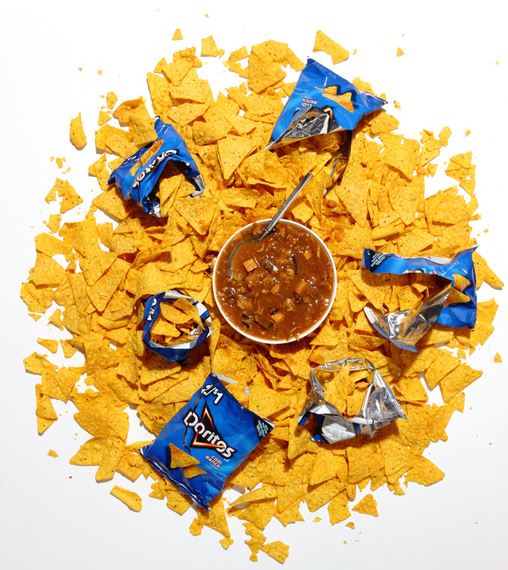 Most of us have heard that it's a good idea to "cut down on sodium," but besides making sure the top to the salt shaker is screwed on properly, what does that really mean?
Well, first, realize that salt is an essential mineral that our body can't function without. Current dietary guidelines for Americans recommend that adults in general should consume no more than 2,300 milligrams of sodium per day (1,500 if you have high blood pressure, are African American, or are over age 51.)
If 2,300 milligrams sounds like a lot, it is. There's an estimated 189 milligrams of sodium in one of those little salt packages you get at McDonald's. So if you downed a dozen of them, you'd still be within your daily sodium intake — assuming you didn't eat anything else all day, which you probably wouldn't, because you'd be too busy trying to drain your swimming pool with a flexi-straw.
But a dozen little sodium packages is nothing when you consider what you're getting from these foods, each of which seem saltier than Sarah Silverman's pillow talk. You'll find more details at
10. Chili's Boneless Buffalo Chicken Salad
3,730 milligrams sodium (And you thought you were doing the right thing ordering the salad.)
9. Cheesecake Factory Sunrise Fiesta Burrito
With 4,600 milligrams sodium, this breakfast burrito packs almost twice the daily recommended sodium allowance. If you like to start your day off bloated, this is the burrito for you.
8. Chili's Chicken Crispers — Honey Chipotle Style
4,910 milligrams sodium, coupled with its 81 grams of fat, you're basically eating heart disease. Plus, it'll ruin your sex drive, unlike these libido-boosting foods.
7. Applebee's Sizzling Skillet Shrimp Fajita
5,140 milligrams sodium! How Applebees managed to turn shrimp and sautéed vegetables into one of the saltiest foods in America may be the eighth wonder of the world.
6. TGI Friday's Jack Daniel's Ribs and Shrimp (Without Sides)
5,140 milligrams sodium, if you dare to have fries with that you'll be tacking on another 980 milligrams of sodium. Don't think ordering a diet soda will be a good idea, either, thanks to this worrying news.
5. Chili's Texas Cheese Fries
A full order has 5,310 milligrams sodium and 119 grams of fat. Better wear your sweatpants, you're going to need them.
4. On the Border Firecracker Stuffed Jalapeños With Original Queso
5,760 milligrams sodium, never mind the firecracker, if you eat this you'll be the one blowing up. Maybe use these tricks at Chipotle instead?
3. PF Chang's Dan Dan Noodles
6,190 milligrams sodium, asking for the low sodium soy sauce won't do you any favors.
2. Applebee's Appetizer Sampler
6,260 milligrams of hypertension for you.
1. Saltiest Food in America: PF Chang's Hot and Sour Soup Bowl
7,980 milligrams of sodium!
Yes, congratulations. If you eat this, you'll have slurped down the sodium equivalent of 44 individual bags of Doritos Cool Ranch Tortilla Chips.
So be warned! Or better yet, make some amazingly delicious, but somehow nutritious, blueberry pancakes, from our brand new e-book "Cook This, Not That: Greatest Weight Loss Recipes," ready now for download, right to your phone or desktop! It's nostalgia without the guilt.
SAVE $$$ AND CALORIES NOW! For the latest food swaps and weight-loss tips, visit the all-new Eat This, Not That! and sign up for our free newsletter now.
Read more here:: Huffintonpost