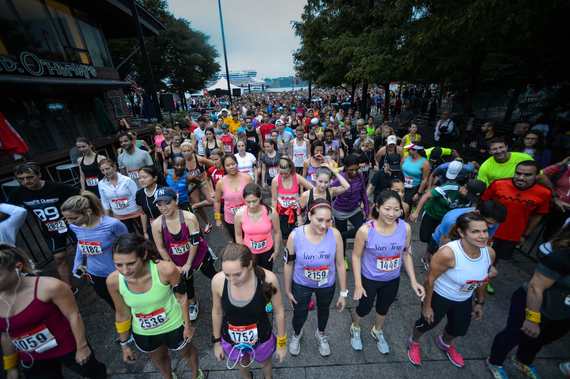 By Jill Percia, beauty editor for Women's Health Magazine
Run, Beauty, Run!
On Sunday, I laced up my sneakers and hit the road for RUN 10 FEED 10, Women's Health's annual charity initiative to help feed the hungry in America. Not only was it great to see everyone come together and sweat it out for a great cause, but I beat my personal record and had a blast. But while fitness is one of my passions, I'm a beauty girl through and through… so that means making sure my skin and hair held up as I crossed miles 1 through 6.2 and jetted past the finish line.
You might be thinking that it's silly to worry about your looks when you're running a race (or hitting any other workout, for that matter), but keeping your beauty routine in mind pre and post run can be healthier and beneficial in the long term (and, of course, help you look gorgeous in those post-race photo ops). Here's what you need to know.
Pre-Race:
Start with a clean slate. Sweat and oil mixed with makeup like foundation, concealer, powder, bronzer, or blush is a pore-clogging recipe for pimples. "A bare face doesn't breed as much bacteria," says Francesca Fusco, M.D., an assistant clinical professor of dermatology at Mount Sinai School of Medicine. If your skin is oily or acne-prone, swipe your face and neck with an antiseptic wipe beforehand to remove any dirt and oil. I like Dermalogica Skin Purifying Wipes, (19, dermalogica.com). I put on some waterproof mascara, too. (Fusco gives waterproof formulas the green light.)

Get your SPF on. Whether your race starts at 7 a.m. (like mine did) or 3 p.m., sun protection is a must. "One concern I have for runners is sunscreen mixing with sweat and dripping into the eyes, causing stinging," Fusco says. She suggests stick-based, water-resistant formulas for the forehead and the area between the eyes because they're more likely to stay put. Try Neutrogena Pure & Free Baby Sunscreen Broad Spectrum SPF 60 (8.99, at drugstores). For everywhere else (the rest of your face/arms/exposed body parts), use your favorite water-resistant sunscreen — SPF 30 or above.

Sweat-proof your strands. If your hair is shoulder length or shorter, grab a hair tie and make a ponytail as high as you can. If it's long like mine, make a high bun. The goal is to keep as much hair as possible off your sweaty neck and back so there will be less damage control (i.e., drenched tresses) to deal with when you're done.

Load up on lip balm. Your lips don't have any oil glands, so they're more likely than the rest of your facial skin to dry out, especially as you're huffing it out on the road. Not only that, but running with parched lips is the pits. On race day, I used ChapStick Dual-Ended Hydration Lock Day & Night, 3.69, at CVS), which has SPF 12.
Post-Race:
Hydrate. This is a no-brainer for your body, but cold (not icy) water can also help your skin. "Cool compresses and drinks are vasoconstrictors, so they help reduce flushing," says Fusco. Grab a bottle or two at the finish line, drink up, and hold the bottle to your face between sips.

Be cool… as a cucumber. This ingredient also helps quell redness and overheated cheeks. A solid soothing pick: Yes To Cucumbers Facial Wipes, 5, yestocarrots.com.

Pony down. Did you know that keeping your hair in a tight ponytail for too long can cause breakage? Undo your hair tie, shake out your hair with your fingers, and let it dry naturally (you may be tempted to blast sweaty roots with dry shampoo, but don't just yet: Its powdery formula plus wetness don't mix).

Ease achiness. Magnesium sulfate (you might know it as Epsom salt) is a stellar sore-muscle soother — and along with my trusty foam roller, it's my new post-workout go-to. When you get home, add two cups of the salts to running bathwater, then soak for 20 minutes. Try Dr. Teals Epsom Salt Soaking Solution, 5.99, at Target).
Jill Percia is the Beauty Editor for Women's Health magazine. Jill's responsibilities include writing front-of-book articles for the beauty section of the magazine, beauty features, and posts for the Beauty Lab blog on WomensHealthMag.com. Prior to her role as Beauty Editor, Jill was Women's Health magazine's Associate Beauty Editor. Jill regularly appears on television news outlets including New York Live, PIX11 Morning News, Fox & Friends, Wake Up with Al and Inside Edition to share the latest tips and trends in beauty.

About RUN 10 FEED 10: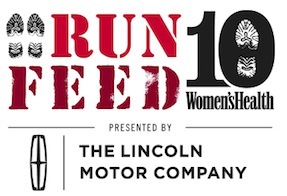 Women's Health and FEED host the 3rd annual RUN 10 FEED 10 national philanthropic race series to help fight domestic hunger. The concept is simple: register to run a 10K and feed 10 people in your local community. RUN10 FEED10 will host timed races at New York City's West Side Highway (9/21), Chicago's Diversey Harbor (10/19), and across the famed Golden Gate Bridge in San Francisco (10/26). Additionally, runners can participate in "Fun Runs" in cities including Minneapolis, MN, Denver, CO, Houston, TX, Los Angeles, CA, Phoenix, AZ, Atlanta, GA, Boston, MA and Washington D.C. If runners do not live in one of the Women's Health host cities, they can still participate by registering on Run10Feed10.com and using the RUN10 FEED10 training app, created by WalkJogRun, to plot their own course and run their own 10K anytime. To find out more go to run10feed10.com.
Read more here:: <a href=http://www.huffingtonpost.com/womens-health/post_8364_b_5890032.html?utm_hp_ref=health-fitness&ir=Health+and+Fitness class="colorbox" title="Pre- and Post-Race Beauty Tips From Women's Health Magazine" rel=nofollow>Huffintonpost