By Sarah Klein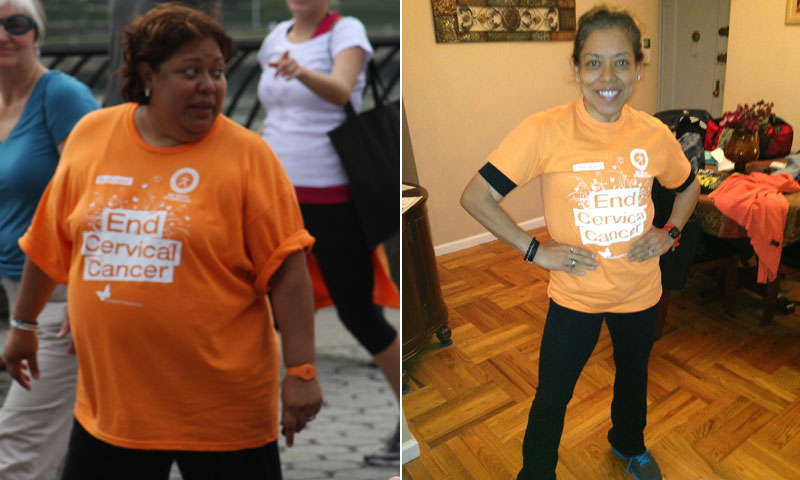 Name: Patti Murillo-Casa
Age: 51
Height: 5'3″
Before Weight: 238 pounds
How I Gained It: In 2008, three months after I retired from the NYPD, I was diagnosed with stage IIB cervical cancer. After my cancer battle, I never took time to weigh the fact of what I had gone through. I had come face to face with my own mortality, and that's scary for anyone. Instead, I continued my life using food as an agent of comfort. I have never been what we all call thin, but I started putting on extra pounds. In my mind it didn't matter what I ate or how much I ate; I felt entitled since I had fought for my own life.
In reality, I was sabotaging my already-shaky health and the second shot at life that I had been given.
Breaking Point: As you can imagine, 238 pounds in a small frame of 5'3″ is unhealthy. According to the BMI chart, I was officially morbidly obese. In 2011, I was diagnosed with Type 2 diabetes, high cholesterol and high blood pressure.
My doctor had given me different medications, but it got to the point that my diabetes medications were not quite doing their job. The doctor told me that the next course of action was to start insulin injections if I did not change my lifestyle.
I had witnessed my mom, a diabetic for 40 years, inject insulin morning and night every day. At that point I thought, "If it is up to me to change my lifestyle to avoid injecting insulin for the rest of my life, then I have do it." I became determined that no matter how long it took me or how many times I fell, I was going take myself to the finish line.
How I Lost It: I knew it was not going to be easy and that I was going to need some help. After researching programs that could work for me and fit my lifestyle, I chose the Jenny Craig program. The program taught me about portion control and healthy lifestyle changes. I never felt deprived of anything, which was important because that helped me stick to the program.
I followed a daily 1,500-calorie intake of six small meals. To this day, I still follow the same concept. It keeps my metabolism going all the time. I don't skip any meals, and I try not to overindulge.
The beginning was hard; I was changing bad habits and it took awhile. You have to be consistent, but eventually it becomes part of a routine, like brushing your teeth. You do it without thinking about it.
I knew I had to incorporate exercise, which at the time was not easy for me. Just walking 15 minutes on the treadmill was very hard. I used to get out of breath, but I was consistent and progressed as time went by.
Three months later, I had lost about 35 to 40 pounds, and I knew it was time to take it up a notch. I joined a weight-loss program that was being offered at my gym. The support from the group and the personal trainer heading the program was amazing. We kept each other accountable and motivated, sharing tears and milestones.
It took me 14 months to lose 113 pounds. I have kept 101 pounds off for a year and a half now. I was able to reverse all of my illnesses, and I do not take any kind of medications.
I have run 13 5Ks, and I am getting ready to run my first 10K and ultimately a half marathon. I have fallen in love with the fitness world and my new lifestyle, the lifestyle I have chosen to follow for all my days to come. I'm now a certified spinning instructor and a licensed Zumba instructor. I try to help as many people as I can when they ask either through my Facebook page or my blog by sharing my knowledge and experience of my journeys. I love to help and motivate people that think that they cannot obtain their goals and live a healthier lifestyle.
Current Weight: 137 pounds
The Huffington Post publishes photographs as they are submitted to us by our readers.
Got a success story of your own? Send it to us at success.stories@huffingtonpost.com and you could be featured in our I Lost Weight series!
Check out more of our inspiring weight loss stories below:
As told to Sarah Klein
Follow HuffPost Healthy Living's board Success Stories on Pinterest.
Read more here:: Huffintonpost