By Sarah Klein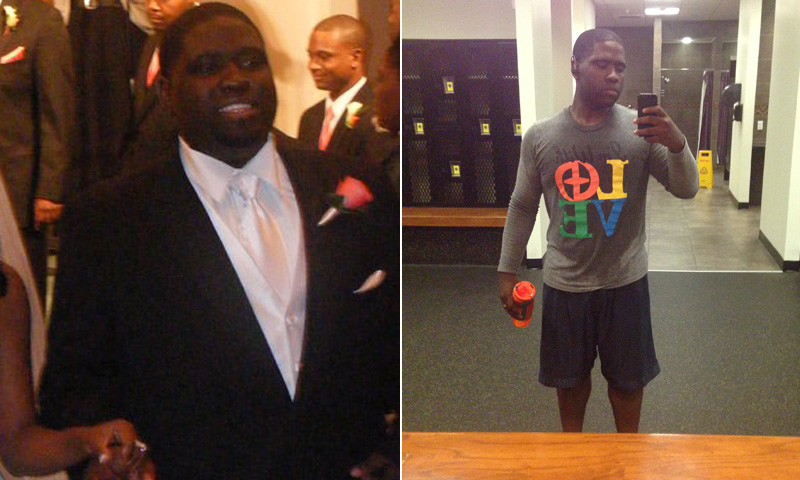 Name: Torrey Fingal
Age: 28
Height: 5'9″
Before Weight: 285 pounds
How I Gained It: I moved to New Orleans in the summer of 2004 to attend college. After I moved, it was a struggle to maintain healthy eating habits — all throughout college I was eating too much of the wrong thing. When I met my now-wife, I gained a lot of "happy" weight.
My eating issues were really a matter of portion sizes. No matter what I ate (whether it was a salad or a cheeseburger), I ate a lot of it! I made it a point to eat until I was more than stuffed. A lot of times I would ask my wife if there was dinner at home, knowing that it did not matter how she responded. More likely than not, she would say, "Yes, there is food here." I would get off of the phone with her, stop at a fast-food restaurant to get a bunch of dollar-menu items, eat them in the car, then go home and eat two plates of dinner!
Breaking Point: It's difficult to admit it, but I was diagnosed with Type 2 diabetes in July 2010, but that wasn't my breaking point. Honestly, my breaking point came in October 2013. I applied for life insurance for my family because I am the primary bread-winner, and was denied. Not because of diabetes, but because of my weight. I decided that I needed to make a change for my wife and my two daughters.
How I Lost It: I went about losing weight in three phases. Phase one was with an all-natural supplement. Phase two was starting CrossFit classes. I had been working out on my own for about five months, but I reached a plateau. I was looking for something challenging that would allow me to continue losing weight. I was a little nervous at first, but they talked me through everything, and now I am officially a CrossFit junkie! I am hooked on it and will probably do it for the rest of my life. Phase three was adopting a Paleo diet. It forced me to do all of my own cooking and stop buying junk food. Everything that I was eating before was store-bought, fast food or processed. I didn't have to give up foods I really love, I just had to change how they were prepared and watch my portions. Now, on a typical day, I eat boiled eggs, spinach and bacon for breakfast, chicken breast, pork chops or steak and veggies for lunches and dinners, and almonds, fruit or seeds for snacks.
I feel fantastic now! I am in the best shape of my life! I am in better shape now than I was in high school. I can run now, which I could not do before. I can now comfortably run a 5K.
After Weight: I fluctuate between 200 and 205 pounds
The Huffington Post publishes photographs as they are submitted to us by our readers.
Got a success story of your own? Send it to us at success.stories@huffingtonpost.com and you could be featured in our I Lost Weight series!
Check out more of our inspiring weight loss stories below:
As told to Sarah Klein
Follow HuffPost Healthy Living's board Success Stories on Pinterest.
Read more here:: Huffintonpost