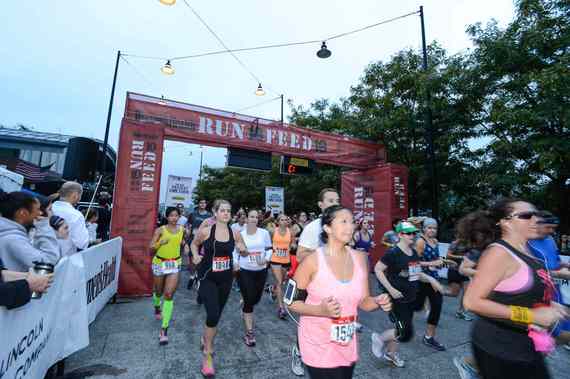 By Caitlin Carlson, Women's Health Magazine associate fitness editor
The 10K-race distance is (unsurprisingly) one of the most popular. That's likely because 6.2 miles is not so far that it intimidates new runners, but it's far enough to qualify as a worthy goal — whether you're a newbie or seasoned pro. If you relate more with the former, fear not. With the right training plan and mindset, you'll arrive at the starting line prepped, ready, and injury-free.
Experts typically recommend you train for seven weeks (if you can already run 15 minutes without stopping). That means that if you start now, you can participate in Women's Health's Run10Feed10 "Run My Own 10K" race — and feed 10 hungry people in your home town. Check out Run10Feed10.com for more on how to register. But don't rush the process: If you're not ready to commit to training now, you can join one of our live races in NYC, Chicago, or San Francisco next year, or sign up for any one of the thousands of 10K races slated for 2015. Once you're signed up, read on for how to get your training on track.
Get a Plan
You can download one at Run10Feed10.com, or follow the advice of any number of qualified running coaches. Coach Jenny Hadfield has some excellent ones on her site — for free! (I'm following her Marathon training plan now, myself!). Or try this great beginner 10K plan designed for WH by running coach Kim Maxwell. The most important thing is to find a plan that fits into your life. If you can't realistically see yourself following the first one you come across, keep looking. You want to settle on something you know you can commit to!
Alter the Plan
That said, even the best laid plans need to be changed sometimes. While you should strive to tick off at least 80 percent of the runs on your plan, it's actually smart to shorten — or even skip — some of your scheduled workouts. If you're injured, exhausted, or just want to hit up happy hour instead of the gym, missing the occasional run will help you avoid injury and mental burnout. Just make sure to get back on track ASAP (and address any injuries immediately!).
Run Less (But Faster!)
While not all training plans include speed drills, adding them in once a week can help you get seriously faster–and amp your confidence on race day. Personally, I prefer the longer, slower runs to the shorter, intense ones, but after doing one weekly speed workout during my training for the Brooklyn Half Marathon last spring (and shaving 15 minutes off of my personal record in the distance!), I'm a believer! Try swapping one easy run per week for an interval workout (where you run all-out for a short time, then recover, and repeat), or incorporate "strides" into your longer runs (in the middle of your run, sprint for 15 seconds, then jog to recover for two minutes, then repeat up to five times).
Cross Train
While running is one of the most efficient ways to torch cals, you should make room in your life for other activities, too. In particular, strength training is key to warding off common running injuries like shin splints and Runner's Knee. Work some of these strength-training moves for runners into your routine two times a week. Or, try this 15-minute workout designed by Dr. Jordan Metzl — specifically with runner's needs in mind (think: lots of butt and core moves!). If you have time, hit a yoga class once or twice a week too. Just be wearing of over doing it — listen to your body and back off at the first sign of an oncoming injury.
Roll Out
While the debate as to whether stretching is really necessary continues to rage, experts are pretty darn sure using a foam roller is super important. Rolling out muscles abused (in a good way!) during your runs, like quads, hammies, and calves, can reduce your risk for injury. Bonus: Per a new study in the Journal of Strength and Conditioning Research, foam rolling before a workout can help ward off soreness afterwards. Squeeze five minutes of roll time in before, after (or before and after!) every run. If you're in the market for a roller, I like the Trigger Point GRID Foam Roller ($40). Besides being small, it has three different densities to help your self-massage feel more like a pro massage!
–
About the author: Caitlin Carlson was named associate fitness editor of Women's Health in 2014. Caitlin's responsibilities include writing and editing front-of-book articles for the fitness section of the magazine and writing fitness features. Additionally, she writes and oversees fitness content for WomensHealthMag.com. Prior to her role as Associate Fitness Editor, Caitlin was Women's Health magazine's Assistant Editor. Prior to joining Women's Health, Caitlin wrote for Runner's World UK in London.
About RUN 10 FEED 10: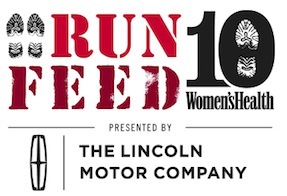 Women's Health and FEED host the 3rd annual RUN 10 FEED 10 national philanthropic race series to help fight domestic hunger. The concept is simple: register to run a 10K and feed 10 people in your local community. RUN10 FEED10 will host timed races at New York City's West Side Highway (9/21), Chicago's Diversey Harbor (10/19), and across the famed Golden Gate Bridge in San Francisco (10/26). Additionally, runners can participate in "Fun Runs" in cities including Minneapolis, MN, Denver, CO, Houston, TX, Los Angeles, CA, Phoenix, AZ, Atlanta, GA, Boston, MA and Washington D.C. If runners do not live in one of the Women's Health host cities, they can still participate by registering on Run10Feed10.com and using the RUN10 FEED10 training app, created by WalkJogRun, to plot their own course and run their own 10K anytime. To find out more go to RUN10FEED10.com.
Read more here:: Huffintonpost