By Well+GOOD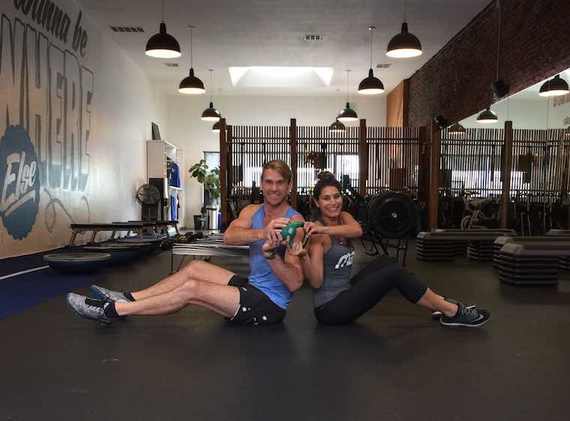 This post originally appeared on Well+Good
You wouldn't get a tattoo or give birth without someone holding your hand, so why suffer through an intense workout without a good pal by your side? (Yes, burpees produce a different kind of pain –but it's still enough to induce f-bombs.)
The truth is, it's easier to withstand a brutal burn if you're bonding over it with someone else, which is quite possibly why Los Angeles' Training Mate bootcamp studio has been so successful. "If you have a really strong community to exercise with, [you're] more likely to maintain a sustainable, healthy lifestyle," says Luke Milton, the former Australian rugby team captain who founded the studio in 2013. "The great thing about us is we're very inclusive and lighthearted about working out. We're here to make fitness social."
RELATED: This New Dating App Is The Tinder Of The Fitness World
Training Mate's high-intensity circuit training may be all about team-building and encouragement, but that doesn't mean the classes are soft–as the studio's super-fit celebrity clients like Rachel McAdams and Tyra Banks can attest. To celebrate his new Studio City location, Milton designed a 30-minute partner workout exclusively for Well+Good readers, which he says "uses different planes of the body and engages every major muscle group." Plus, it's fun–the hardest part about this might be getting through face-to-face planks with your BFF without breaking into laughter.
Grab a partner and scroll down for Training Mate's 30-minute HIIT workout–we guarantee it'll be way more entertaining than your usual jog-and-gossip sesh.
Circuit 1
Directions
Set a timer and do each move in the circuit for 45 seconds, with a 15 second rest in between moves. Run through the circuit three times and then take a water break before moving on to Circuit 2.
Platypus Push-Ups

Keeping hands directly underneath shoulders, do a push-up. At the top of the push up, reach out and touch your partner's opposite hand.
Kangaroo Hops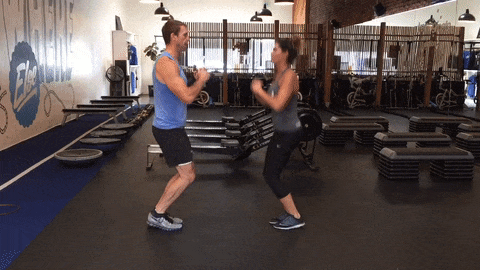 Face your partner with your feet together. Jump your feet apart into a squat, then jump them back together as you return to a standing position.
Head to Well+Good to see the rest of the workout…
More Reading from Well+Good:
10 Partner Yoga Poses For A Strong (And Flexible) Relationship
This New Dating App Is The Tinder Of The Fitness World
Everything You Need To Know About High Intensity Interval Training
(All photos: Well+Good)
– This feed and its contents are the property of The Huffington Post, and use is subject to our terms. It may be used for personal consumption, but may not be distributed on a website.
Read more here:: Huffintonpost