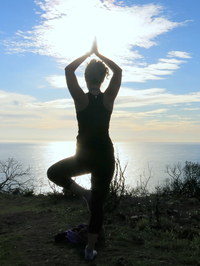 Many feel frustration in coming home after vacation to find expanded waistlines and faltering fitness endurance. But travel doesn't have to mean dead space in your training schedule! In fact, if you know where to look, you will find fitness opportunities in travel that aren't available anywhere else. To help, here are six tips to keeping your body in shape while on the road.
1. Do what you can, when you can.
Take advantage of your location! Rio de Janeiro has 300 kilometers of bike paths through the city. While down the street in Sao Paulo, many streets aren't safe for walking, but yoga studios abound. This truth applies all over the world: each city has different resources, so use them to your body's benefit instead of forcing an unfitting workout that leads to frustration.
2. Don't be afraid of the floor–stretch often!
Long plane rides and strange beds are tough on your muscles–not to mention tense arguments with taxi drivers! Stretch at least once a day even if you can't get out for cardio. The good news: stretching is easy even in the smallest of hotel rooms!
3. Drink lots of water.
You hear it often because it's true. This is undoubtedly more difficult while traveling, but it's even more important since your body is adjusting to new timetables, altitudes, and activities.
4. Eat breakfast like a king. Eat dinner like a pauper.
While eating a large dinner may be more fun, it's tough on your digestion. Plus, those calories eaten late at night convert to fat storage while you sleep. Instead of waking up sluggish, treat yourself to a big, healthy breakfast that you can work off as you explore your new surroundings.
5. Be prepared for food shortages.
There's nothing like feeling light-headed in a stuffy museum to make you reach for a high calorie delight. Be ready and carry unsalted almonds or walnuts to tide you over in a hunger emergency. Another tip: Peel-able fruits like bananas and oranges are safe to eat even when apples and lettuce aren't.
6. Pump the creativity.
Shake off the shackles of your routine and shake your bootie to some samba music! Your body develops endurances for your standard workout, which means you have to work harder and harder to reap results. Use travel as an opportunity to try new things and work your body in new ways. Who knows what you'll discover?
Blakely is traveling around the world with her husband and recounting their misadventures on

– This feed and its contents are the property of The Huffington Post, and use is subject to our terms. It may be used for personal consumption, but may not be distributed on a website.

Read more here:: Huffintonpost