By Thrillist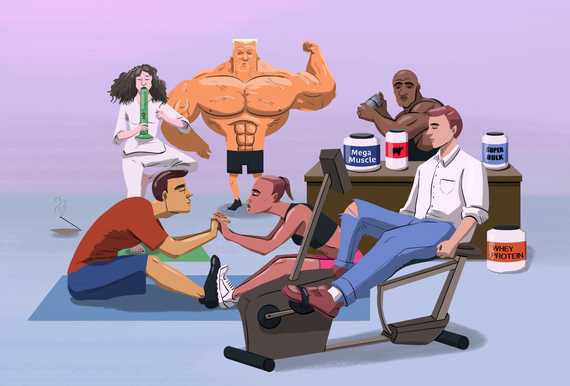 By:
Credit: Jason Hoffman/Thrillist
To the gym-goers, pavement pounders, and muscle-bound weight freaks of the world: I applaud you. Your commitment to your own health sets you apart as a uniquely masochistic element of society, unafraid of making caricatures of yourselves as you sweat, grunt, and contort your way to new levels of physical prowess.
But to outsiders looking in, you're a strange bunch. What, exactly, motivates such painful behavior, and why, exactly, are you picking up heavy things just to put them back down?
While the answers aren't always clear, there are ways to identify certain elements of this strange, exercise-drugged society. And perhaps, if you can identify the parts, you'll be able to better understand the whole.
The Pack of CrossFit Bros
Be wary of the CrossFit bro. These dudes are strong — they like the particularly grueling practice of jumping on tall boxes and throwing down weights. They're also excessively defensive of their chosen sport. This can be a dangerous combination. Avoid joking about the Paleo diet, CrossFit injuries or, well, anything in their presence. If they think you've crossed them, they'll join up with other CrossFit bros to hunt you down and attack you like a pack of wolves.
There is no such thing as a lone wolf in a CrossFit box.
Signature hashtag: #WODLife

Credit: Jason Hoffman/Thrillist
The Freak Shows
These men have legs for arms, barrels for chests, and sometimes no necks at all. The swole nature of their upper bodies lies in stark contrast to their tiny, ill-formed legs. There's simply no time to squeeze in leg work when your schedule is filled with chest day, biceps day, chest day, biceps day, and chest day again.
Signature hashtag: #ChestDay
The Jesters
Much like in medieval times, gym Jesters provide entertainment to the crowd. Sadly, they don't realize they're the entertainment — these young men, typically under 22 years old, are so caught up in their own interactions that they fail to see the raised eyebrows and muffled laughter from other gym-goers. Single attempts at pull-up burpees; raucous laughter while hanging around the squat rack; and loud, incorrect "coaching" on how to test for a one-rep max — all are telltale signs you've happened upon the idiot's court.
Signature hashtag: #BeastMode (mainly because they think it sounds cool)
The Gigglers
Usually congregating in clusters of two to four, these young women spend more time making eyes at the Jesters than texting their friends. Which is impressive, because they spend almost all their time texting their friends. Expect consistency from this group of regular gym-goers: consistent texting, consistent giggling, and consistently slow exercise on cardio equipment and circuit-style weight machines.
Signature hashtag: #GymBunny
The Class Diva
This chick thinks she's Beyonce. Loud and confident, often with an entourage of fellow gym-class attendees, she can usually be found sporting Lululemon and an excess of makeup. While she's likely to have gotten her six-pack abs and killer legs with honest hard work, her hair color and boobs are questionable. And even though you want to hate her, she's usually one of the friendliest, most legit people in the gym.
Signature hashtag: #FitChicks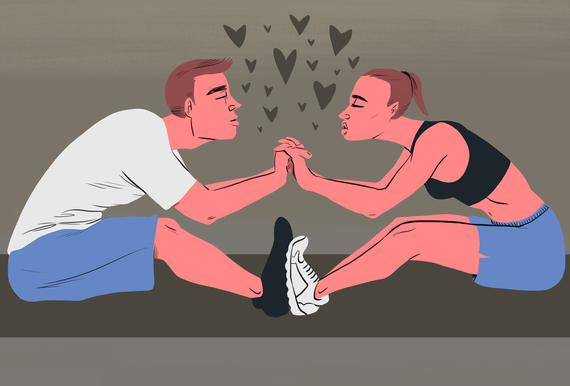 Credit: Jason Hoffman/Thrillist
The Fitness Couple
So beautiful they're hard to look at, the Fitness Couple inspires others to use the hashtag #lifegoals. Their attachment to the gym and to each other is almost vomit-inducing, which progresses to actual vomit induction when they make out in the gym's stretching area.
These are also the weirdos likely to get married at a race, name their first child "Espn," and spend date night sharing a foam roller. Looking that good is tough work, and they're committed to the maintenance.
Signature hashtag: #SwoleMates
The Psychotic Runner
Like the CrossFit bro, the psychotic runner has little time for jokes. Type A to a T, you better believe he'll be on "his" treadmill by 6:03am, run at a 5mph clip for 40 minutes, and snap a pic of the console for evidence to share with his other psychotic runner friends on Facebook.
This runner has no time for obstacle-course races or "fun runs." According to him, if running is fun, you're doing it wrong — it's about being the best, and killing yourself to get there.
Signature hashtag: #Runner4Life
The Crazy New Mom
The Crazy New Mom isn't just a new mom, who I sincerely curtsy to in deference of her desire to stay healthy for herself and her family. No, this is the, "I had a baby two weeks ago, but I must lose my last 10lb of baby weight immediately, your rules about having baby carriers on the gym floor be damned" mom.
She's the one who doesn't want to hear that her uterus could fall out while running on the treadmill or that her newborn baby could get sick while in the daycare. All she cares about is fitting back into her pre-pregnancy jeans.
Signature hashtag: #WhatPregnancy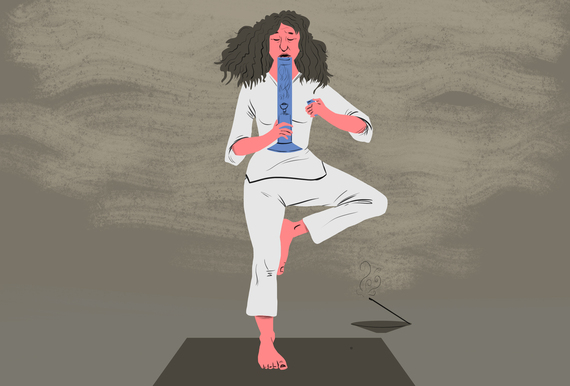 Credit: Jason Hoffman/Thrillist
The Pseudospiritual Yogi
Often found taking selfies of yoga poses to post to Instagram with corresponding inspirational quotes, the pseudospiritual yogi talks a big talk, can actually do a handstand and a backbend with ease, but will lose her pseudospiritual mind if someone takes her spot in her intermediate vinyasa flow class. Namaste?
Signature hashtag: #YogaLife
The Actually Spiritual Yogi
As the old soul of the yoga community, this dude or chick is mellow, wise, and an inspiration to all who worship at the yoga altar. It's quite possible, however, that the mellow, unflappable nature comes as much from a pre-yoga relaxation tape as it does a deep internal connection to his or her soul.
Signature hashtag: Not applicable; real, spiritual yogis don't use Instagram
The Wannabe Yogi
She spends more time walking around with a yoga sling and browsing the yoga pants at Athleta than she spends in yoga class. She might also have a tattoo of a lotus flower on her lower back. She has no idea what it means.
Signature hashtag: #Namaste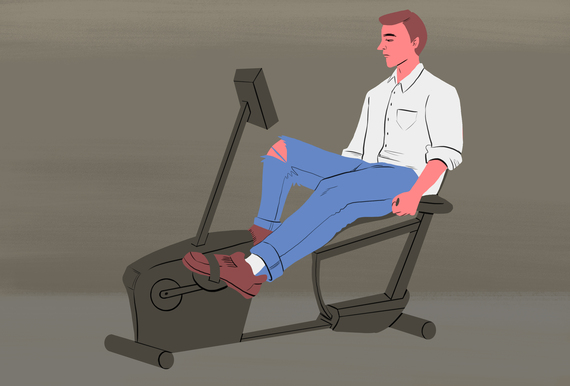 Credit: Jason Hoffman/Thrillist
The Jeans Guy
Changing out of jeans and into gym shorts is a waste of effort for this practical, no-nonsense fellow. You can usually find him pedalling away on the recumbent bike while wearing loafers. Like the Gigglers, the Jeans Guy is consistently slow, but consistently present. He's also usually alone. Go figure.
Signature hashtag: #SteadyEddie
To find out which other types of people you'll definitely encounter at the gym, get the full story at Thrillist.com!
More from Thrillist:
Health Mistakes From Your 20s That You'll Pay for Later
The Most Underrated Healthy Foods, According to Nutritionists
Like Thrillist on Facebook: www.facebook.com/Thrillist
– This feed and its contents are the property of The Huffington Post, and use is subject to our terms. It may be used for personal consumption, but may not be distributed on a website.
Read more here:: Huffintonpost