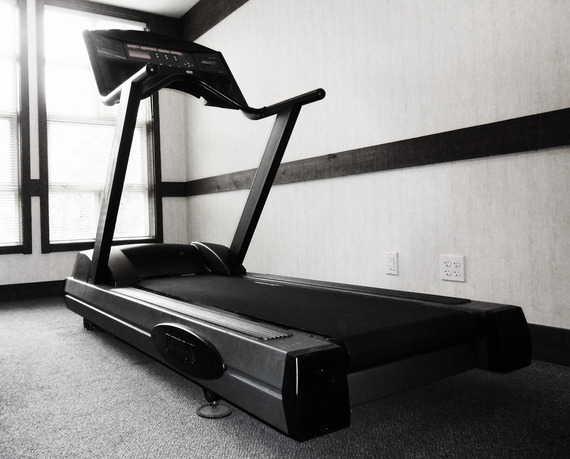 There are a number of reasons to create a fitness area in your home. Maybe you want an occasional break from the gym, an option for those rainy days, or you want to fit in a quick 20 minutes at the end of a long day. Whatever your reason is, the key is to make the right selections so that the equipment fits your space in the best way, supports your interests, and offers you a safe experience.
Focus Your Interest
The first step is to determine your area of interest. Are you looking for a piece of equipment, space for floor aerobics with DVDs or larger strength training equipment? Begin with a simple plan as you can always add to it later.

Determine Your Space Needs
No one wants to feel crowded out by equipment so planning your space before you make the purchase is vital. Once you determine the equipment you prefer and begin shopping, make sure to take measurements to ensure a good fit in your home. Most equipment will provide you with recommendations for space requirements, so asking the sales representative for the equipment measurements is a great step.
Remember this measurement is often just the space needed to set the equipment in the room. It's also important to include extra space for safety and ease with getting on and off the equipment. For example, if you opt for a home treadmill, try to allow for a "crumple" zone off the back of the treadmill. You want enough space just in case you accidentally fall or stumble off the back and can land on the floor clear of the belt.
Ceiling height is key. Equipment like treadmills and elliptical trainers often raise you up off of the floor as much as six to eight inches, so make sure you can stand on the equipment and have enough head room. Other space considerations could include space for storage as well as open floor space for stretching, strength training or even some floor aerobics with DVDs.

Take It For A Test Drive
It's important to take your potential exercise equipment for a test drive just as you would when shopping for a new car. I would strongly advise against buying equipment without this step. Walk or run on the treadmill or use the elliptical trainer or weight machine. Take your time and make sure you like the equipment and it fits you! As an example, make sure you can walk or run comfortably on the treadmill without any restriction to your movement. If a piece of equipment doesn't fit and isn't adjustable, move on to the next one.
I also suggest visiting multiple stores and trying multiple brands even if they are outside of your price zone. Another way to inquire about various pieces of equipment can be to visit local fitness centers and talk with their staff. They may have valuable input about reputable local stores and may even give you some personalized advice. The more equipment you try the better you will know what is available and what you ultimately want.
Other Details to Consider When Buying Exercise Equipment
Online research is a great way to get reliability and satisfaction ratings on equipment. This can be a big help if you are torn between two items.
Consider extended warranties even if you normally avoid them. This can be especially true if you have more advanced electronics involved on items like treadmills. Extended warranty costs are minimal compared to one service call or part replacement.
Smaller purchases such as exercise balls, mats and videos can be purchased easily online and often at a lower cost. Items such as resistance bands are best to purchase online where you can often get the lowest prices by purchasing in bulk.
Other details such as good lighting and access to music or video can go a long way to make your fitness center super enjoyable. A good fan or windows that open can also keep the air fresh and cool.
The number one key to an effective and enjoyable home fitness area is having equipment you enjoy and want to use. Don't buy a stationary bike because the cost is low if you prefer walking or jogging.
What suggestions might you have for someone wanting to buy exercise equipment or create a fitness area in his or her home?
– This feed and its contents are the property of The Huffington Post, and use is subject to our terms. It may be used for personal consumption, but may not be distributed on a website.
Read more here:: Huffintonpost