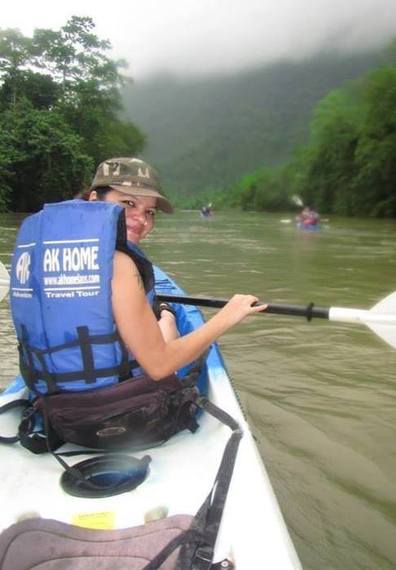 Staying fit while on the road (and otherwise) is extremely important and somehow I feel that fitness and travel go hand in hand. If you travel a lot , you tend to stay fit and if you are not fit, traveling is just not as much fun, or important anymore — after all, health always comes first, right? I would like to think of myself as a fit traveler though I am always striving towards harder fitness goals. Staying focused and motivated is the key.
As a traveler, any sort of "regular" gym sessions are impossible , however, if you are focused, you can exercise literally anywhere in the world. You don't need a fancy gym and regular classes to keep yourself in shape.
People often ask me how I stay fit (modestly isn't my virtue, as you see) and the answer is simple — I am always "on the move" and it helps me towards my goals rather than hampering them. Here are my own tried and tested tips towards being a fit traveler:
Walk, walk and then walk some more
Walking is a great exercise as we all know, but do we walk enough? When you are traveling, do you jump on a tuk tuk or bus the first chance you get? If that's you, this is the first thing that needs to change. Not only is walking around a new place exciting and gives you the true vibe of the city, it helps you stay in shape. Plus, did I mention you save money too? So, its a win-win situation.
Learn something new during longer vacations
Whenever I am traveling for a longer time frame, I like to enroll in some sort of fitness classes which are available in that city/country. So that gives me a flavor of local culture as well as learning something new. For example, I joined Muay Thai in Indonesia — I got to meet lovely local people, learnt something new AND stayed in shape. Another win-win ,you say? If you take up a local cooking class, it can help you stay off junk food and add to your fitness mantra.
Kayaking in Laos Image Credit WanderWithJo
Adventure sports/Activities
Always do some sort of fun activities on your trip. If its a beach vacation, its natural you will spend 80 percent of your time lazying around on the sun beds with a pint of beer. By all means, do that. Do spend sometime doing something adventurous. For example, I did diving in Gili Islands , surfing in Bali and lots of hiking, zip lines, short treks around the globe. Another way to meet new people (instructors, other students etc) and have a lot of fun doing something "different." Oh and of course that means staying fit and avoiding that beer belly.
Dance
Make it a point to dance. Go to clubs and let your hair down. Dancing is great cardio and for me, it is a "must-do" on all vacations. If you don't like clubs, dance on the beach, dance where you are — it's as simple as playing some music and going with the flow. It's also a stress buster, might I add. So go and dance away to glory.
Swim
I always try to book a hostel/hotel with a swimming pool. Trust me, they are not so expensive — especially hostels with pools — they are almost always (if you search properly), the same price as the ones without a pool. If you have a swimming pool in close vicinity , you will be more inclined to take a dip…and we all know swimming is a great exercise. Many hostels in Southeast Asia have pool parties — so go refresh yourself, have fun and stay fit in the interim.

Snorkeling in Philippines Image Credit WanderWithJo
Cycling and bike tours
Want to explore more than you can cover on foot ? Hire a bike. It's the best way to go around a place and explore every nook and corner at leisure. You can even take a guided bike tour if you want to meet people and check out the hot spots. I prefer to rent bikes, when I can, and just go around the place. Holland is one of the best countries and you can cover so much on bike. My longest biking experience was when I biked around Giethoorn with my Dutch friend on bike – we covered 40 kms and had a blast. So bike around town to cover more kms (than foot) – better than taking a bus/tuk tuk or taxi and you are on your way to becoming fit as a fiddle.
Apart from your traveling times, be sure to squeeze in workout sessions in your daily routine as well. I have joined a local gym where I go "in between my travels" and I use the "pay as you go" system. That way, I don't have to spend for the days I don't go.
If you have absolutely no time for gym , just work out whenever you can. Always take the stairs, sprint to catch the bus (even if you are not running late) or just do squats in the shower while waiting for hot water. You can incorporate fitness in every way and form in your routine as long as you are focused.
There you go — here were my top tips for being a fit traveler. So, Are you a fit traveler? Do you have any more tips to share with our readers? Do comment below as I would love to hear your thoughts.
Stay tuned for more travel tips, photoblogs and escapades at – WanderWithJo.com
This post was original published on – http://wanderwithjo.com/6-tips-to-being-a-fit-traveler
– This feed and its contents are the property of The Huffington Post, and use is subject to our terms. It may be used for personal consumption, but may not be distributed on a website.
Read more here:: Huffintonpost