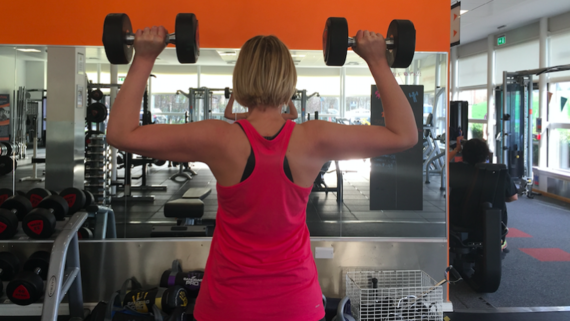 Ladies, have you secretly yearned to work out in the hallowed part of the gym where all of the mighty muscle men hang out? I did, yet it took me weeks to pluck up the courage to walk amongst those beefy blokes and big, black dumbbells.
Yep that's right, there are no pastel pink hand weights on this side of the gym, and guess what? Those heavy, black weights have turned out to be my new best friend. I've been transformed into a 'girl who lifts,' and here's what I've learned over the past three months.
Image: Charlotte Moore
1. Find yourself a good lifting programme
The only reason I dared to venture over to the 'dark side' of the gym was because I was utterly inspired when reading Thinner, Leaner, Stronger by Mike Matthews. If you want to understand what works when it comes to eating well and lifting heavy, then his science-based suggestions are a great place to start.
He also details a weightlifting plan over a year, chunked up into eight-week blocks, split over 3/4/5 weekly sessions depending on your availability. You work specific muscles during each session, ensuring you're combining the most effective exercises for each area of your body.
2. Book a weights induction with a qualified trainer
This is essential for two main reasons. Firstly, there's probably new equipment that you need to understand how to use safely, both for yourself and others around you. Secondly, every single weightlifting exercise has its own set of rules as to how it should be performed for maximum impact. Don't rely on looking at how others are doing their reps, even if they have bigger muscles than you!
Poor form can lead to injury, and something small like a pulled muscle in your back, will affect your life both in and out of the gym. There's also etiquette around putting weights away after you've used them, so don't stand out for the wrong reasons.
3. You might get stared at because you're the only girl
Hopefully, after following points 1 and 2, you'll feel confident enough to walk into the gym and start your workout. It can feel intimidating if you're the only female amongst lots of meaty men BUT, think of it as blazing a trail for the other women who also want to be there, but haven't felt brave enough yet.
There have been many times that I've shared the gym with 15 guys and no girls at 7.30am during my workout. I felt really self-conscious at first, and then after a couple of weeks, it just became the norm. I've ended up feeling proud for taking that step, and I've also noticed a small trickle of women joining me too.
4. Lifting bigger weights is fun (and addictive!)
Before I started following my programme, my gym membership had been sitting idle for months as I'd completely lost interest in the same old boring routine. Now that I have purpose, I want to challenge myself every week to see if I can lift that little bit heavier.
I use the Fitlist app to create each workout and track the reps of every exercise. As I can see the progress I'm making, it inspires me to push that little bit harder each time, and I can proudly share my results with anyone who asks!
5. Heavy weights don't make you bulky
Yes, the urban myth that keeps rearing its ugly head has been well and truly squashed for me. A lean, toned body is created when you have optimal body composition (usually around 20% body fat for women) and defined muscles. Although newbies can make good muscle gains in the first 6-9 months of lifting, you won't suddenly wake up one day having turned into the female version of Arnold Schwarzenegger!
It takes time, dedication and a good understanding of food macros to successfully add any kind of muscle to your body. Once you have all of these things in balance, you'll reap the rewards of feeling like a happier, healthier, stronger version of yourself.
– This feed and its contents are the property of The Huffington Post, and use is subject to our terms. It may be used for personal consumption, but may not be distributed on a website.
Read more here:: Huffintonpost