By Sarah Klein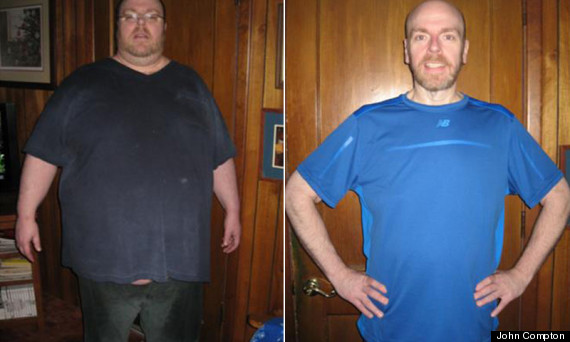 Name: John Compton
Age: 46
Height: 5'10″
Before Weight: 487 pounds
How I Gained It: I ate anything and everything. Nutritional values or portion control were never things I thought about. I could eat two-thirds of a large pizza or a pint of ice cream in one sitting. But 2004 was really the year it spiraled out of control for me. I was going through numerous personal problems, and I turned to food as a way to cope with my emotions. With a steady diet of junk food and increased lack of exercise, it was easy to put on the pounds.
Breaking Point: In September 2011 I went to the doctor for a routine checkup and found out that I tipped the scale at around 487 pounds. I was then admitted to the hospital and diagnosed with atrial fibrillation and atrial flutter. They recommended a procedure to correct these problems, but they couldn't put me on the operating table until I lost about 150 pounds. I didn't want my heart issues to cause permanent damage, so I decided I needed to make a drastic change.
How I Lost It: I took baby steps. Being so overweight, it was hard to find the right place to start. I worked with my doctor and nutritionists. I was so heavy I couldn't really do anything physically active, so they suggested I start journaling my meals. Journaling was eye opening because I had never given any thought to what kind of food I was putting into my body or even how much I was eating. I used MyFitnessPal to help me track my daily food consumption, including my caloric intake for the day. For the first time in my life I was reading nutritional labels. In the first 7 months I was down 50 pounds.
At that point I began to have the courage to join a gym. I chose my local Planet Fitness with the hope that their motto of a "Judgement Free Zone" was true, because I had never worked out and I needed an environment that would be safe and welcoming. I started by walking on the treadmill for three 10-minute intervals at 1.2 miles per hour, six days a week. After three months, I added strength training, which helped further accelerate my weight loss. I really began to see and feel the difference when a fellow Planet Fitness member came up to me and let me know how great I looked. That really energized me to continue on this journey.
I'm now able to breathe and sleep better, and I can do more physical activities than I ever thought. I've created a "Fat-Free Bucket List" which includes activities that I'm going to try now that I've lost the weight. I started to really jog on the treadmill and have plans of running my first 5K sometime this spring.
My new diet consists of high-protein, low-calorie foods. If I have a snack, I cap it at about 100 to 200 calories, and I make sure to stay away from starches like pasta and breads. When I do get those cravings, I found it helps to keep healthier options on hand. I portion treats into smaller baggies or containers so I don't mindlessly snack away. I've told myself to slow down while I eat, which allows my stomach to feel full and prevent overeating. This took the most practice, as I was always taught to never waste food.
The biggest fear I have is that I will slip, but knowing how good I feel and just remembering how miserable I was three years ago is the motivation that keeps me going every day. My message to anyone looking to lose weight is that you need to have support. This change doesn't come overnight, and you need to have realistic expectations. There will be hiccups along the way. Take a step beyond your fear, then take another step and then one more. My world has changed and I could not be more excited about the future.
After Weight:180 pounds. (Note: Approximately. John recently had excess skin removal surgery and is not sure what he'll weigh after healing fully.)
Got a success story of your own? Send it to us at success.stories@huffingtonpost.com and you could be featured in our I Lost Weight series!
The Huffington Post publishes photographs as they are submitted to us by our readers. As told to Sarah Klein.
Check out more of our inspiring weight loss stories below:
Follow HuffPost Healthy Living's board Success Stories on Pinterest.
Read more here:: Huffintonpost