By Taryn Finley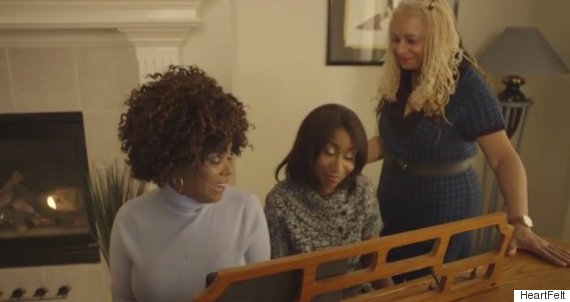 Talking about cholesterol shouldn't just be reserved for the doctor's office and Cheerios commercials.
Sisters Darcus Gates, 61, and Vernee Pace-Cheeks, 63, are around the same age as their mother when she died of a heart attack in 1989. They share their stories battling high levels of cholesterol in Cynthia Wade's documentary "Heart Felt." The film, which debuts online Tuesday, chronicles 19 patients, caregivers and healthcare providers and their experiences with high cholesterol.
Gates and Pace-Cheeks, who both live in Kansas City, Missouri, opened up in the film about losing their mother to a massive heart attack in 1989 at age 63. Their mother, who suffered from a number of issues including high cholesterol, played a large role in their lives — so when the sisters were diagnosed with high cholesterol themselves, they vowed not share the same fate.
"For me, when my doctor said the numbers and told me that I had high cholesterol, it was a wake-up call," Gates said. "When he said that to me, I knew in that moment, I had to make a change because all I could see was my mother and her not being here."
Cholesterol travels through our bloodstream and can leave deposits in the walls of arteries. When we have too much of certain types of bad cholesterol, specifically LDL cholesterol, the risk of having a stroke, heart attack or other cardiovascular issues greatly increase.
According to the Centers for Disease Control and Prevention, 33.6 percent of black women and 30.7 percent of black men have high LDL cholesterol — 31.7 percent of all Americans have a high LDL.
While high LDL among African-American men (30.7 percent) mirrors the national average for U.S. males (31 percent), the incidence of high cholesterol among African-American women at 33.6 percent is higher than that of other groups.
"I think that in our African-American community, there's not enough emphasis put on high bad cholesterol," said Pace-Cheeks, who also suffers from diabetes and high blood pressure. "We put a lot on high blood pressure. We put a lot on diabetes. But we kind of let high cholesterol fall by the wayside."
Often times, however, high LDL cholesterol isn't treated with urgency despite its serious effects — only 48.1 percent of adults receive treatment to lower their levels, according to the CDC. In "Heart Felt," Gates and Pace-Cheeks worked with director Wade to raise more awareness around the issue while holding each other accountable to live healthier lives.
"We learned a lot about ourselves. We learned a lot about our sisterhood. We learned a lot about the disease itself and it was wonderful," Gates said. In the film, the sisters work out together for the first time, prepare a healthy meal with the children in their family and talk to their loved ones about making healthy decisions.
"I gotta make the change for myself and for my children as well," Gates said. "I wanna set a good example for them. If I take care of myself, then they'll take care of themselves. And that circle of bad health will stop somewhere. Somebody has got to stop it. And that's gonna be me cause I wanna live."
Along with exercise, Gates and Pace-Cheeks have made solid changes to their diets by eating less fried and processed foods and following their physicians' instructions thoroughly. Gates, who is also a jazz singer, spreads the message of living a healthy lifestyle at her shows. She wrote and performed a song called "High Cholesterol" for the film.
At one point in the film, she raises her glass of water in the air and makes a toast to good health.
"Cause if you've got good health, you can get yourself some more of anything on this earth."
– This feed and its contents are the property of The Huffington Post, and use is subject to our terms. It may be used for personal consumption, but may not be distributed on a website.
Read more here:: Huffintonpost