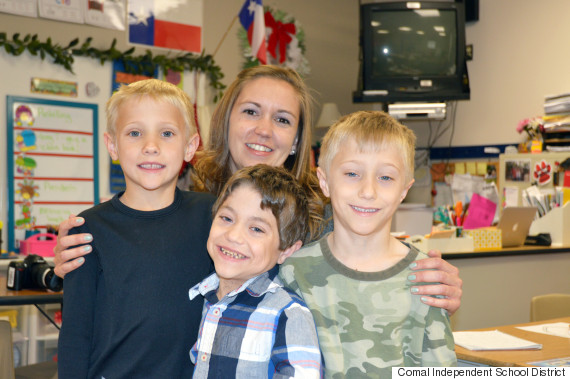 Six-year-old Matthew Parker spends three days a week getting dialysis treatment at University Hospital in San Antonio. Because of this, Matthew, a triplet, isn't able to join his brothers in their first-grade class every day.
But thanks to their teacher, Lindsey Painter, that is about to change.
Last fall, the hospital's transplant center was searching for an altruistic kidney donor for Matthew — "basically a stranger who [has] a good heart and wants to do well or good," as Matthew's nephrologist, Dr. Mazen Arar, told a local NBC station.
Your browser does not support iframes.
"The likelihood of finding a kidney match was a kind of low possibility," Arar told The Huffington Post. Patients on dialysis, like Matthew, can be especially difficult to match, as they may develop antibodies to new organs.
Painter was the first to sign up to be tested as a match. Despite the long odds, she proved to be exactly what they were looking for.
Painter, a mother herself, considered her family before deciding to give a kidney to Matthew.
"I look at my own boys and then I see some of the things Matthew isn't able to do because of his illness," she said, according to a press release earlier this month from the Comal Independent School District, where Painter teaches and where the Parker boys go to school.
"[Matthew] just kind of smiled and was so giddy after that," Lisa Parker, Matthew's mother, told HuffPost, describing her son's reaction to the news. "He was so excited. He loves Miss Painter."
Matthew's brothers are "thrilled" for him, Parker said, and they now regularly hug Painter. The family went out for a celebratory dinner when they learned about the donation.
Painter is seen with the Parker triplets, including Matthew (center).
"Having a kidney transplant will be a major event in [Matthew's] life. It will change the quality of life he has," Arar told HuffPost. "Patients with a functioning kidney will grow better, will feel better, will have more energy. Definitely it will change his life."
Arar has been Matthew's doctor since he was three weeks old. Matthew's kidney was injured shortly after birth due to low blood pressure and infection, and he needed to be put on dialysis. He had a kidney transplant when he was 2 years old, but after a few years his body began to reject the new organ, and he went back on dialysis.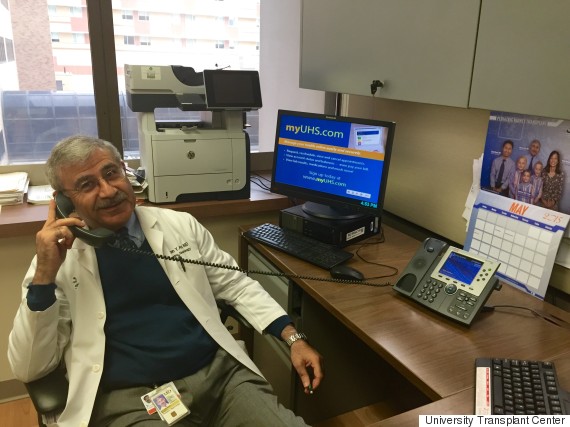 Arar speaks to HuffPost on the phone.
"Matt's been on the deceased donor list for year and a half, and on dialysis for that long," Parker told HuffPost.
The transplant is scheduled for mid-March. After that, Matthew will not have to be on dialysis. In a year, Arar said, he will only have to come to the hospital once every six weeks, instead of three times every week.
"He'll be able to do certain things he can't do now, like eat certain foods and drink more water, go swimming," Parker said. "He knows what the transplant's going to do to him, and I think that's one of the things that really excites him."
Painter will have to spend several weeks in recovery, during which time she will be unable to work or physically support her family. A GoFundMe account has been set up to help support her during this period.
The University Transplant Center set up a website, MattsWish.com, when Matthew was looking for donors. After Painter was found to be a match, Matthew's family decided to keep the site going in order to raise awareness and help other children looking for donors.
"We're keeping it up, so if there's other people who want to be a donor for somebody else, we want to give them an opportunity," Parker said. "There's other kids here doing dialysis, and they need a kidney too."
(h/t BuzzFeed)
Read more here:: Huffintonpost