By Health.com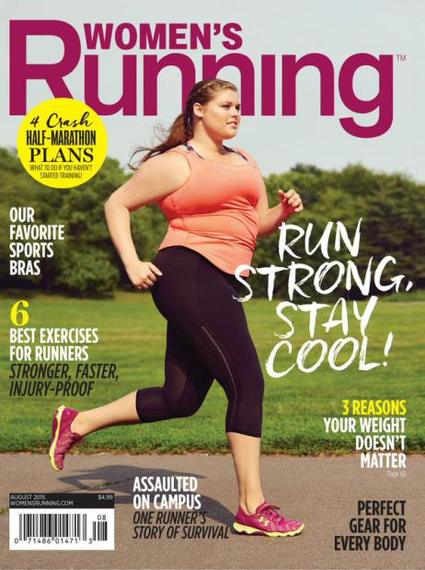 By Julie Mazziotta
Runners aren't a one-size-fits-all kind of group — you could weigh 110 pounds or 310 pounds and still call yourself a runner–but people often have trouble labeling themselves as such if they feel like they don't fit the typical mold. You know, the kind of ropy, wiry mold you often see on the covers of running magazines.
But as plus-size model Erica Jean Schenk proves on Women's Running's August cover–which features her looking strong and stunning while booking around Brookyn's Prospect Park and is now going viral on social media–there is no typical mold.
"Honestly, I was astonished," Schenk told People. "My family is overwhelmingly proud."
RELATED: 15 Running Tips for Beginners

Schenk initially had no idea that she would make it on the cover; the 18-year-old went into the Women's Running photo shoot thinking she'd be in a feature story on athletic brands that make plus-size clothing. She was ecstatic to later learn that she'd be a cover star.
"I'm over the moon that all these people see me and can relate," Schenk told E! News. "I hope I make an impact in women's body acceptance."
And women on Twitter are just as thrilled.
THIS! <3 #EricaSchenk is beautiful! https://t.co/vEBxqofqVL

— Jillian Lentz (@JKayL) July 16, 2015
Hey @WomensRunning, you and Erica Schenk are downright inspiring. Thanks for pushing me to crush three miles today. #runningsforeverybody

— Christy Chirinos (@ChristyChirinos) July 16, 2015
People are going nuts over this plus-size model on the cover of @WomensRunning! http://t.co/87S0BVYIe7 pic.twitter.com/BbYmInCbyU

— Life & Style (@Life_and_Style) July 17, 2015
2015 is shaping up to be a banner year for embracing models of all sizes. Plus-size model Tess Holliday landed the cover of People back in May, and Sports Illustrated included a plus-size model, Robyn Lawley, in its swimsuit edition for the first time. (Both People and Sports Illustrated are owned by Health's parent company Time Inc.)
The editor-in-chief of Women's Running, Jessica Sebor, told the Today show that the magazine wanted to show readers that not all runners are thin–many of them have a shape like Schenk's.
RELATED: 10 Best Body-Positive Quotes From the Female Athletes Who Posed Nude for ESPN
"There's a stereotype that all runners are skinny, and that's just not the case," Sebor said. "Runners come in all shapes and sizes. You can go to any race finish line, from a 5K to a marathon, and see that. It was important for us to celebrate that."
Schenk is a runner in real life, not just in front of the camera. She told Women's Running that she's been happily doing it for a decade, especially in her favorite spot, Manhattan's Central Park, because "it allows me to clear my head and think."
"This cover proves anyone can run," Schenk told People. "Don't be afraid to be curvy and do what you love. You are not alone."
More from Health.com:
These Body-Positive Photos Prove All Legs Are Beautiful (Yes, Even Yours)
Watermelon Facts You Probably Don't Know
What's the Deal With Waist Training?
– This feed and its contents are the property of The Huffington Post, and use is subject to our terms. It may be used for personal consumption, but may not be distributed on a website.
Read more here:: Huffintonpost