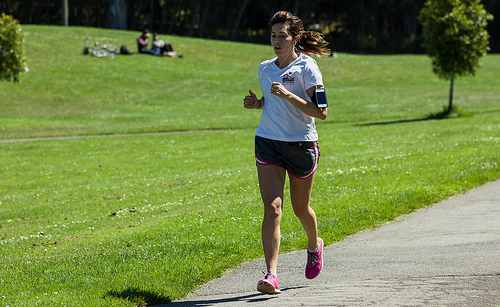 As summer gives way to fall, let the played out songs in your gym mix give way to some current alternatives. This month's top picks have plenty going for them — with a variety of genres and tempos represented. Moreover, with just a few new tracks here and there, you can re-energize your whole routine.
In the list below, you'll find a pair of uptempo remixes from Demi Lovato and Madonna. Elsewhere, there are wildcard tracks — like a single from reunited '90s darlings Veruca Salt and a collaboration between Flo Rida, Robin Thicke, and the bass player from Earth, Wind & Fire. Lastly, you'll find a pair of brisk tracks above 140 beats per minute (BPM) from Canadian teen sensation Shawn Mendes and roots rocker Elle King.
Any workout mix can be improved with some fresh tracks and a bit of variety. The list below has plenty of both. So, take a look at what's new, preview a few, and put your favorites to work.
Here's the full list, according to a poll on Run Hundred — the web's most popular workout music blog.
Beck – "Dreams" – 114 BPM

Grace Potter – "Alive Tonight" – 120 BPM

Veruca Salt – "Laughing in the Sugar Bowl" – 163 BPM

Demi Lovato – "Cool for the Summer (Mike Cruz Remix)" – 126 BPM

Flo Rida, Robin Thicke & Verdine White – "I Don't Like It, I Love It" – 119 BPM

Madonna – "Bitch, I'm Madonna (Fedde Le Grande Remix)" – 128 BPM

Shawn Mendes – "Stitches" – 150 BPM

Elle King – "Ex's & Oh's" – 140 BPM

One Direction – "Drag Me Down" – 139 BPM

Little Mix – "Black Magic" – 112 BPM
Check out this month's top 10 workout songs on Run Hundred: www.RunHundred.com.
For more by Chris Lawhorn, click here.
For more from HuffPost Workouts, click here.
– This feed and its contents are the property of The Huffington Post, and use is subject to our terms. It may be used for personal consumption, but may not be distributed on a website.
Read more here:: Huffintonpost