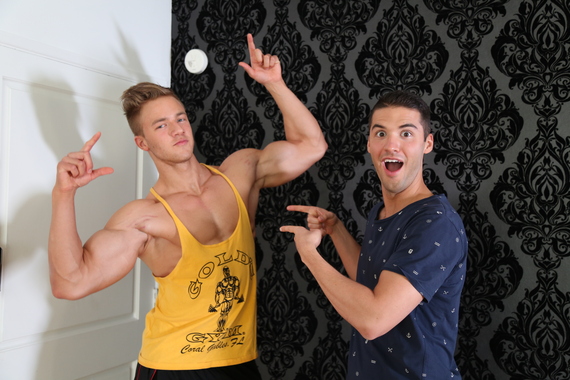 by Raymond Braun and Davey Wavey

Attila Toth and Raymond Braun

If you were asked to create a mental image of an ally for LGBT youth, a 6'3," 260 lbs. professional bodybuilder might not be the first image to come to mind. We hope to change that.
While there's beautiful, endless diversity among the LGBT community, nearly all of us have one thing in common: experiences being bullied. More than 85 percent of LGBT youth report verbal or physical harassment in school and LGBT youth can be up to nine times more likely to contemplate or attempt suicide than their non-LGBT peers. LGBT bullying, both in-person and online, is an epidemic that needs to be stopped.
Growing up, we were bullied mercilessly for our sexual orientation (even before we came out). We understand firsthand the kind of emotional and physical scars that bullying can inflict on a young LGBT person, so we felt compelled to add our voices to this important cause and speak to anyone experiencing bullying…with a twist. Instead of two gay guys telling bullies to stop, what if we could appeal to them by enlisting an unexpected group of allies?
From our personal experience, we know that many bullies are boys who seek power by putting down others. These kids look up to the stereotypical "macho men" who represent masculinity, power, and strength. Who better to appeal to the bullies than some macho, big-muscled professional bodybuilders and fitness athletes? If these guys tell a bully that it doesn't make you tough or strong to hurt other people, maybe the message will resonate in a way that ours won't.

Davey Wavey, Raymond Braun, and Bradley Martyn

When we started working on this video, a part of us reverted right back to that scared, insecure gay 11-year-old who was terrified of getting put down. These were the type of guys we feared growing up. From the outside, the world of bodybuilding appears to be full of "machismo" culture, so we wondered if we'd even be able to find any top level bodybuilders and fitness athletes willing to speak out on LGBT issues. As we started contacting bodybuilders, we were moved by their passion for getting involved. The bodybuilders challenged our own stereotypes and demonstrated compassion, thoughtfulness, and sensitivity that we would not have expected seeing them lifting hundreds of pounds in the gym. Some bodybuilders even shared personal experiences and surprising connections to bullying within the LGBT community.
Watch our video, Straight Bodybuilders Against Bullying, on Davey's channel, and then check out Part Two, including extended footage and our personal commentary, on Raymond's channel.
Please share the videos to show anyone out there experiencing bullying that there is a huge, diverse world of people who have their back, including seven guys with biceps bigger than our heads.
Davey Wavey is a YouTube personality and gay Internet icon. With more than 225 million views in 160 countries around the world, Davey's YouTube channel is the largest and most-viewed LGBT-themed channel on YouTube. Davey was one of the first people to recognize the potential of YouTube to reach, entertain and inspire an LGBT audience and has created more than 800 videos for nearly a decade. Subscribe to Davey's YouTube channel and follow him on Twitter and Instagram.
Raymond Braun leads social campaigns for YouTube. He is currently on a volunteer leave of absence from his job to focus on launching an LGBT-themed YouTube channel. He was named to the 2014 Forbes 30 Under 30 class for his work on LGBT marketing, community engagement, and partnerships for YouTube and Google. Watch Raymond's first video and subscribe to his channel (youtube.com/raymondbraun). You can also chat with him on Twitter and Instagram.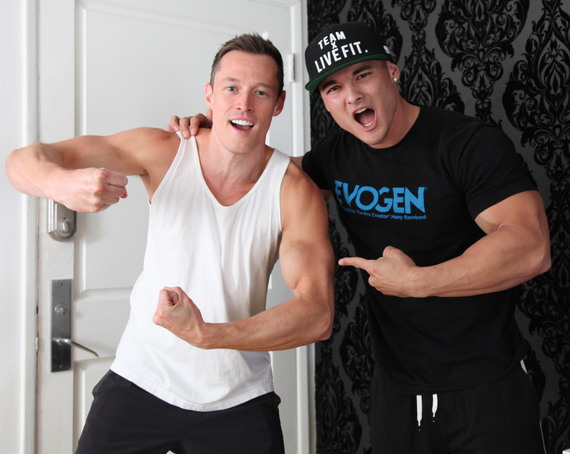 Davey Wavey and Jeremy Buendia
Follow HuffPost Teen on
Twitter |
Instagram |
Tumblr
More on HuffPost:
– This feed and its contents are the property of The Huffington Post, and use is subject to our terms. It may be used for personal consumption, but may not be distributed on a website.
Read more here:: Huffintonpost