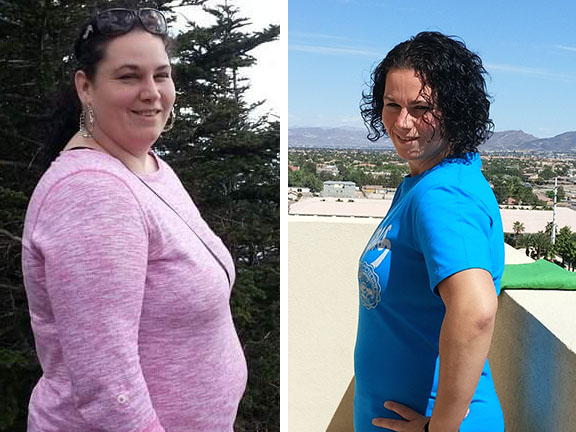 Name: Stephanie Bermudez
Age: 32
Height: 5'8″
Before Weight: 285 pounds
How I Gained It: I have always been a bigger girl. Even as a child, I was bigger-boned and the chubby kid. I was bullied all through elementary school and junior high for my weight. I was called names. I was followed off the school bus and threatened with being beat up daily. The bullying was so bad that in junior high they moved me to a locker right next to a security camera. l developed nervous stomach issues and was a huge hypochondriac. Around that time (I was 12-years-old), my mom and dad separated. My mom found someone new and I had a very hard time adjusting. I turned to food for comfort.
Breaking Point: I have tried many times to lose weight in my 32 years, and failed miserably. I had my last child in 2012, and I felt that since my childbearing days were over, I now had time to focus on my health. I have had chest pains for years, and many scares where I went to the hospital because of them. I was told it was anxiety. Along with the chest pain, I constantly felt rundown, got headaches too often and didn't have any energy. I didn't think I should be feeling like that at such a young age and was scared that I would die while my children were young. In July of 2014, my best friend suggested that we start working out together and I jumped at the chance. I knew I wanted to be healthy and live to see my children become adults.
How I Lost It: My friend and I got a membership to Planet Fitness and started working out almost every single day. In the past, I had tried many different diets, but I knew I needed to make a real lifestyle change, because diets are temporary. I also knew that if I started severely limiting all the foods I liked that I would fail miserably. Instead, I downloaded MyFitnessPal on my phone and started counting the calories in everything I ate. I still ate foods that I really loved, but in much smaller portions. I also started documenting my weight loss journey on Facebook. I wanted my friends to see how I was doing, and wanted everyone to hold me accountable. I knew if everyone was watching and cheering me on, I couldn't let myself down, and I certainly couldn't let down all those people who were rooting me on every day.
How My Life Is Different Now: I no longer feel fatigued. I don't have chest pains anymore. I have an abundance of energy and can play with my kids. I'm no longer depressed. I live every day with a positive outlook on life. I no longer worry that I am going to die young of a heart attack and leave my babies behind. Most of all, I have become a source of inspiration to so many people in my family and also to my friends on Facebook. I have had people tell me they started working out because of me. I have had people send me messages asking me for advice on everything from what exercises they should do, to how they should diet. Most of the time, the only people we see who have lost a lot of weight are on infomercials or on TV shows. Most of us don't know many people personally who have drastically transformed themselves and who did it with hard work and dedication. I think when we see our own family and friends who have set out on such a personal journey succeed, it gives us hope that anyone can do it.
Current Weight: 191 pounds. My goal is to lose 11 more pounds for a 105-pound loss.
Got a success story of your own? Send it to us at success.stories@huffingtonpost.com and you could be featured in our I Lost Weight series!
The Huffington Post publishes photographs as they are submitted to us by our readers. As told to Erin Schumaker.
Check out more of our inspiring weight loss stories below:
Follow HuffPost Healthy Living's board Success Stories on Pinterest.
– This feed and its contents are the property of The Huffington Post, and use is subject to our terms. It may be used for personal consumption, but may not be distributed on a website.
Read more here:: Huffintonpost