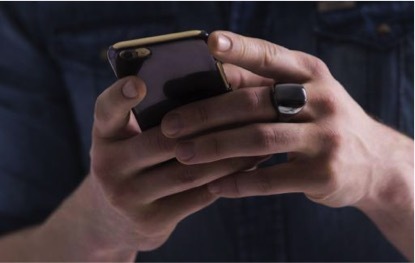 Petteri Lahtela is the CEO and co-founder of
How is the OURA ring different from other tracker-type devices on the market?

OURA ring combines style and comfort with high-end technology and proprietary algorithms, with over three decades of science and pioneering research of human physiology, psychophysiology and behavior behind it.
OURA ring measures your sleep in detail, letting you know of your sleep time, sleep efficiency and how long you spend in each sleep stage. With OURA you can also see how your daytime activities are reflected in your sleep parameters and resting heart rate in both the short- and long-term. Once you get the objective data on your activity quantified, it's easier for you to set targets for gradual improvements and balancing them to the needs of your body.
OURA App gives personalized and actionable guidance on how you can balance your activity in relation to sleep and recovery. On some days your body is not ready for 10,000 steps, whereas other days it has the capacity for much more. Balancing the physical activity based on the actual needs and readiness of the body provides the way to maintain and increase capacity over time.
Can the OURA ring improve our sleep?
OURA learns about you and your body's reactions in relation to sleep, rest, activity, rhythms of life and your overall behavior. You can learn how improved sleep quality affects your daytime performance, feelings and health.
The app personalizes the guidance based on the correlated measured data and delivers clear, textual recommendations with actionable content. The app gives guidance on how to improve sleep quality and adjust daily activity based on recovery status. OURA helps you to build a proactive approach to stay healthy and maintain good performance levels.
What do you see as the future of the wearable/sleep tech industry?
With fitness gadgets you quickly learn about your activity level, but your body's reactions are not measured and therefore goals are not adjusted optimally for you. Therefore, benefit is very limited. But when people get personalized recommendations based on accurate and objectively measured data from their own body, they are more inclined to make small adjustments to their lifestyle for improved sleep quality and daytime performance.
We believe that one reason for ignoring the needs of the body is that we have not had easy and comfortable ways to monitor how our body is reacting in our daily life. There has not been a simple way to get concrete, quantitative and comprehensive information about how our body is doing in relation to our sleep, activity, overall lifestyle and daily rhythms.
For developing and maintaining optimal well-being, body-mind balance and performance we need to be able to form a comprehensive picture of how our daily choices affect our sleep and performance during the day. That is what we wanted to enable.
– This feed and its contents are the property of The Huffington Post, and use is subject to our terms. It may be used for personal consumption, but may not be distributed on a website.
Read more here:: Huffintonpost