This story first appeared in Intersections South L.A., a publication of the Annenberg Media Center, on December 1, 2014.
A store stayed true to its new title of "Market" instead of "Liquor" by introducing fresh food options after years of pressure from the community. And with that, the number of stores offering fresh food options in South Los Angeles increased yet again.
Century Market is the most recent liquor store in the area to commit to stocking its venue with fresh produce. The store located at Western and 39th Streets opened in its new incarnation last weekend, debuting shelves with fresh fruits and other healthy food options.
"We now have something that's local for folks," said Ansley Jean-Jacques, who helped press for the transformation along with activist organization Community Coalition. "They can now buy their eggs right here on 39th and Western."
Community Coalition's president Marqueece Harris-Dawson commended local residents for pushing for change.
"Everybody involved in this took a stand against the status quo," he told a crowd of 30 residents and activists gathered outside. "The status quo says our communities don't eat fruits and vegetables so it's not even worth bringing it to them."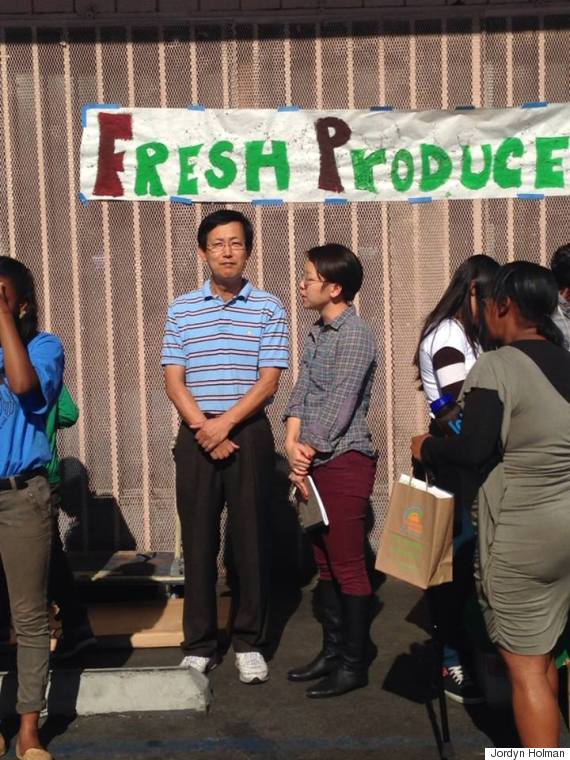 Store owner Jong Soo Park prepares to give a speech to the crowd attending the grand opening.
For the grand opening, a sign reading "Fresh Produce Sold Here" hung on the store's façade and oldies by The Marvelettes and Marvin Gaye blasted on the stereo. Students from Community Services Unlimited's internship program ran cooking demonstrations and served locally grown fruits. And store-owner Jong Soo Park, speaking in Korean through a translator, said he planned to keep building his store's connection with the community.
The atmosphere was starkly different from the one patrons may have encountered a few years ago.
In the late 2000s, local residents along with Community Coalition, an organization focused on providing preventative, community-centered solutions to problems plaguing South L.A., picketed Century Liquor for being a negative influence in the neighborhood.
In 2008, the store was declared a public nuisance and the city imposed 26 corrective conditions on the store. Residents claimed that because of the alcohol sales, the corner attracted loiters, drug dealers and it encouraged other types of violent behavior located across a library and park.
According to Community Coalition chief operating officer Joanne Kim, when city officials declared the store a public nuisance, it created more lines of communication between the store owner and community activists.
Then, in 2013, the closing of Ralph's supermarket on Martin Luther King Blvd. and Western Avenue led to the push to convert Park's liquor store.
"[South LA residents] would have to go out of their way to get something fresh or organic," said Cristian Marroquin, youth program coordinator at CSU, recalling the food vacuum that resulted from Ralph's closing. After the supermarket chain departed, Community Coalition in coordination with CSU held events called Fresh Fridays to sell locally grown produce.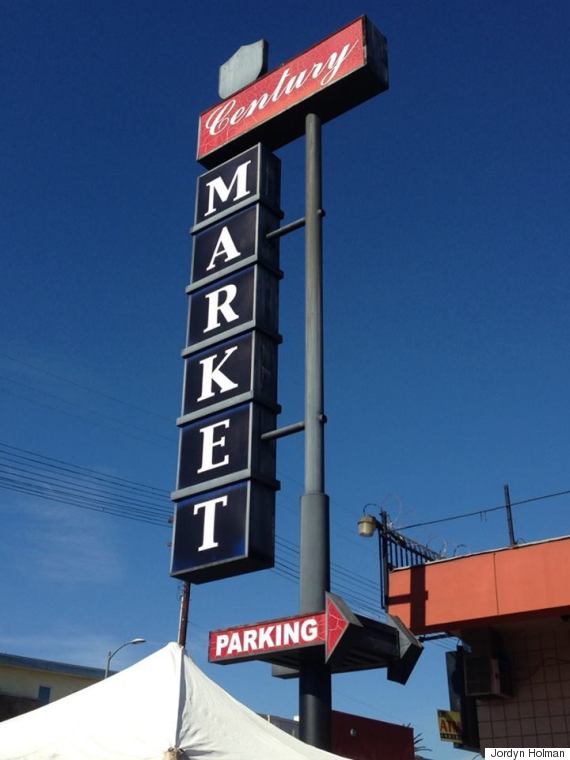 The store's new sign boasts the word "market" and not "liquor."
Their stand was located at the corner of 39th and Western, just feet away from Park's store.
"It got Mr. Park to see how there is a demand for healthy food and that it creates a positive more safer atmosphere for him to operate, too," said Kim.
Park later agreed to put fresh produce in his store every day.
With the expansion of Century Market, many residents now have more opportunities to get a taste of healthier food options.
Many people at the re-launch said they hope to see more conversions in South L.A., and encouraged residents to get involved in the efforts.
"We're the ones who are going to create the change in our neighborhoods," Kim said.
This story is part of a partnership with USC Annenberg to explore what's working in Los Angeles and beyond.
– This feed and its contents are the property of The Huffington Post, and use is subject to our terms. It may be used for personal consumption, but may not be distributed on a website.
Read more here:: Huffintonpost