By SELF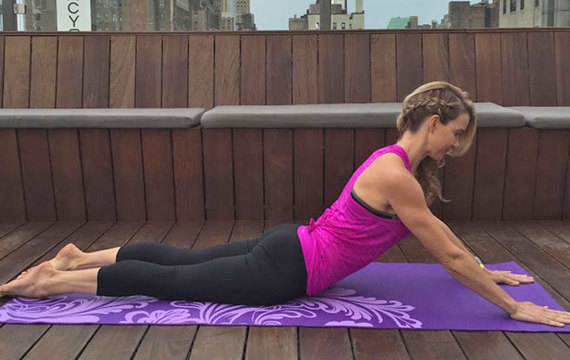 Give these new twists on classic exercises a try.
By Meg Lappe,
1. Cobra Push-Up
Start facedown on your mat with your toes pointed and palms resting on the ground a few inches above your head. Lift your torso off the mat and keep a soft bend in your elbows. This is your starting position (as shown). Begin to bend your arms lowering your elbows to mat, then straighten arms to return to start. Be sure to keep elbows close to your torso as you lower, not allowing them to flare out to the sides. Keep your hands neutral with fingers point forward. Do as many reps as you can in one minute.

2. Incline Plank
Start in a reverse plank position with chest facing the sky, wrists below shoulders, neck long, and legs extended. Tighten your core and begin to lift your right leg into the air (as shown). Hold this for 30 seconds; then repeat on the opposite leg. (You can always modify this exercise by keeping legs on the floor the entire time.)
(Photos: Meg Lappe)
More from SELF:
Your Do-Anywhere, Total-Body Workout
The Genius Trick for Perfect Scrambled Eggs
What's Your Sex Number?
The One Thing Hairstylists Wish You'd Stop Doing
5 Relationship Red Flags That Don't Have to Be Dealbreakers
The One Thing Dermatologists Wish You'd Stop Doing
4 Things Men Hide From Their Wives
– This feed and its contents are the property of The Huffington Post, and use is subject to our terms. It may be used for personal consumption, but may not be distributed on a website.
Read more here:: Huffintonpost