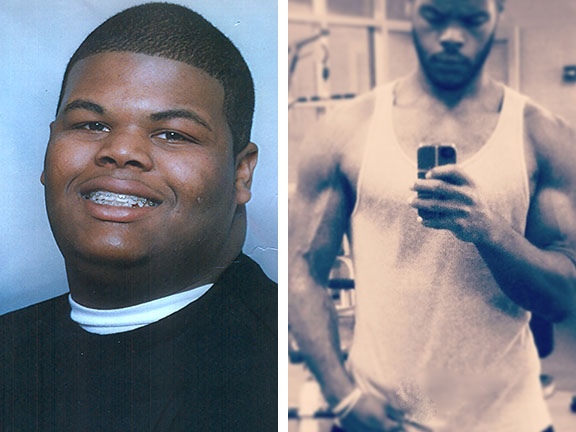 Name: DJ Andrews
Age: 26
Height: 5'7"
Before Weight: 320 pounds
How I Gained It: For years, I was overeating due to lack of nutritional understanding and depression. Growing up, I was always overweight. Coming from a small town in rural Georgia, health and fitness typically aren't at the top of anyone's priority list. As far back as I can remember, from age 4 or 5, I'd be given massive portions of very unhealthy foods and would get very little or no physical activity afterward. Years of this led to me reaching my all-time highest weight of a little over 320 pounds.
Breaking Point: It was in the fall of my junior year in college. I was heading to the mall and I remember going through the food court side and seeing a reflection of myself in the sliding glass door. It's funny, because when you're bigger, people always point out the fact that you're big, as if you haven't noticed, but it honestly wasn't until that moment that it finally hit me. Seeing yourself at that stage really isn't the best way to get your wake-up call, but it was better late than never.
How I Lost It: Fed up with how things were, and constantly unhappy, I decided to wake up early one morning in the fall of 2012 and go for a walk around my campus. I did that every single day afterward for almost two years. Walking the perimeter of campus three times is approximately 4.5 miles. I could barely do one mile at first, but I took my time and stayed consistent. The weight started coming off dramatically. Excited about the weight loss, I began changing my eating habits as well, and ate only things I cooked at home. Changing my eating habits plus walking really kicked my weight loss into high gear. Around late spring/early summer of 2013, I also started doing a lot of strength training to help tone up and build muscle. And by October 2013, a year since I'd started, I'd lost 100 pounds! I also began doing kettlebells, and then I completed the Insanity workout to maintain afterward.
How My Life Is Different Now: My life is different in how I feel I am received by other people. I feel the same, but people are more welcoming to me. That may just be a self-esteem issue, or it could be because I'm actually interacting with others more than I used to. Before graduating last year, I started my own personal fitness group on campus and began helping others who are in the situation I was fortunate enough to break free from. I got a few other students who had seen me walking around campus and wanted to join, and we motivated each other to keep going. I also started a Facebook page dedicated to workout tips and recipes.
For the most part, losing weight has been a positive experience so far. But as with most people who lose such a drastic amount of weight, there are certain issues that arise, mainly having to deal with loose skin, which I am trying to get corrected currently. Of course, insurance isn't going to cover it, so I ended up starting a GoFundMe page in order to get assistance with the costs. I'd really like to be able to do the small things in life that most people do every day without a second thought — taking off my shirt at the pool for instance.
I hope that soon my appearance can reflect all the hard work and time that I've invested and that I can in turn, help others with my story and with the health and fitness knowledge I now have.
Current Weight: 195 pounds
Got a success story of your own? Send it to us at success.stories@huffingtonpost.com and you could be featured in our I Lost Weight series!
The Huffington Post publishes photographs as they are submitted to us by our readers. As told to Erin Schumaker.
Check out more of our inspiring weight loss stories below:
Follow HuffPost Healthy Living's board Success Stories on Pinterest.
– This feed and its contents are the property of The Huffington Post, and use is subject to our terms. It may be used for personal consumption, but may not be distributed on a website.
Read more here:: Huffintonpost