On June 11, 1997, one of the greatest moments in sports history in any league by one of the greatest athletes from any sport occurred.
In what has since become known simply as "The Flu Game," Michael Jordan battled through illness in Game 5 of the 1997 NBA Finals to secure a 90-88 road win for the Chicago Bulls against the Utah Jazz.
But he didn't just show up and play. No, His Airness played the only way he knew how — flu or not — as the greatest of all time.
Jordan led scorers with 38 points, went 13 for 27 shooting and scored 17 points in the second quarter alone. He added seven rebounds, three steals, one block and even matched John Stockton's five assists that night. The Jazz, who at one point led the game by 16 points, fell to Jordan and the Bulls.
By the end of the game, Jordan collapsed into the arms of his teammate, Scottie Pippen.
"That was probably the most difficult thing I've ever done," Jordan had said after the game, according to NBA.com. "I almost played myself into passing out just to win a basketball game. If we had lost, I would have been devastated."
But the Bulls won, and would go on to win Game 6 two days later — and with it, the championship (what would be Jordan's fifth, who also then won his fifth NBA Finals MVP title, naturally).
Almost exactly 18 years later, Serena WIlliams pulled off a similar feat on her own court. Perhaps one even greater.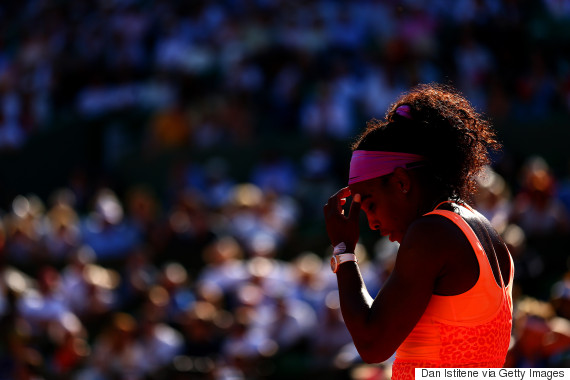 Who run the world? (Credit: Getty)
Down one set on Thursday's semifinals of the French Open, Williams battled back from a one-set deficit to win the semifinals at the French Open, all while suffering from her own case of the flu, even vomiting at one point while sitting courtside.
But who had the greatest flu game? Allow us to break it down.
While Jordan can boast putting in 44 minutes in his pivotal game, Williams, playing in the highest temperatures of the tournament so far, reaching over 80 degrees, dug in for nearly two hours to reclaim the next two sets to take down her opponent.
The Associated Press added that the tennis star even seemed to be dazed, asking whether the first set had even ended.
"It's not the set is it? Because they're sweeping the lines," Williams questioned, according to the AP.
And yes, no one can argue that Jordan didn't carry the Bulls on his back, even sinking the 3-point dagger to give Chicago the 88-85 lead with 25 seconds left in the game. But what happened next? A bucket from Utah's Greg Ostertag with a response by Chicago's Luc Longley and Stockton going an unimaginable 1 for 2 from the free throw line.
On the clay, it was Serena and Serena alone to take back the lead and victory.
And sure, Jordan looked faint and weak, slumping onto the bench. BUT SERENA VOMITED ON LIVE TV. SHE PUKED FOR THE WHOLE WORLD TO SEE.
And here is Serena Williams being sick and half-throwing up, tho it goes into the towel pic.twitter.com/pKgq9jiamW

— Andrew Jerell Jones (@sluggahjells) June 4, 2015
If that isn't the ultimate peak of beastmode, then I really don't know what is.
Both were at comparative stages in their careers at their respective "flu game" moments; Williams, 33, is on her way to winning a possible 20th Grand Slam title at Saturday's final. Jordan, 33 at the time, already had four NBA championships under his belt and would add both 1997 and 1998 rings.
But let's move beyond all that. Aside from the fact that on Thursday, Williams dropped the first set to Timea Bacsinszky 6-4 and single-handedly won the second and third sets 6-3 and 6-0, respectively, is the adversity Serena has battled throughout the tournament.
Look at her on the changeover taking deep breaths, was Serena. pic.twitter.com/u9ddDDYNZE

— Andrew Jerell Jones (@sluggahjells) June 4, 2015
She won the quarterfinals in two sets. Other than the first round, Williams, for three matches, has found a way to come out on top after losing the first set.
Chicago, on the other hand, were coming off their second-best regular season record and the league's second-best regular season record of all time. Their road through the Eastern Conference was also a series of largely undisputed victories at 3-0 versus Washington, 4-1 versus Atlanta and 4-1 versus Miami.
The Bull's first stumbling block didn't really come until the Finals, and before long they built a foundation of Game 1 and 2 victories over the Jazz, before being tasked with stopping Utah's Game 3 and Game 4 momentum.
And you want to talk about halting an opponent's push for victory? After spewing, Williams managed to break Bacsinszky's serve, win ten straight games and, ultimately, the match. Something she's grown accustomed to.
Serena Williams wins second set 6-3. Serena has won 32 Grand Slam matches after dropping the 1st set, 8 more than any other active player.

— ESPN Stats & Info (@ESPNStatsInfo) June 4, 2015
A visibly exhausted Williams, who coughed through another interview with French TV, according to the the Washington Post, barely made it through her post-match interview with ESPN.
"I don't think I've ever been this sick," WIlliams said, adding she's been "struggling" since getting the flu after the third round. "I can't believe I won."
Serena will face off against Lucie Safarova in the women's final in Paris on Friday. Should she win, she'll stand alone at third behind Margaret Court's 24 and Steffi Graf's 22 major titles. (Williams is currently tied for third, at 19 titles apiece, with Helen WIlls-Moody).
Jordan may be G.O.A.T., but when it comes to do-or-die moments while playing with the flu? Advantage: Serena.
Patrick Mouratoglou greeting and consoling Serena Williams after the match pic.twitter.com/axV2ZS8FXm

— Andrew Jerell Jones (@sluggahjells) June 4, 2015
– This feed and its contents are the property of The Huffington Post, and use is subject to our terms. It may be used for personal consumption, but may not be distributed on a website.
Read more here:: Huffintonpost