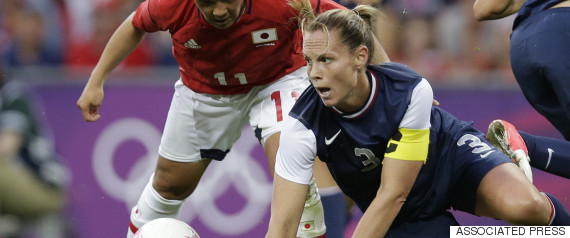 Christie Rampone is the captain of the Women's World Cup-winning U.S. Women's National Team. She is also a mother of two, a five-time World Cup participant (not to mention a two-time tournament champion) and a three-time Olympic gold medalist. When she's not busy winning or parenting, the Florida native helps raise money for the Boys & Girls Clubs of America and promotes a youth soccer program called Kick It Soccer.
Fresh off earning her second World Cup gold, Rampone — who just became the oldest woman to ever play in a FIFA Women's World Cup — caught up with The Huffington Post to discuss why this year's team might be the best ever, why Hope Solo deserves recognition and why female soccer players need to be compensated more fairly.
This interview has been edited and condensed for clarity.
You're 40 years old. What is your next move?
[Giving back] will be fun, because that's the next step for me. Obviously playing for so many years and having those under my belt, I'm so excited to give back to the youth and to be there for them.
I'm glad you said that, "the next step." Are you going to go into coaching? Or more specifically getting involved with youth soccer?
Personally I would love to stick with youth soccer. I feel like kids are sponges and I've been through it. I know what it takes in order to be the best individual you can be. Not saying that everybody wants to play at the highest level, but [I'll be] teaching kids how to be a bit more technical with the ball, and their vision, and their tactics. I hope with this World Cup victory that more kids will get outside and start kicking soccer balls.
I'm glad you brought up the technical stuff, because from everything I've read, it seems like everybody now is talking about the game in a much more technical element. Whereas in the late '90s and early 2000s, that wasn't the case with women's soccer.
Agreed. I've been on both sides of it. Back in '99 it wasn't about the speed or endurance or athleticism — it all just came along. I don't think we were educated as much as we are now about how technical you have to be, because other countries are playing great soccer and catching up. [Americans] embrace it but we definitely have to get better on the technical side, and once we master that I think you'll see our team explode again to another level.
Your teammate Megan Rapinoe said this might be the best team of all time. Have you heard that, and would you agree with her assessment?
If we weren't growing, I'd be sad. Like, this team is definitely a phenomenal team and as you could see, we had 23 players who could have started in this tournament and done well. Our starting team did awesome. The depth of this team is the best it ever has been, and it's going to make it harder and harder in the future for the coaches to pick the roster.
What is it about Coach Jill Ellis? I know everybody talks about how she comes in and she's so positive — but is there one thing that you could point out about her?
I think she embraces the fact that we're going into a seven-game tournament. We had amazing game plans going in, and some of them weren't working out in the beginning or we weren't playing our best soccer. But when it started to count, I think the team really locked in and bought into game plans. This World Cup for us was all about set pieces and realizing that was our strength, and we executed from the delivery to the finishes. It was fun to be a part of. The world doesn't know what's going on, but we know what's going on, and when you score a goal it means more to us.
Women's soccer has come very far, but the way you are being compensated moves at a glacial pace. How frustrating is it knowing how much more money the men are making?
We've been fighting since 1999 for salaries and bonuses and continuing to get paid more, but now with the fan support and the sponsors, that's where it all comes together. So we're hoping that U.S. Soccer re-evaluates and sees how powerful this team is — not just for us but for other women's sports. When you put the money behind it with the marketing and the media, good things can happen. I think a lot of people witnessed in this last month now that women can play, and seeing the slow-mo and the retakes of certain tackles, that it's a powerful sport, a powerful game. Yes, we're women, but we're playing at an amazing level.
What allowed you, at 40, to play this long, especially after having had kids?
It's knowing my body. Knowing when to push it and when I could go after it, and knowing when I needed to back off a little bit. But I've been a multiple-sport athlete, and I talk about it all the time because I think that cross-training really helped me. I was a late bloomer with soccer, and granted, I'm not the most technical player but I really know the game of soccer. When I'm home, my training is all cross-training and making sure I'm not pounding the same muscles by doing the same thing over and over again. I trick my body with different types of workouts, and really, I'm on a health kick with what I put into my body. As I've gotten older, I got more educated with blood type, [became] gluten free, just so that I can manage the complete package, from the mental and the physical side of it.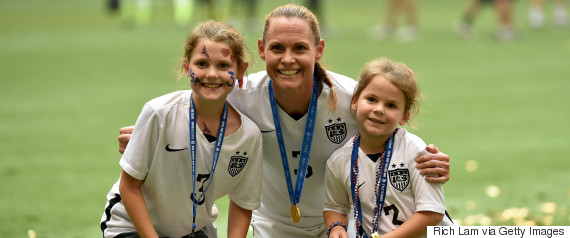 When you look at your daughters or other young women, would you recommend that they find their one sport and play it? Or do you like the fact that you can play other sports as a kid and not burn out, necessarily?
What I'm doing with my children is [having them play] multiple sports as long as they can. And I get it: Different generations are more and more focusing on one sport and there are a tremendous amount of practices and it's hard to mix. If you're playing five days a week and then games on the weekend, that's too much on your body. They need something for fun, they need that outlet, because if it is something that's going to be career-oriented and they want to play in college, you're going to need that balance and to not just focus on one sport. So I encourage it if they love one, but try to have another one so you can get a release from it.
Abby Wambach did not have a classic tournament for her standards. What is her legacy at this point?
Abby's been brilliant. She has been a tremendous teammate, friend, leader on this team. Her energy on the field and how loud she is and how emotional she is — I think brings so much to our team. She's always the one who knows what to say at the right time. She's a gamer. No one understands, in those big moments throughout her career, she's always done something brilliant. Obviously in this World Cup she had a bit of a different role but she still brought it. She still had that energy and passion for the game. She'll go down in my eyes as the best player who has come out for the U.S. team. She's proven it over and over again.
What about Alex Morgan's future as a marquee face of the game?
Alex has got a big career ahead of her. She started getting a name for herself with the types of goals that she was scoring. She's so strong and so gifted. Her release when she strikes the ball is so quick and tough for defenders, and she causes havoc out there on the field. It's just pacing herself. I think that's what Abby was very good at — she wasn't just going to go 100 percent her entire career. I don't think people really understand how much we're away from home. I think [Alex] just needs to manage herself and look at her body.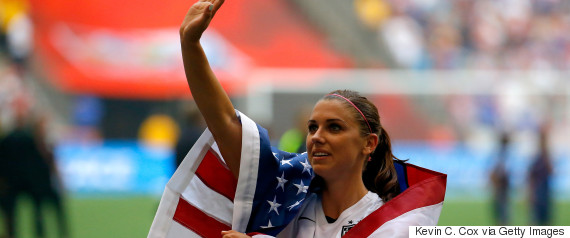 Finally, let's look at Hope Solo. Obviously she has become a highly controversial figure, but it seems like she figured it all out in this World Cup?
Yeah, off-the-field stuff happens. It was just trying to not make it a distraction, because at the end of the day she has to take control of that. She is the best keeper in the world. She's by far the most athletic, she has a knack for being able to focus on the ball and follow the ball. You have to credit her.
Email me at jordan.schultz@huffingtonpost.com or ask me questions about anything sports-related at @Schultz_Report, and follow me on Instagram @Schultz_Report.
– This feed and its contents are the property of The Huffington Post, and use is subject to our terms. It may be used for personal consumption, but may not be distributed on a website.
Read more here:: Huffintonpost