By Pam Masin

Plenty of experts can tell you all the ways to eat healthier (Stock up on kale! Drink green juice! Pack your lunch!). Sure, the advice works in theory, but what happens when life intervenes? Here's a plan you can stick to in the real world.
By Lindsay Funston
The average person makes more than 200 food and beverage choices every day. With a 22-month-old daughter and a demanding job as a marketing director in New York City, Elizabeth Psaltis feels like most of hers are pretty crummy. "I'm incredibly lucky that my husband takes care of cooking dinner," Psaltis says, "but I'm on my own for breakfast, snacks, and lunch, which I often eat at my desk during a five-minute break between meetings." The 39-year-old struggles with flagging energy and wants to start eating in a way that gives her enough fuel.
To help Psaltis reassess her habits, O enlisted registered dietitian and nutrition counselor Marissa Lippert, founder of Nourish Kitchen + Table in New York City. Lippert first had Psaltis keep a food journal for three days. "It's a short amount of time, but you'd be surprised how quickly eating patterns emerge," Lippert says. "In Elizabeth's case, I noticed that her light breakfast was throwing off her choices for the rest of the day. If you let hunger catch up with you, things can fall apart. But the problem is remarkably easy to fix if you find ways to make the foods you love work for you." Lippert gave Psaltis five tips for getting back on track — advice anyone can use.
Fill Up on Good Fats in the Morning
Psaltis likes to starts the day with a five-ounce sweetened nonfat Greek yogurt topped with granola and fresh berries. One big change Lippert wants to see: more healthy fat. "Fat plays a major role in satiety. A little goes a long way because it's calorie-dense. Elizabeth will feel full longer when she's not relying on fat-free foods to sustain her." Lippert suggests a smaller, four-ounce serving of full-fat plain yogurt that Psaltis can round out with fresh fruit and a tablespoon of her favorite chopped nuts or two to three tablespoons of granola. "This will not only give her enough energy to make it through her morning, but will also help her make better decisions at lunch," Lippert says. For other filling breakfast options, she has two recommendations: a slice of whole grain toast topped with a thin smear of full-fat cream cheese, three pieces (2 ounces) smoked salmon, thinly sliced cucumber, and red onion; or a hard-boiled egg and half an avocado sprinkled with flaky sea salt, crushed red pepper flakes, and lemon juice. Says Lippert: "Both of these offer a healthy dose of fat, protein, and fiber to steady blood sugar and metabolism."
Listen to Your Body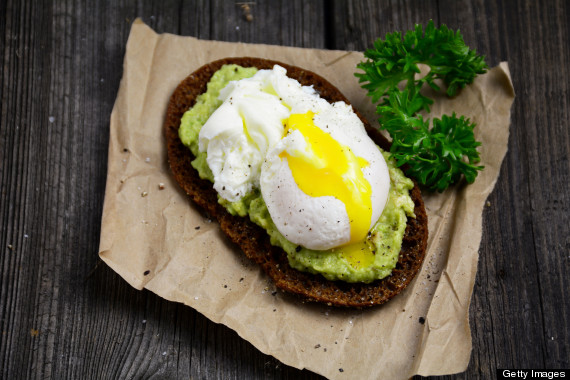 "I find that most people are unaware of which foods really satisfy them," Lippert says. "I can eat a perfectly healthy breakfast of oatmeal topped with fresh fruit, but it doesn't hit the spot like a poached egg with avocado. That kind of breakfast shuts the door on my hunger. Once you identify your most filling foods, build your meals around those items." In the morning, Psaltis admits, she often craves bread — but rarely indulges. Lippert says that's misguided: "If Elizabeth wants carbs, she can make them work to her advantage by going for complex ones, such as whole grains." Same thing goes for Psaltis's desire for meat and cheese, both of which can be part of a healthy diet. "If you're a meat person, a steak salad will feel like a total treat," Lippert says. "And as long as you're using only one to two tablespoons of cheese as a flavor accent and not eating a wheel in one sitting, you're fine."
Make a Lunch You Actually Want to Eat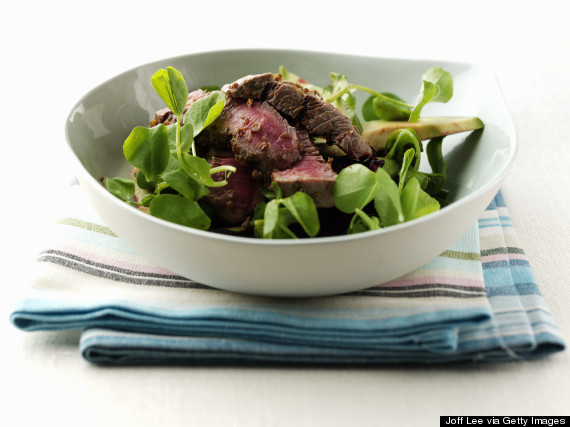 When the clock strikes noon, Psaltis's stomach often starts to growl, but she's strapped to her desk with work, so she reaches for a granola bar to tide her over. When she finally runs out for lunch, she typically buys a bland turkey sandwich and a bag of chips. To indulge her bread craving, Psaltis should shape her lunches around complex carbs, like brown rice, barley, or quinoa (Psaltis can cook a big batch at the start of the week), or a starchy vegetable like sweet potato (roasting five on a sheet pan at once makes enough to last five days). "I find that women who skimp on complex carbs earlier in the day tend to crave sweets later in the afternoon because they don't have that steady stream of released energy to sustain them," Lippert says. To make grains and green salads more enticing, stack them with flavorful ingredients and different textures, such as a sharp cheese, crunchy nuts, and creamy avocado, and a full-fat olive-oil-based dressing. "Your body can't metabolize some of the nutrients found in veggies without a healthy dose of good fats," Lippert says.
Follow the 3/4 Rule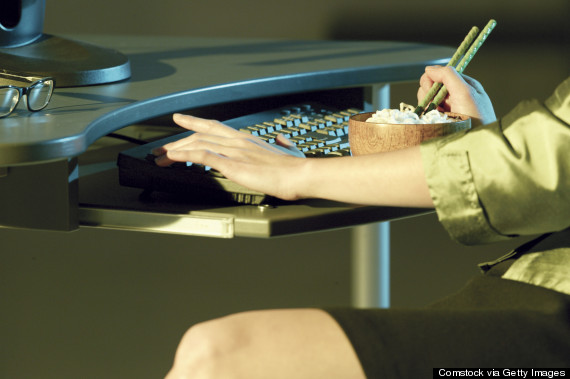 When Psaltis does get around to eating lunch, it's usually in front of her computer. "If you're not able to fully focus while eating, just make a mental note to come to a stopping point once you're 75 percent done," Lippert says. "That way, you can check how full you feel. You might continue eating, but at least you're not just mindlessly inhaling what's left."
Amp Up Afternoons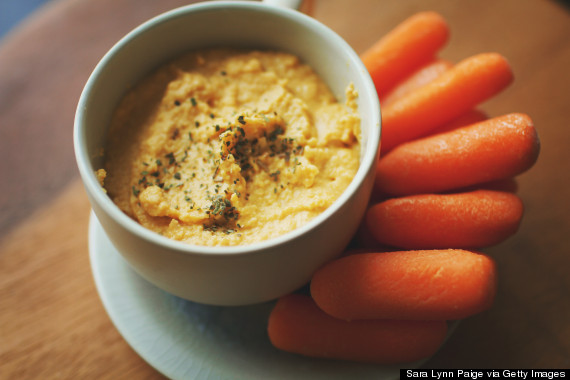 Psaltis typically brings a piece of fruit for a snack but often winds up hitting the vending machine or grazing on doughnuts or cookies that happen to be in the office. "Having an afternoon pick-me-up that you actually like is important," Lippert says. "If she knows she wants chocolate at 4 P.M., she should eat chocolate at 4 P.M. I'm not talking about a candy bar or a cupcake, but adding 1 tablespoon of chocolate almond butter to fruit, for example, will give her healthy fats and protein –and be just enough to get her fix." For a savory snack, Lippert suggests bringing fresh-cut vegetables such as radishes and carrots or crispbreads (try Finn Crisps) and a simple garlic and white bean dip (puree a can of cannellini beans with a clove of garlic, a drizzle of olive oil, lemon juice, salt, and pepper) to the office. And don't underestimate the power of a cappuccino: "The milk is rich and filling," Lippert says, "and when spiked with a little cocoa or cinnamon, it feels indulgent."
Like Us On Facebook |

Follow Us On Twitter
Read more here:: Huffintonpost