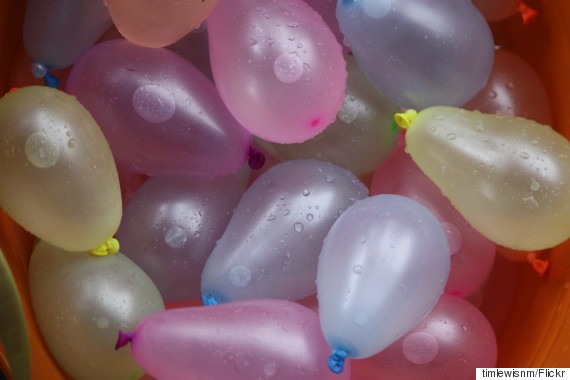 It's oftentimes a wave of boredom which prompts the, "can I watch TV/play on the computer?" lines from kids. If you turn to Google to solve that problem, most "Best Kids Games" search results are the best computer programs, smart phone apps, and video games.
Device addition is plaguing people at progressively younger ages, so it is important as ever to have a list of tech-free options for kids, particularly given the studies which prove the negative impact of excessive screen time on a child's cognitive development, verbal skills, and self-esteem.
As an alternative to potentially harmful activities that will keep your kids glued to a screen all day, here's a list of 13 games that require no device at all, which should keep your kids plenty occupied!
Outdoor Fun
1. Relay Games
There are quite a few variations on this theme, including egg and spoon races, or three-legged race.
Supplies needed: This depends on the chosen variation — spoon and egg race: plastic spoons and hard-boiled egg; for three-legged race: strong tape to hold legs together, old socks or stocking so tape is not on bare skin
2. Water Balloon Dodgeball
This one is pretty simple. It'sdodgeball with water balloons instead of foam or bouncy balls. Just be careful that no one aims for the head or other sensitive body parts! It's a great activity for hot summer days.
Supplies needed: water balloons, string or tape to mark divider between teams
3. Nature Scavenger Hunt
A fun way to get kids to interact with nature; it's super simple and requires virtually no supplies!
Supplies needed: create your own list, or check out Simple As That Blog's downloadable version.

4. Wall Ball
It's a playground game that dates way back, but continues to entertain kids these days. Rules may vary depending on the crowd, but it's a fun game for a small or large group.
Supplies needed: wall, bouncy ball
Fun Games for Rainy Days
While it's not a crime to go see a movie on a gloomy day, it's great to have some other indoor ideas in stock.
5. Build a Fort!
Building a fort indoors when it's stormy outside is always a fan favorite.
Supplies needed: lots of blankets, pillows, chairs or couches to support contraption, a bit of space to build on
6. Board Games
The best part of board games (besides the inherent fun competition aspect, if you want to emphasize it) is the range of ages they appeal to. "Hungry Hungry Hippos" and "Sorry!," and are a great choice for younger kids, while "Scatergories," "Banana Grams" or "Scrabble," and "Monopoly" are a good option for kids who are a little older.
Supplies needed: store-bought board game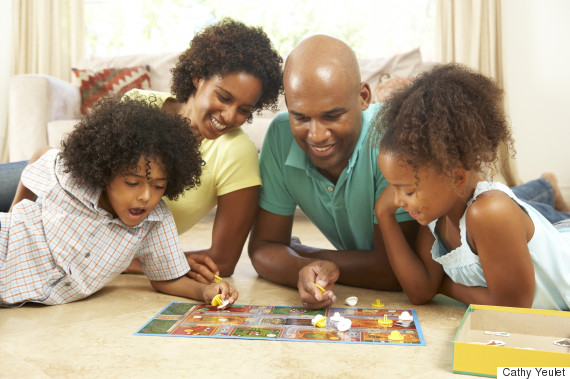 7. Card Games
From "Go Fish" to "Hearts" and even "Solitaire," card games are a great cure for boredom, and are fun for all ages (bonus points if you can learn magic card tricks).
Supplies needed: deck of cards
Need Some Prep, But Tons of Fun
8. Squirt Gun Cup Races
How fast can kids push plastic cups down a track using just a squirt gun? This requires some set up, but they'll love this timed race.
Supplies needed: paper or plastic cups, something to puncture the cup, string, and tape. For full instructions, visit All For the Boys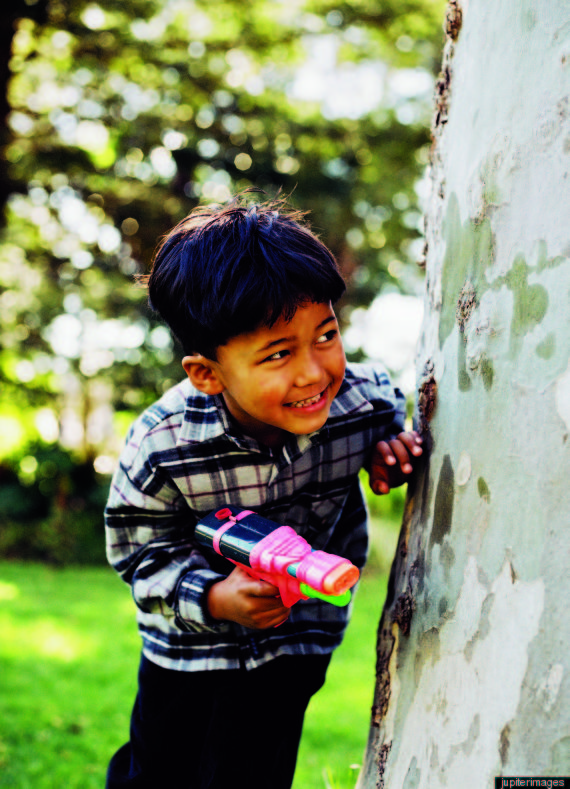 9. Slip 'n' Slide
Slip and Slides can easily be purchased at big toy stores, but you can also make your own! Check out how to do so on science website "Wired."
Supplies needed: store-bought contraption, or DIY: roll of heavy plastic, pool noodles, peel-and-stick Velcro, and garden hose
The Classics
10. Hide and Seek
It's a classic which has maintained it's popularity for a reason — kids love it, and it'll keep them busy for a little while!
Supplies needed: space with a few decent hiding spots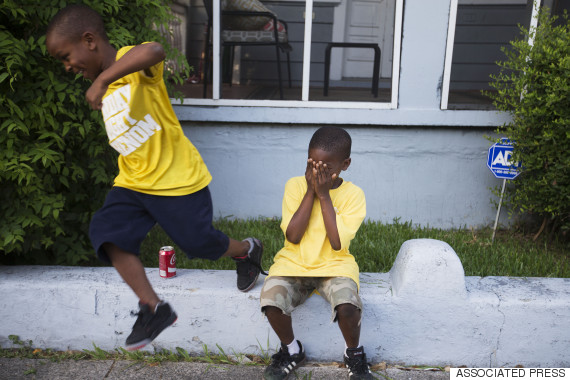 11. Sardines
A slight variation on the go-to Hide and Seek. With this game, all but one player count and search, then go their separate ways to find the one in hiding. When a seeker finds the original hider, they hide with them. The last person to find the hiding spot "loses" that round.
Supplies needed: space with a few decent hiding spots
12. Hopscotch
Can be played indoors or outside, with tape or chalk, respectively. It's not traditionally a very competitive game, but can be turned into one if the kids so choose.
Supplies needed: tape or chalk, depending on chosen surface.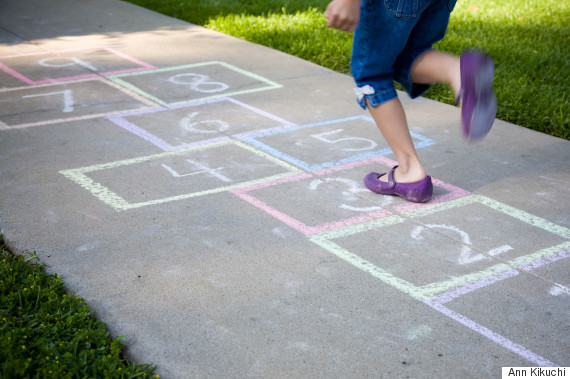 13. Ball Games
Competitive or not, you can't really go wrong with ball games — basketball, soccer, whiffle ball, or even hockey. With or without the fanciest equipment, this is a great way to get kids outside and running around some.
Supplies needed: ball of choice, depending on sport + other markers — Basketball: hoop of some sort; Soccer: goal markers; whiffle ball: whiffle ball, bat, and something to serve as bases; hockey: puck, goal markers
– This feed and its contents are the property of The Huffington Post, and use is subject to our terms. It may be used for personal consumption, but may not be distributed on a website.
Read more here:: Huffintonpost