By Lynn Okura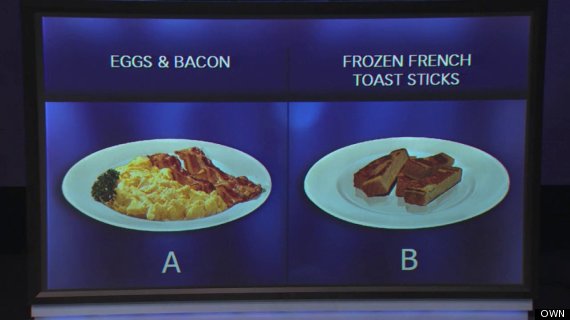 We all know that breakfast is the most important meal of the day – unless you're unknowingly sabotaging yourself with so-called "healthy" choices. In this throwback "Oprah Show" clip from 2009, David Zinczenko, then editor-in-chief of Men's Health, quizzed the audience on some of their favorite breakfast foods and explained which were the healthier options. The eyeopening results were "shocker-rooni," as Oprah put it.
Eggs and Bacon or Frozen French Toast Sticks
Answer: Eggs and Bacon
The eggs and bacon are a combined 250 calories, while the French toast sticks have 450 calories, Zinczenko said. On top of that, eggs have added benefits. "Studies show that if you start your morning with a high-quality protein source you're going to burn 65 percent more calories throughout the day," Zinczenko said.
Regular Bacon or Turkey Bacon by Oscar Mayer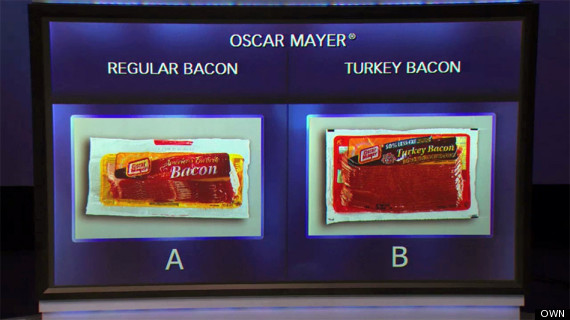 Answer: Regular Bacon
The results came as a huge surprise to the majority of the audience, including Oprah. "I was totally shocked because I've been eating turkey bacon for the last ten years," she said.
In actuality, Zinczenko said both products have the same amount of fat and calories. "But you're getting 25 percent more sodium with the turkey bacon," he said.
Multigrain Bagel with Low-Fat Cream Cheese or a Glazed Donut from Dunkin' Donuts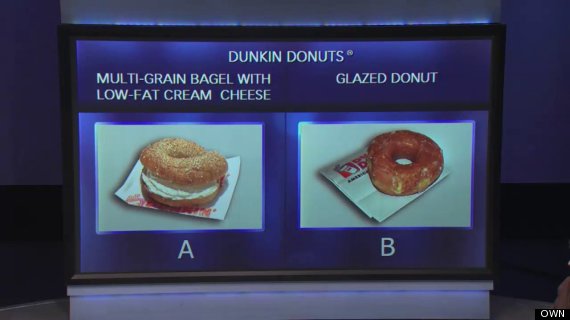 Answer: Glazed Donut
The glazed donut is 180 calories, while the multi-grain bagel is 500, Zinczenko said. And unfortunately, buzzwords like "multi-grain" are often little more than a marketing ploy. "That only means that there are different grains used; they may still be refined grains," he said. "Whole grain is much better."
While the donut may be fewer calories, Zinczenko warned that doesn't make it healthy. A protein-packed egg, for example, would still be a better option.
"The correct answer is B, it is a glazed donut — that doesn't mean go have 12," Oprah added.
More from the Like Us On Facebook |

Follow Us On Twitter


Read more here:: Huffintonpost