By Abigail Wise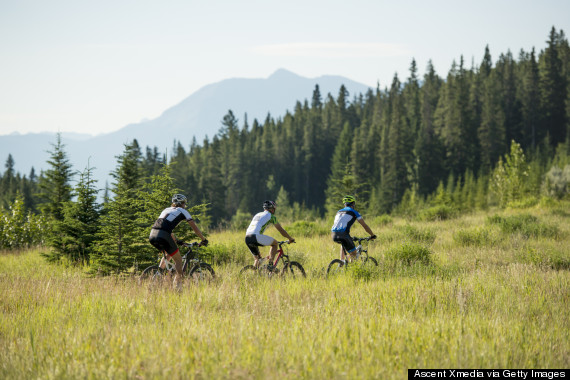 Your mom and dad were onto something when they strapped on a helmet, took off your training wheels and sent you teetering along on your new ride. Despite recent rumors that helmets don't do that much good, the facts remain firm that protecting your dome while you bike makes the sport safer. And ditching the helmet for even just one ride opens up a world of unnecessary risk.
The History Of Bike Helmets
According to Bicycling Magazine, head protection standars first came about in the 1950s when car racer William "Pete" Snell died in a crash. His friends created the Snell Memorial Foundation, dedicated to helmet safety research. The first bike helmet was sold in 1975, and when their popularity grew in the 1980s, doctors began to notice that cyclists in the emergency room after a helmeted crash fared better overall than those who rode with naked noggins. By the late 90s, all helmets sold had to meet strict standards in accordance with the Consumer Product Safety Commission.
The Helmet-Hard Facts
What started in the 70s remains true today: wearing a helmet makes riding safer. That may be why half of riders now wear helmets — an 18 percent increase in just eight years — and 98 percent of bike commuters own one. While there is one small study in the UK, that says that wearing a helmet actually puts a rider at greater risk, many experts aren't on board with its findings. "No safety scientist we have met believes this study to be valid, and it has not been repeated," Thom Parks, vice president of corporate affairs at Bell and Giro, tells The Huffington Post.
And almost all other research sides with Parks.
A study published in the New England Journal of Medicine in the late 1980s claimed that helmets lowered the risk of head injury by 85 percent and protected the brain nearly 90 percent of the time, but a follow-up study showed that their findings may have been a bit optomistic. That said, the 1996 study still found helmets as an effective way of reducing, or even altogether preventing, head injuries in bicycle crashes.
But even with these convincing stats, not everyone wears head protection when they ride. Of those who do not wear helmets, 26 percent say it's because they only ride a short distance, 25 percent say they forget and 20 percent find the gear uncomfortable. These reckless riders could very well end up a part of the 800 cyclists who are killed each year or one of the 500,000 who wind up in the ER in the U.S. Of those, about 65 percent of the deaths and 30 percent of the injuries involve the head and face.
Luckily, the future of helmets is bright. Even characters in children's movies are wearing helmets more often. Now, 25 percent of them do, which is up 10 percent from 2002.
Why More Money Doesn't Necessarily Mean More Safety
When it comes to investing in a helmet, there's an overwhelming range of styles, sizes and safety claims. The truth is that the $100 version is a fancier, flashier, potentially comfier version, with a similar skeletal base to the $20 one. All helmets made or imported to the U.S. for use after 1999 must comply with a mandatory safety standards issued by the CPSC.
The bottom line? When talking strictly safety, as long as it fits correctly and sports the CPSC safety label, each helmet should be just as safe as its shelf neighbors.
How We Can Make Cycling Even Safer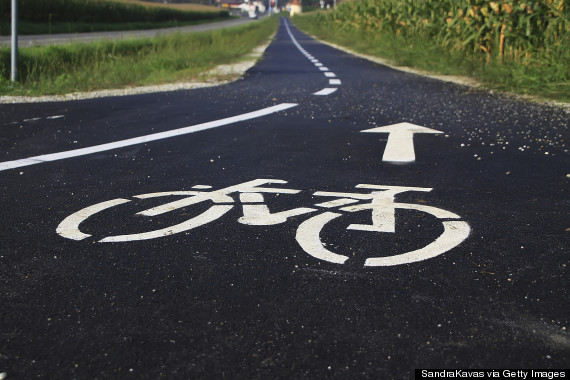 For all of the good that they do, helmets aren't perfect. In fact, as more people convert to helmet wearers, the rate of bike-related head injuries is also rising. Part of this could be our present focus on the dangers of concussions, meaning that they are simply diagnosed more often than they once were. But the other part is that helmets are primarily designed to protect the skull from high-impact blows — and they do a great job of that. But the low impact hits that may very well cause concussions aren't easily absorbed into the helmets. The problem is that catering to the smaller hits could mean less protection from the larger, life-threatening ones, so helmet designers continue to hunt for the perfect protection. "Yes, all helmets have limits, and serious injury or death can occur even when you wear one, and even at low speeds. But the odds are clearly more in your favor when you wear a certified helmet which fits you well and is well adjusted," Parks tells The Huffington Post.
Helmets aren't the only form of protection that factor into bike safety. Protected bike lanes give cyclists a place to pedal outside of the flow of traffic and can greatly reduce accidents. The protected bike lane on 9th Avenue in New York City lowered the injury rate of all street users by 56 percent. These lanes have the potential to decrease cyclists' injury risk by as much as 90 percent.
But even with the addition of protected bike lanes in cyclist friendly cities, donning a helmet is key. Parks and many other helmet enthusiasts hold strong to their belief in the safety of helmets. "As light and well ventilated as helmets are, as inexpensive as many models are, there is no good reason to ride without," he says.
Follow HuffPost Healthy Living's board Facts And Stats on Pinterest.
Read more here:: Huffintonpost