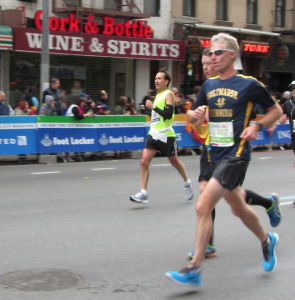 WE ALL NEED A COACH
I didn't know I needed a coach until I spoke to Andrew Kastor on the phone last Thursday. Kastor is the head coach for the ASICS Mammoth Track Club and the LA Road Runners. His wife, Deena, is an Olympic marathon bronze medalist and American record holder in the marathon and half-marathon. So, what's a guy like me doing, talking with a guy like him? He's my coach.
As a member of the 2014 Asics Editorial Challenge Team, I have a training plan written by Coach Kastor and regular opportunities to talk to him about my running. This is new to me. I haven't had a coach since I was in high school. I'm used to doing my own thing and giving advice to others. After all, I'm a certified RRCA adult distance running coach myself.
As it turns out, I needed a little help. And, you might too. Even if you think you know what you're doing, sometimes it helps to have an educated and unbiased opinion. You see, we tend to be too subjective when we coach ourselves. Sometimes we just need a little push in the right direction.
MASSAGE AND PHYSICAL THERAPY
I've never had a massage. I don't like strangers touching me. And it's expensive. But I've made an appointment for a deep tissue massage tomorrow afternoon. Why? Good coaching advice.
I explained to Coach Kastor that I was suffering from nagging pain and tightness that seemed to creep from my hamstrings to my adductors, to my glutes, and back to my hamstrings again. I stretch, ice, rest, etc. He asked if I had regular massages. I explained to him that I was lucky enough to have an understanding wife who would rub my sore muscles from time to time if that qualified. It didn't.
He said to think of massage as an investment. Compared to the costs of entry fees, shoes, gear, watches, travel, etc. it's a modest amount of money to take care of your body and stay healthy. And without a tune up once in a while your risk of serious injury increases. Makes perfect sense to me. That's what I'd tell the athletes that I coach. Why couldn't I take my own advice?
NUTRITION
I asked Coach Kastor about fueling during the marathon. Last year, in New York City, I really hit the wall hard at mile 21. My fueling plan consisted of water and Gatorade every other station. Not a solid plan, but it was going so well up until mile 21…
Kastor told me that fueling really began the entire week before the race. In fact, he often sees his athletes gain a few pounds during the taper, and it's a good thing. Your body's fuel should be topped off before running a marathon. Lots of healthy food, carbohydrates, an extra pinch of salt here and there, and plenty of water.
Race day should begin with a healthy breakfast a few hours before race start. Perhaps a bowl of oatmeal with cut up bananas and brown sugar to give you some regulated carbs and settle your stomach. Sip water and stay hydrated, but not so much as to cause stomach upset by drinking large amounts.
As for the race itself, it really depends on what works during training. In New York City, there will be Gatorade Endurance and water available every mile or two. This is enough for some runners. Others may want to supplement with an energy gel or two. Some may need more. It also depends on how long you'll be out on the course. A 2+ hour marathoner will need less fuel than a 6+ hour marathoner.
REST AND RECOVERY
Knowing that I have another marathon coming up in Philadelphia just three weeks after New York, I asked about recovery and training for two marathons in three weeks. One of his first questions was "Why?" Why indeed. I suggested that one of them would be a BQ effort and the other would be about enjoying the race experience. No way to know which one will be which until the race is half over.
He suggested that in any case, I would be smart to take an entire week off from running after New York City. The marathon is a very long race that punishes the body with sustained pounding on the pavement. Not only that, but it's emotionally taxing. Sound advice.
Week two run easy with a concentrated effort at goal marathon pace of maybe 10 miles to remind the body what it feels like. Lots of easy miles to round out the week. Then, taper week three and make it to the race healthy. Fitness levels won't really change too much in that amount of time, but recovery is really important.
Thanks, Coach!
You can follow Jason on Twitter or Facebook
Read more here:: Huffintonpost