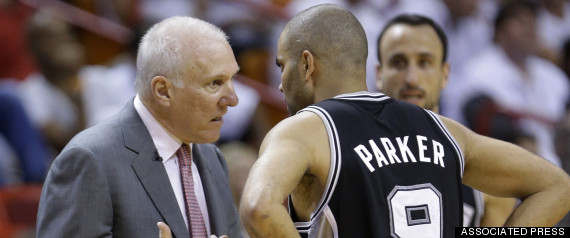 Six-time NBA All-Star Tony Parker is fresh off his fourth NBA championship with the San Antonio Spurs. The point guard has been busy anchoring the Spurs' dynasty, but he recently took a few minutes to talk to The Huffington Post about his "fearless" nature in the paint, why he admires Gregg Popovich, how good Kawhi Leonard can get and whether Tim Duncan is the best power forward of all time. The 32-year-old Frenchman also discussed his work with Make-A-Wish France and why giving back has become an integral part of his life.
This interview has been edited and condensed for clarity.
How did you get involved with the Tissot brand, and how does it connect with other things you are doing off the court?
I think it's one of the most respected brands. The owner is French, so we always got along real quick. They have the same values as me and they help me with a lot of things that I do with my foundation in France as the ambassador of Make-A-Wish. We created a great relationship and we started my limited edition watches, so I feel very proud to be a part of that great brand.
Talk about your foundation and its mission to help those in need.
Basically I'm the ambassador of Make-A-Wish, so I do a dinner every year in Paris — or Monaco, it depends — to raise money to help different foundations. So obviously I have mine, which is helping Make-A-Wish, but then it depends. Like last year, I partnered with Omar Sy — you know, the actor on "X-Men" — he does a lot of stuff with kids in the hospital. So each year I choose a different celebrity and we partner up and do a big dinner, then we split the money. Tissot has been involved with me all those years with that dinner, and they're the main sponsors.
Why is that so important to you, in terms of giving back?
It started with my mom. I was like 21, just won the championship, everything was going well for myself and she was like, okay, you did a lot of good stuff for yourself, but what about giving back and helping other people who didn't have the same opportunity or have the same luck as me. So we started to see what I could do, and Make-A-Wish was just starting in France back in the day, and they were looking for an ambassador. I had just met a kid that year who wanted to see me in the U.S. Make-A-Wish, so I felt like that was a great collaboration. I felt like my life was like a dream, so if I can make a lot of dreams happen for little kids, I felt like it was a great fit. It talked to me.
At this point in your career, how do you maintain that consistency? I've talked to players who have said the Spurs' consistency is unbelievable.
I think we never get satisfied with ourselves, and that starts with Coach Pop. He's very motivated every year and wants to keep winning, and we just try to stay focused and try to push ourselves and try to win as many championships as we can. I think we all realize the great opportunity and nobody takes it for granted. We'll never take it for granted. Getting to play with Timmy [Duncan] and Manu [Ginobili], we all realize that it's very special and we want to try to push it as far as we can.
Do you think Timmy is the best power forward ever?
Yes, yes. I think so, yes.
When you look at what left to accomplish in your career, what is the first thing that stands out?
I try to stay motivated, try to set myself some goals. Obviously we've never had a repeat, so that's a great challenge for us for next year. Try to defend our championship. With the national team, we just found out the European championship is going to be in France, so we're going to defend our title at home, so that will be unbelievable. To try to get a medal in 2016 at the Olympics in Brazil would be nice.
I'm glad you brought that up. I know you're not playing in the International Basketball Federation right now, but how do you judge international success?
You have to put it in perspective. You know, it's amazing. It started with the Dream Team in '92 with [Michael] Jordan and Magic [Johnson]. A lot of people were watching at that time, and I was one of those kids. Now you can see Europe and the whole world blossoming and all of the best players coming into the NBA, the best league in the world.
One of the more remarkable stats annually is how you always finish at the top of the league in field goal percentage in the paint. For somebody your size, that is quite the feat. What is the No. 1 key to being so efficient against all the big guys in there?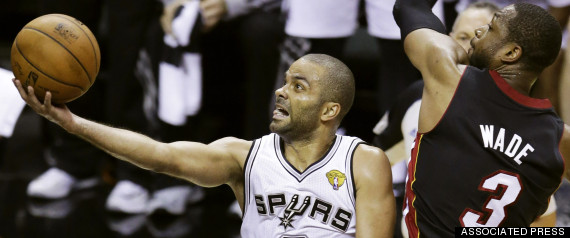 Fearless. I'm fearless. I just like going in the paint, and I just like the physical aspect of the game, even with my small body.
That's the thing, Tony, these guys are enormous. How do you stay on the floor, stay healthy and stay so good?
I'm very disciplined. I take care of my body well, and respect what you have to do in order to recover and get rest. I'm very dedicated to that because I want to play for a long time. I love the game and want to have a long career.
What role does rest and sleep play for you then?
I think it's the main thing, it's very important. That's why you have to balance when I play for the Spurs or when I play for my country, and so that's why this summer I felt like it was a good summer for me to rest, because I play all year long almost every year. So that was good timing for me.
What about your diet? Is there something you do to keep it fresh? How do you keep it healthy the whole year?
I just try not to abuse anything. It's not like a strict one, because obviously I'm French so I like to eat. I just try to find a good balance on everything.
What's Tony Parker's cheat meal? Like favorite desserts, that kind of thing.
Hard to choose because I just love everything, so it's hard to choose one.
When you look at how stacked the Western Conference is and what you guys can do to repeat, how can it be done?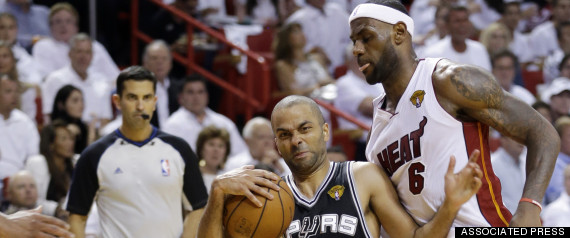 Health. Health. Just stay healthy. I feel like if we stay healthy, we can compete against everybody.
How much has your leadership role changed from the beginning of your career until now?
I feel like I'm blossoming in that role. Obviously, I arrived when I was 19, so I was a little kid and I'm running the team and being the coach on the court. Obviously Coach Pop does an unbelievable job, and I just try to relay what he wants to everybody on the court.
We see an emerging star in Kawhi Leonard. How good can he become?
I think he can be great. It's going to be very interesting when the "big three" retire and he's going to take over. Right now he's playing great basketball.
You mentioned retiring. Do you ever think about that? Do you ever think about when that would be for you?
I want to play until I'm 38, so I've got some time.
Email me at jordan.schultz@huffingtonpost.com or ask me questions about anything sports-related at @Schultz_Report and follow me on Instagram @Schultz_Report. Also, be sure and catch my NBC Sports Radio show, "Kup and Schultz," which airs Sunday mornings, 9-12 ET, right here.
Read more here:: Huffintonpost