By Nancy Brown

Growing up in Colorado, Kelly Meyer's kitchen was always stocked with fresh fruits and vegetables. The source of those bountiful harvests was her very own neighborhood.
She wasn't raised on a farm. Someone simply had a plot of land that they converted into a garden for the community to share. Kelly's grandpa secured a piece for their family, and everyone pitched in. She still remembers her dad teaching her to use strings and stakes to map out rows, then spacing out the seeds in the dirt.
The soil was so fertile that pretty much anything grew, and grew well. They savored carrots and cantaloupe, squash and radishes, corn and watermelon, peas and beans and beets, and more. For all the kids in this neighborhood, taking part in the cycle of planting-plucking-eating became as ingrained as tying their shoes or brushing their teeth.
Looking back, Kelly calls the lessons she learned in and around that garden "a gift." Now, countless more children and families are reaping the benefits.
Kelly is the founder of Wednesday is National Eating Healthy Day, and the focus this year is "Produce Results." I love the double meaning of that phrase. One way you can take part is by dumping leftover Halloween candy and replacing it with fruits and veggies. The other way is by following Kelly's lead and starting your own garden, or perhaps becoming involved in a community or school garden.
Kelly brought Teaching Gardens to the American Heart Association several years ago to be part of our programs aimed at ending childhood obesity. She's been a wonderful partner, and I'm thrilled to turn this space over to her to continue this discussion.
—
The spark came from my daughter, Carson.
At age 11, she blogged right here on The Huffington Post website about the poor nutritional value in the lunches at her elementary school. When she saw it happening again in middle school, she blogged about it again. She realized that if her peers didn't learn about a healthy diet as kids, they would become unhealthy adults.
I'm very passionate about protecting our environment, especially the challenges of climate change and toxic waste. Those aren't always the most exciting things to discuss. Even I was getting bored hearing myself talk about it. I needed a way to spruce up the conversation.
It hit me in the middle of the night. It's food! We've got to talk to people about the environment through food! That is where we make our first and most intimate connection to the environment. It's the micro to macro, a common ground. By starting in the weeds (figuratively and literally), and by getting kids involved, it becomes a fun subject. People support it. This way, it could gain momentum like a rock rolling down a hill instead of me pushing a boulder up a mountain.
The timing was right, too. People interested in health were embracing the role of food and, in particular, everything that goes into changing the behavior of healthy eating.
My initial vision was 1,000 gardens. We're well on our way.
Once we hooked up with the American Heart Association, one of our first big steps was creating a toolkit, a way to customize the program for schools of all sizes. Soon after, I was in Washington, D.C., lobbying about the environment when I received an email with a video of a school following the toolkit. They'd created a Teaching Garden better than I could've imagined.
My first thought was, "Wait, how can they be doing that without me?" Then I realized, "IT'S WORKING! It is scalable and replaceable, and they are doing it BETTER than I ever could. Hallellujah!"
Then, boom! It just grew and grew and grew, driven by the AHA's relationship with schools and communities. They identify the right people and places to take this one, then work with administrators, teachers and parents to make it happen. Just in the last few weeks, I attended planting days for Walt Disney Elementary School in Anaheim, California, and for a Microsoft-funded garden at Rollingwood Elementary School in San Bruno, California.
What we're doing is simple, elegant and fun. Kids can relate – I put this seed in the ground, water it and give it sun, and then something yummy grows. I then get to dig it up and eat it. (There's a great saying: "If they grow it, they'll eat it.") They tell their family about the experience and encourage them to try it. Maybe that family starts eating more carrots and fewer potato chips. Maybe that kid starts taking healthier snacks to school. That is making a difference, one person at a time.
Beyond the obvious values, there are all sorts of nuances. I like the delayed gratification. With technology teaching us to expect everything to happen right away, being forced to slow down and wait for nature is pretty cool. Then there are more kid-like nuances. For instance, I've seen kids who are scared of spiders learning that spiders help a garden, then fearlessly plunge their hands into the dirt. And I've seen troublemakers be on their best behavior in hopes of being first in line to plunge their hands into the dirt. The bottom line is, this concept has a way of clicking with everyone.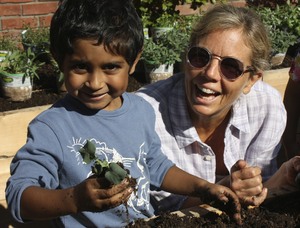 I'm not a great gardener, but I know my way around thanks to my dad. Once I learned it, it was committed to memory forever. It's like songbirds. If they don't teach their offspring how to sing a song, it's lost forever. That analogy keep coming back to me.
What really resonates are the statistics that show this program is changing eating habits. Other statistics show what an incredible change we can make by changing eating habits. That wonky part is what I love; remember, that is how and why I got into this. As much as I enjoy seeing kids enjoying themselves, the long-term payoff is what makes it credible and worthwhile.
The success of Teaching Gardens comes from the tireless volunteers who make it work by making it fun. I may have given that rock a push from the top of the hill, but it's everyone else who has helped it gain momentum. Hopefully that growing velocity shows our society is recognizing the changes we need to make, and that people are learning that through healthy eating habits and a real connection to food, we become healthy enough to recognize the connection to the health of our planet.
Who would have thought gardening could impact climate change?

Read more here:: Huffintonpost