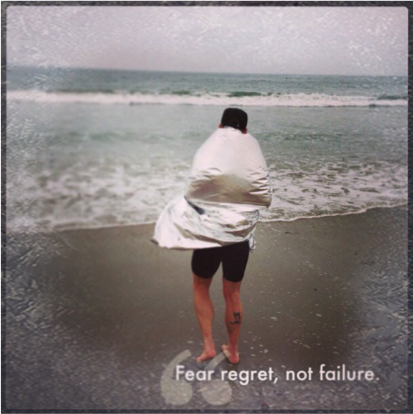 I'd like you to take a moment. Close your eyes and focus on a place where you feel safe, supported, and at peace. As this image fills your mind, notice how the worry of your day start to float away before your eyes; your breath is a little easier, and the tension in your muscles more at ease. As your mind begins to envelop the joy of this image, bring your attention back to the present, but now, feel your heart a little lighter.
We all have our happy place — our refuge from stress, pain, and at times, loss. For some, it is a place to escape to; for others, it affords an opportunity to rejuvenate, reinvent, and release. Whenever I feel out of balance or filled with a screaming disquiet in my soul, I bring myself to my happy place — and for me, that sanctuary has always been found on the road and on the trails where my running takes me.
It's said that a "picture can say a thousand words," so I thought I would share a few vignettes with you that capture all the beauty, joy, and surrender that running brings into my life. I've run over 100 marathons and ultra marathons, and on average I run 170-190 km every week, so it's not surprising that people often ask me why I run so much, but more often than that they ask, "What are you running away from?" Whenever I hear that, I smile because I don't think I'm running away from anything. In fact, I'm running towards something — a better "me."
Running is a gift that makes my life bigger and richer. My wife took this picture of me about 15 minutes after I had crossed the finish line of the LA Marathon. This photo perfectly captures everything that running means to me. It brings me around the world, and this gives me the opportunity to meet incredible people and see amazing places. But at the same time, running is a solitary activity. When I'm out for a long run, my mind slows down just long enough for me to catch up to the things that matter most in my life. Wrapped in a Mylar blanket, walking towards the cold Pacific Ocean, with every step I took, the pain and exhaustion from having just run a marathon began to evaporate, and once again running had delivered me back to "me."
An unexpected gift of running is that when you challenge yourself, and you dig deeper than you ever thought possible, you not only become immensely proud of yourself but also those who love you bear witness to the inner strength you have unearthed. In 2012, I had the privilege of running the Comrades Marathon in South Africa, a grueling 90 km run up and down unrelenting climbs through the majestic mountainous countryside. This was such an "epic" undertaking not just in terms of physical endurance, but in regards to a huge economic outlay. We decided to make the most of our trip, so we spent the week leading up to the race with a stopover in Dubai. Worried about arriving to the race on "dead legs," I foolishly went out for a long training run each morning in the extreme desert heat. The result was by the time we arrived in South Africa two days prior to the race, I was in bed suffering from severe dehydration. When I picked up my race kit the day before the race, I was filled with dread, believing that there was no way I'd be able to to attempt such a feat of endurance. When I said "goodbye" to my wife the morning of the race, both of us were uneasy about how the day would unfold. As is most often the case, the official race tracking system started to go awry, so the last report my wife received was that I had crossed the 50 km checkpoint, but then, all went silent. The "running gods" must have been looking out for me, because this photo was taken three minutes after I had crossed the finish line after nine hours of running through intense African terrain and heat. I can remember looking up and seeing Mary-Anne running towards me and wrapping my sweaty, sticky body in her arms as we both wept. Running can take everything out of me, but it always leaves me with a huge reservoir of love.
A few weeks before last year's Boston Marathon, I disclosed to my family and friends that I am a survivor of childhood sexual abuse. It's ironic that the hardest thing I've ever done was to let go of a toxic "secret" that had been eating away at me for almost four decades. My wife has stood by my side for 27 years, watching me battle addiction and mental health issues, but all the while believing that deep inside of me was a beautiful soul, but one that I never seemed to be able to recognize. Before heading down to Boston to run the marathon, I registered in a treatment center that specializes in working with adult male survivors of childhood sexual abuse. Needless to say, when I arrived in Boston to run the marathon, my emotions were raw, and I felt as though my world was crumbling around me. Little did I know that on that fateful day, my wife and I would be on the street to witness the aftershock of the Boston bombings.
When we finally made it back to Toronto later that night, both of us had no idea of the impact that traumatic experience would have on our lives, but we were fairly certain we would never return to Boylston Street and the scene of the bombings. Life has a way of changing your plans, and so, a year later I returned to run the Boston Marathon, but this time with a greater purpose. I decided to run the marathon twice in the same day in order to raise funds and awareness for other survivors of childhood sexual abuse. At 4:30 a.m., I arrived at the finish line of the marathon and headed out on the 42.2 km run to the official start in Hopkington. There, I would wait less than an hour before turning around and running the 42.2 km official Boston Marathon with the rest of the athletes.
One of the concessions for my wife to agree to return to Boston was that I would run with my phone so that she could text me throughout the race to make sure everything was fine. Immediately after heading out on the second leg of the double marathon, I started to get frequent texts from Mary-Anne telling me to watch for her on a specific corner about a mile from the finish line. I thought the frequency of these text was simply residual anxiety as a result of last year's bombings, but unbeknownst to me, she had a little surprise planned, so she wanted to make sure I didn't miss her along the course.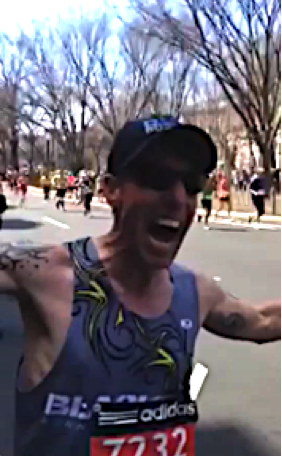 This is an image taken from a video she captured of me coming towards her in the last mile of my 84.4 km run. It wasn't until I got to within 20 feet of her that I discovered that standing beside her were my son and daughter-in-law who had flown down to Boston to surprise me. You can see the absolute joy in my face as I recognized my son standing along the barricade. But what you don't see is the flood of emotions I felt when I left them and carried on for the last mile on my own. I don't think I'll ever have the words to describe what it feels like to let go of a secret that has been haunting you your entire life, only to discover that what you thought made you "weak" and "ashamed" is in fact the very thing that makes you "strong" and "brave." Nor can I describe what it is like for a father to stand before his adult son and say, "This was me. This was my fear. But before you now, is the real me — this is your dad."
And for this, I thank you running. You are my love, my sanctuary, my divine gift.
Need help? In the U.S., call 1-800-656-HOPE for the National Sexual Assault Hotline.
Read more here:: Huffintonpost