By Sarah Klein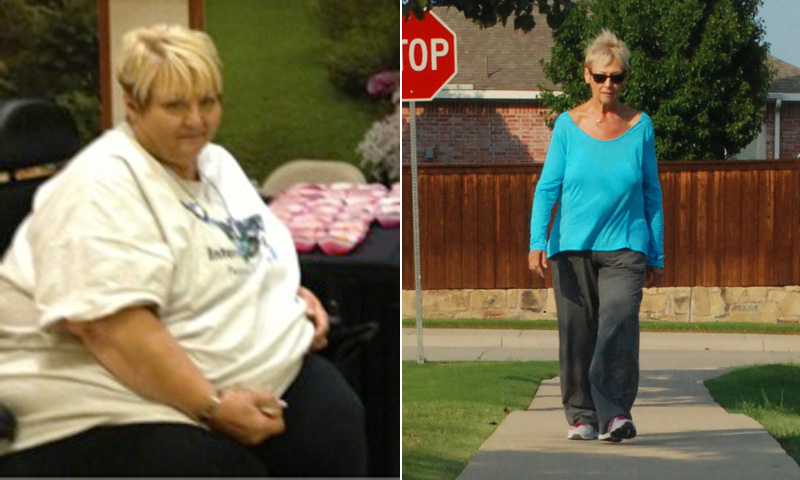 Name: Brenda Jones
Age: 60
Height: 5'5″
Before Weight: 430 pounds
How I Gained It: I've always struggled with weight. But I had developed arthritis in my knees and carrying extra weight made it worse, to the point I hurt so bad that I couldn't walk without excruciating pain. I didn't eat a huge amount at a time, but I ate high-fat meals. Chips, cheese and dips were a favorite.
If you're confined to a powered wheelchair because you weigh 430 pounds, you're getting little to no exercise. And if you're not exercising, you're probably not burning many calories. So how can you ever lose weight? And if it can't be done, why try? This was my perfectly rational analysis.
Since physical activity — even turning over in bed — was excruciating, I was virtually shut-in. My only real movement involved trying to care of my elderly father. With diabetes and arthritis, I knew my life was at risk. My workplace health screening confirmed it. But I was simply too heavy to be active and had no idea how to solve my problem. I assumed I'd need to literally starve myself to stop gaining weight, figuring my limit was 200 calories a day.
Breaking Point: Despondent, I laid out my theory to my doctor. His response changed my life. "Your math is off, Brenda, by a factor of 10. You can eat up to 2,000 calories a day and still lose weight." The skies opened, angels sang, and I ran with the information. I lost more than 280 pounds in the next 16 months, gaining control of my diabetes, quitting insulin and selling the wheelchair.
How I Lost It: I learned surprising things about food. It turned out that a snack of chips and dip can be 2,000 calories alone. I gave that up cold turkey and gradually weaned myself off other weaknesses, like pizza and cake. I gave up processed food, preferring to "eat clean," and now I crave fruit and healthy smoothies. I eat every three hours to stabilize my blood sugar and spur my metabolism, and I track calories with the MyFitnessPal app. I've even given up Diet Coke.
As the pounds started to come off, I noticed a change, but others didn't — until the day I appeared outside of my office standing up. Using two canes and breathing like a miler, I took a slow, short stroll down the hallway to applause from stunned colleagues. It was humiliating to be doing that walk with canes, but I was so determined. I just sucked it up. My colleagues joined me to support me and, increasingly, to learn my secrets.
When I lost enough weight that people started to notice, more people wanted to know how I did it, and more people started joining in the walking. They wanted what I was having. That inspired me and kept me going. I was feeding off other people, and they fed off me. The enthusiasm was contagious. We now have a legitimate walking club with 15 people. No canes.
As more pounds came off, I dialed up my activity. I joined a gym. I consulted with a personal trainer. The trainer recommended I add weights to a pool workout I was doing. Shortly after, I emerged from the pool and made my way to the cardio/weight room, where, on a hard day, I'd incline the treadmill and go for an hour. Now, I supplement these workouts with long walks around the neighborhood and started going out on the town like everyone else. I often feel the need to reintroduce myself to acquaintances.
The transformation has been so dramatic, my mind hasn't caught up with my body size. Now, if I drop something on the floor, it's tricky. I'm used to working so hard to bend over, I sometimes put too much force into the effort and nearly somersault. There's no getting around the fact that I'm an entirely new person. I'm more sociable now and happier. I saw my cousin at a family wedding, and he didn't recognize me, not only because of my physical form, but because of my inner transformation.
I've learned that transformations aren't easy, but a combination of knowledge, resolve, support and attitude can make a metamorphosis possible. Want to know my secrets?
Baby steps. If I had set out with only one goal, to lose 280 pounds, I probably would have failed. Instead, I focused on a thousand smaller steps as they came along –- standing up, trying a new healthy food, walking into a gym for the first time.
Support. Friends, family, co-workers, my employer, doctors, nurses and trainers were all generous with support, and I took advantage of it.
Patience. When I first started exercising, it was exhausting because I carried so much weight. Instead of dwelling on the difficulty, I was patient, and in time my energy levels began to climb.
Determination. Even if you have a setback, even if you break the rules from time to time, don't give up. Just don't.
The workplace. My worksite wellness program gave me the baseline information on my health, as well as weekly consultations with my company's wellness manager, information on healthy snacks and the importance of adding movement during the day, as well as some mini Zumba classes. Employers are increasingly adding services to lower health-care costs and help people like myself.
My doctor. Seeing your doctor is stated so often people ignore it, but it's good advice. Your doctor knows you, knows what's safe and can give you information you may never otherwise discover.
Having fully embraced my new abilities, I have set some new goals: riding a bike again, traveling and volunteering with the homeless. I also want to generously share my success. I'm a private person, and I didn't set out to get any attention, but if I can help someone, I'm more than happy to share. I know if I can lose a pound a week and make such a major change, I can apply that process to just about anything.
After Weight: 147 pounds
The Huffington Post publishes photographs as they are submitted to us by our readers. As told to Sarah Klein.
Got a success story of your own? Send it to us at success.stories@huffingtonpost.com and you could be featured in our I Lost Weight series!
Check out more of our inspiring weight loss stories below:
Follow HuffPost Healthy Living's board Success Stories on Pinterest.
Read more here:: Huffintonpost