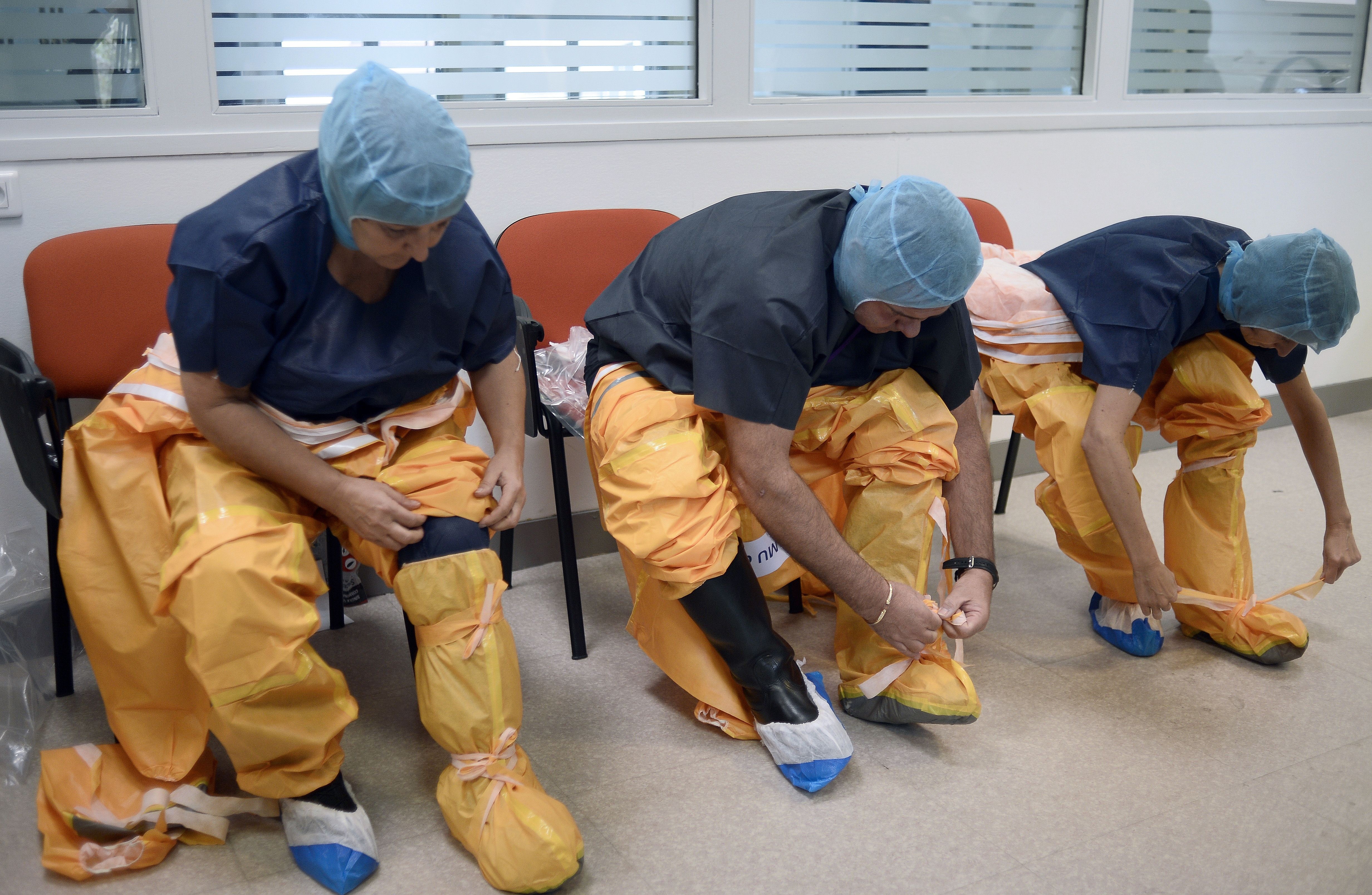 Medical staff put on protective clothes during an exercise to prepare the service in case of an Ebola virus outbreak on Oct. 24 in Paris. (Stephane de Sakutin/AFP/Getty Images)
One of the biggest humanitarian tragedies in 2014 has been the Ebola epidemic, which to date has infected 17,942 people and killed 6,388. The epidemic continues in West Africa, and there is no doubt it will impact the governments, economies and people of Sierra Leone, Liberia and Guinea for years to come. But while Ebola has affected the U.S. in a much smaller way, the handful of cases that arrived here may also have an enduring impact on the U.S. health care system.
When Ebola first came to the U.S., hospitals struggled to ready themselves for the threat. Indeed, a major part of the scramble to care for Ebola patients focused on compensating for a lack of training. But now, the formation of a regional network of hospitals ready to treat Ebola and other rare infectious diseases, as well as a growing awareness across the country that global health can and will affect residents of the U.S., signals a new readiness — and responsibility — to combat the disease and be on the lookout for future threats.
Early in December, the U.S. Department of Health and Human Services helped several states identify and designate 35 hospitals around the nation that have elevated their standards for patient isolation, staff training and personal protective equipment to safely treat Ebola patients. The hospitals were clustered near the five international airports receiving travelers from West Africa, as well as in areas with large West African communities.
Now that Ebola appears to be subsiding as an immediate global threat, the federal government hopes this hospital network will play a larger role as the first line of defense against future diseases.
"We're envisioning a regional approach that isn't only needed to limit the spread of Ebola, but will also increase our readiness training to treat other infectious diseases," an HHS official told The Huffington Post. The official, citing department policy, declined to be named. "We've seen more and more new diseases pop up over the last decade, and the reason we need this network is that we don't know what the next disease will be, or when we will have a disease that requires a higher level of biocontainment, like Ebola."
"We've seen more and more new diseases pop up over the last decade, and the reason we need this network is that we don't know what the next disease will be, or when we will have a disease that requires a higher level of biocontainment, like Ebola."
The Ebola epidemic may be the latest in a long line of health scares that have pushed hospitals forward in emergency preparedness and infection control.
Preparedness efforts around anthrax after Sept. 11, SARS, pandemic influenza (such as avian flu) and now Ebola continue to improve infection control standards in U.S. hospitals. All this helps hospitals to prepare better for the next disease or threat, according to Dr. Stuart Cohen, chief of the Division of Infectious Diseases and director of Hospital Infection Control at the University of California, Davis Health System.
"People are making infrastructure changes and really getting focused on what's necessary to manage complicated patients," said Cohen in a phone interview with The Huffington Post. "I do think there will be [disease outbreaks] after this, so that preparation won't be a one-time wonder."
To date, HHS teams have visited and evaluated at least 50 hospitals, which means more are expected to become part of the infectious disease readiness network in the near future. UC Davis Medical Center, where Cohen works, is already on the list.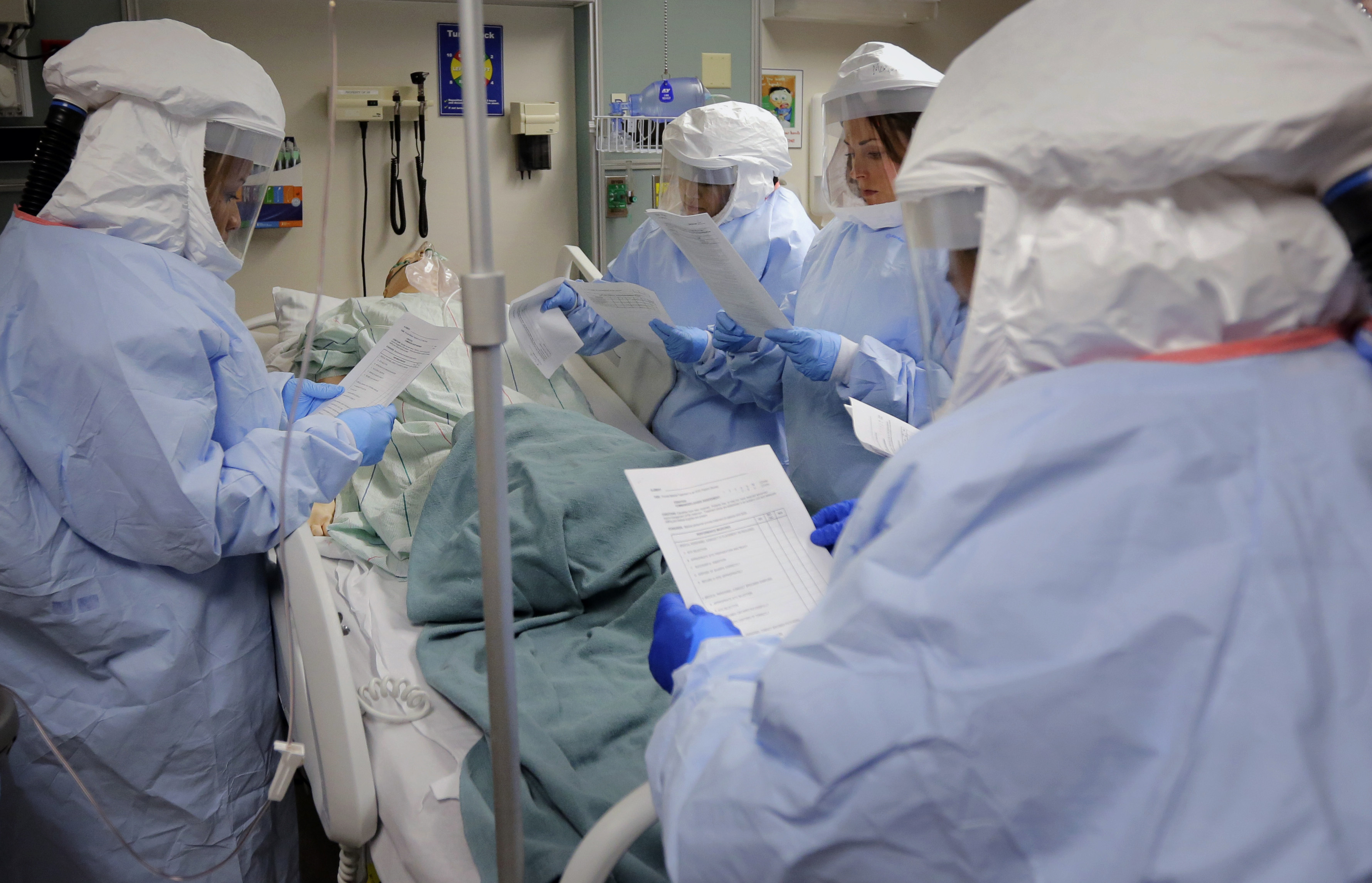 In this Oct. 24, 2014, file photo, members of the Department of Defense's Ebola Military Medical Support Team use checklists during training at San Antonio Military Medical Center in San Antonio. (AP Photo/Eric Gay, File)
Congress on Thursday reached an agreement on a spending bill that included $5 billion for fighting Ebola, including money set aside to help these regional hospitals train their staff, pay for personal protective supplies and reimburse hospitals for small retrofits to their facilities. However, the bill is only a one-time fund. To maintain the network, HHS will have to look to other sources of funding in the future, the HHS official said.
But not all experts are convinced that Ebola preparedness has applications beyond the singular virus' treatment needs. Dr. Susan Huang, a professor of medicine at UC Irvine Medical School and the medical director of epidemiology and infection prevention at UC Irvine Health hospital, argues that infectious disease staff trainings, stocks of personal protective equipment and, in some cases, new isolation units, are very specific to Ebola care, and will probably not be integrated into normal hospital routines once the epidemic is over.
Meanwhile, California, the most populous state in the U.S., has seen its worst outbreaks of pertussis (whooping cough) and measles in many years. And in the Midwest, enterovirus d-68, a mysterious and sometimes fatal illness, has been implicated in causing limb weakness or paralysis in 90 people under 21 years of age, but has been comparatively overlooked in the media.
"Whether it's cancer, surgery or other infectious diseases, all of those dollars were siphoned from those types of projects and placed into Ebola."
"We have over 5,000 hospitals [in the U.S.], but at the end of the day, probably less than 10 hospitals will have seen a case by the time the Ebola outbreak is over," said Huang.
"This abundance of caution driven by fear is causing hospitals to overconsume goods and divert dollars from other projects in the hospital that are largely to improve the quality of care," she added. "Whether it's cancer, surgery or other infectious diseases, all of those dollars were siphoned from those types of projects and placed into Ebola."
THE COST OF EBOLA PREPARATION
It's difficult to estimate how much money each hospital spent preparing to treat a potential Ebola patient, in part because improvements and upgrades were not uniform across the country. For example, the University of California, San Francisco Medical Center hastened its already planned move of cancer infusion patients to another floor, renovated "hot," "warm," and "cool" rooms for Ebola patients, purchased expensive protective gear for health professionals and is in the midst of creating lounges near Ebola patients' rooms where family members and health workers can sleep.
HHC Bellevue, the New York City public hospital that nursed Dr. Craig Spencer back to health from Ebola, upgraded two old tuberculosis isolation units and installed a point-of-care laboratory in between them to analyze patient specimens without having to transport them long distance. Other hospitals may simply be stocking up on the shoe coverings, gowns and masks recommended by the Centers for Disease Control and Prevention, said Huang.
Neither UCSF Associate Chief Medical Officer Dr. Adrienne Green, nor Dr. Ram Raju, president and CEO of New York City's public hospitals network, would reveal exactly how much money their Ebola-related upgrades cost. But in an interview with HuffPost, Raju did call Spencer's treatment an "expensive proposition," and praised New York Sen. Chuck Schumer's efforts to get a federal reimbursement for the total $20 million tab New York City racked up in caring for Spencer.
Green also confirmed that the renovations were "over and above" the hospital's budget for the year. But that doesn't matter, she said.
"We're doing it because we know it's the right thing to do for our community in Northern California," Green told HuffPost. UCSF staff seems to agree with that sentiment; so far, Green counts over 120 people from all departments in the hospital who have volunteered to be on duty to treat an Ebola patient, should one come to the hospital.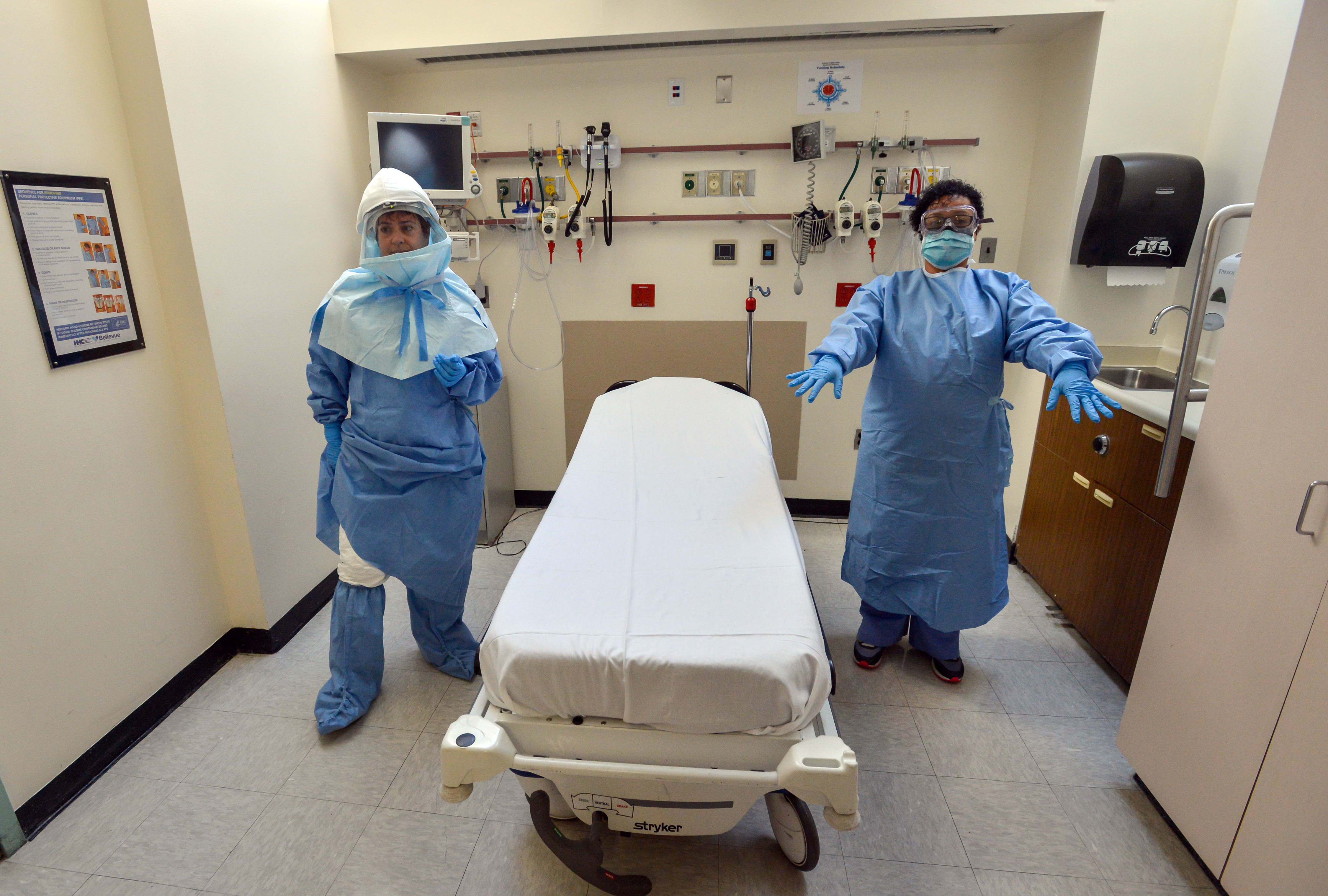 Two staff members at Bellevue Hospital in New York demonstrate and wear hazmat suits inside an isolation room. (Anthony DelMundo/NY Daily News via Getty Images)
There's another, often overlooked benefit to investing in this infrastructure, hospital public relations expert David Jarrard said: it's a shrewd, albeit expensive, way to communicate both to the public and to hospital employees that management cares about their health and safety.
"As a signal of intent to care for their community, and frankly as a signal of intent to protect their caregivers — nurses and physicians — it's almost a must-do investment," said Jarrard. "There's the external reputation issue related to Ebola and infectious disease in general, but there's also the critical internal communication; Nurses and physicians need to know that their hospital is looking out for them."
'A GOOD THING DOWN THE LINE'
Soon after Texas Health Presbyterian nurse Nina Pham contracted Ebola from caring for Thomas Eric Duncan (U.S. patient zero) in Dallas, the nurse union National Nurses United released a poll of 2,000 members, 76 percent of whom said their employers hadn't gone over an admission policy for Ebola patients. Eighty-five percent said their hospitals didn't provide a forum for nurses to ask questions about Ebola protocols. The union also organized nationwide protests outside the hospitals where its members worked, claiming that these institutions hadn't sufficiently protected nurses against potential contamination.
Since then, NNU has campaigned for, and won, an agreement from California's Division of Occupational Safety and Health and the California Department of Public Health to adopt the highest standards of care for nurse protection, above and beyond federal regulations. This requires all hospitals in the state to have comprehensive education and training about Ebola, as well as the highest levels of personal protective equipment. Cal-OSHA has also agreed to enforce the regulations — something that the nurse union is working on alongside the state safety agency.
"We're very pleased that in California, we were able to achieve these optimal standards, and we're definitely committed to ensuring that the nation adopts them as well," said Bonnie Castillo, staff director for NNU. "We'll be working on a state-by-state basis, as well as with federal OSHA, to make sure the success is not just limited to California."
Huang, who is also an adviser on the CDC's Healthcare Infection Control Practices Advisory Committee, has led UC Irvine Health's efforts to become "Ebola-ready" and said she's pleased with their efforts. Yet based on what she's seen and heard from other parts of the country, hundreds of hospitals have "overspent, overconsumed and overtrained" for a rare disease that will most likely never pass through their doors.
Cohen agreed with Huang that Ebola preparation definitely rerouted hospital resources from other, perhaps more pressing needs.
"Did we drop a bunch of stuff that we normally do in order to do the Ebola preparation? The answer is clearly yes, and everybody did, because you only have so many people working within your department," said Cohen. "But I think the big picture is that even though it's been a distraction currently, [Ebola preparation] will be a good thing down the line."
While the infrastructure for Ebola is new, a nationwide grassroots response to epidemic disease is not unprecedented: In the U.S., public health campaigns have rallied health workers and hospitals to combat and defeat diseases like polio and tuberculosis. Measles, which belonged to this category until a recent resurgence, provides some insight into how fighting a particular disease can also be eroded by waning public support.
Only time will tell if the structural changes sparked by Ebola will be a long-lasting boon to public health; what's certain, however, is that constant vigilance over our shifting health care needs will help maintain victories over infectious disease.
Read more here:: Huffintonpost