By Kimberly Yam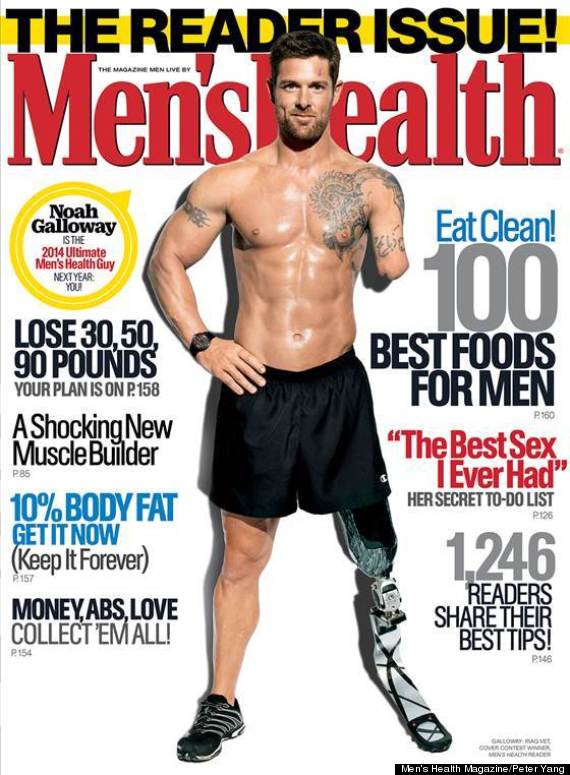 Retired Army Sgt. Noah Galloway, a double-amputee, shares his story of overcoming physical and emotional challenges in the November issue of Men's Health.
He recounted details of the explosion that changed his life. In December 2005, Galloway was serving his second tour in Iraq when his Humvee hit a roadside bomb. He lost his left forearm and left leg below the knee in the blast, Men's Health reported. He also battled depression for years after the incident.
"I'd sit at home and drink and smoke and sleep. That's all I did," Galloway told the magazine.
Five years after the incident, the retired sergeant decided it was time to make a change and picked up a rigorous fitness routine to get himself into shape. His mission to get fit has been a successful one, and the 33-year-old was chosen as the "Ultimate Men's Health Guy," featured on the November issue of Men's Health — making him the first reader to grace the cover of the publication.
The father of three was chosen out of 13,000 entries, according to Today.com. Galloway told AL.com that he was on his way to New York as a finalist to find out if he'd been chosen as the cover star when he unexpectedly got the news a little early.
"I got a voicemail from a friend who saw the cover at a Kentucky truck stop and congratulated me," Galloway told the site. "Then the text messages started coming in. I was stunned."
While the veteran says he's surprised by the results, the achievement is well-deserved. In 2010, he began competing in various races and marathons, Today.com reported. Galloway used fitness to combat his depression, and trained using his own workout methods to better suit his amputations.
"I looked back, and my depression terrified me. I never wanted to experience that again. That's why I got into races," he told Men's Health. "What kept me moving was never going back to where I came from. I wanted people to see more than my injury."
Galloway's new outlook is what he aims to share with others. He currently runs the No Excuses Charitable Fund, a fund with the mission of promoting healthy lifestyles in his home state of Alabama.
" Like Us On Facebook

Follow Us On Twitter
Read more here:: Huffintonpost