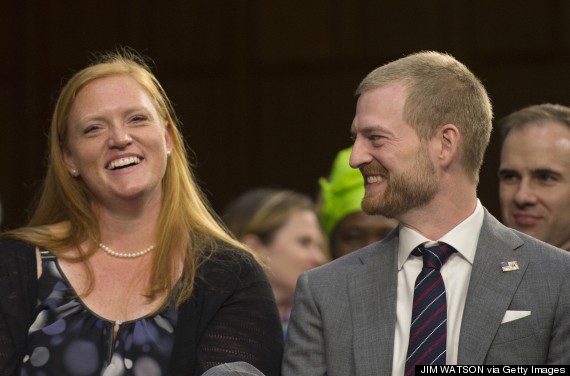 Dr. Kent Brantly, the 33-year-old U.S. doctor who survived Ebola, was driving through the middle of Kentucky when The Huffington Post caught up with him over the phone. Brantly, who was infected with Ebola while working as a missionary doctor in Liberia, was on his way to the Global Missions Health Conference to share his experience with Ebola and encourage young medical students aspiring to become medical missionaries. He spoke with HuffPost about his time in Liberia, what it was like to treat children with Ebola and why he's so passionate about fighting disease stigma in the U.S.
Before Ebola came to Liberia, what type of medical work were you doing there?
I was practicing full-spectrum family medicine at the hospital, seeing patients at the clinic and the office. I was delivering babies, doing c-sections, and taking care of babies and children and adults and old people — whatever was needed. I was a part of the team doing that.
Dr. Kent Brantly and his wife Amber at a hearing on Ebola in West Africa on Capitol Hill in Washington, DC, in September. (JIM WATSON/AFP/Getty Images)
You've talked in other interviews about the psychological darkness you faced when you were struggling with Ebola. As a physician, did you observe pediatric patients going through similar things? How did they cope with the lack of skin-to-skin contact throughout their treatment?
I'll tell you that my experience with pediatric patients of Ebola is pretty limited. In the time that I was treating patients there, we had three [pediatric] patients. One was a 14-year-old boy, one was a 10-year-old boy, and the other was a 2-year-old girl who ended up not having Ebola. So she was in our unit for a few days until her tests turned out to be negative. We were able to discharge her from our treatment unit and bring her into the main hospital.
The difficult part was seeing the trauma they [the pediatric patients] had to witness. While they were in the treatment unit, they observed and witnessed more horror than any adolescent should. There were times when, especially with the 14-year-old, there would be two or three other patients with him in the isolation unit.
One night, one of the patients was in agony and actively dying despite our best efforts. That 14-year-old's bed was kind of diagonal from that patient. We did everything we could to shield him from the sight of that patient. We moved partitions and we hung a curtain to protect him from the visual experience of seeing that person suffer. He refused to sleep that night. He would sit up in a chair all night long talking with the night crew nurses or he would sit on the back porch.
When another patient would die and we would have to go in to prepare the body, he would make himself scarce. He'd go outside the unit — still in a high-risk zone — and sit on a stump or play with a soccer ball so he would not have to witness what we were doing with that dead body. That's traumatizing. That's tragic. That's tragic for that 14-year-old and that 10-year-old. It's also traumatic for the staff to know that the horror that we are seeing firsthand, that there's a young child that is having to face that reality right alongside us.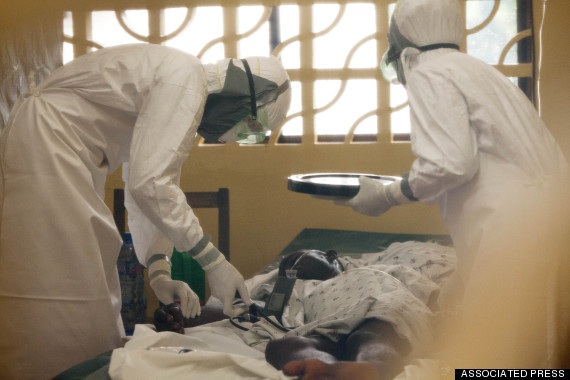 In this photo provided by the Samaritan's Purse aid organization, Brantly, left, treats an Ebola patient at the Samaritan's Purse Ebola Case Management Center in Monrovia, Liberia. (AP Photo/Samaritan's Purse)
We did try to find ways to entertain them. People would stand outside the unit and read books through the window or doorway. We gave them coloring books, pens and crayons. The 14-year-old — when he was doing a lot better but we were still waiting for him to fully recover before he could be discharged — actually requested a soccer ball. We brought him a soccer ball. One day after I went in with full PPE to do my rounds with patients, he and I went out in the grass beside the isolation unit, still in the high-risk area, and kicked the soccer ball back and forth.
There's also a big difference between a 2-year-old and a 14-year-old. [Toddlers] need to be held and comforted more than the other patients. That posed a big challenge. But also, the psychological-mental component of that for the caregivers, who are seeing this small child struggle with something as terrible as Ebola… Fortunately that patient didn't have Ebola, but she was really sick.
When we were trying to find out if [the toddler] had Ebola or not, that was a very challenging experience. We had to sacrifice one of the cribs from the pediatric ward and bring it into the Ebola treatment unit so that we could have a bed that this baby would not fall out of. Some of our nurses were incredibly creative in the ways that they were able to entertain the baby during the day. More time in the [personal protective equipment] than they otherwise would have, taking turns, being present with the child. Sometimes when we couldn't have someone in the unit, there would be someone dressed in PPE with just their mask and goggles off, sitting at the doorway, watching the child, so that they would be able to run into the unit in a matter of seconds if it was necessary. Because if someone's not sitting there dressed and ready to go in, it can take 30 minutes to get suited up. There's no emergency response in an Ebola unit — you can't rush in without doing all the proper preparation, because putting on all that protective equipment takes time.
Another difficulty in dealing with a young child like that is dealing with the parents. This child's mother was just overwhelmed with grief at the thought that her baby might have Ebola. And then once the child tested negative, it was very difficult to explain to the mother that her child was OK. She was still very sick and had to be in the hospital, but her child had become this object of repulsion for those couple of days. And now we're telling her it's OK to re-embrace her child. I can't imagine how hard that is to deal with, as a parent.
Is it because they fear that they will get Ebola?
Yes, it's complicated. They fear they might get Ebola. They're fearful of the response of the entire community. Even though the girl tested negative, as far as the community is concerned, that child is putting the rest of the community in danger. And she and her family might be totally rejected by the community because of their association with Ebola.
What are some other examples that you've seen or witnessed when it comes to Ebola stigma? And on a related note, what do you think about some of the measures some states in the U.S. have put in place for quarantining returning health workers from West Africa?
In Liberia, stigma against survivors of Ebola is very real. People are rejected by their families and their communities even when they recover and are discharged from the Ebola treatment unit. They may have no home to go to. They may not be welcome in the homes where they used to live. And when they were diagnosed and people came to decontaminate their home, all of their belongings may have been destroyed, either through the decontamination process or because their family threw all their things out into the street and burned them to ward off the possibility of facing Ebola themselves.
Here, in our country with the reaction toward some aid workers who have come back from West Africa, I think there has been a type of stigma toward a person who went to serve in the Ebola outbreak. I told a reporter yesterday, I think the use of the word "quarantine" has a lot of negative connotations. There are a lot of things people need to do when they return from working in an Ebola outbreak. They need to be under supervision, they need to be monitoring themselves and they need to acknowledge that the fear in our own society is very real. They need to behave in a way that helps minimize that fear, that doesn't propagate more fear, panic and hysteria.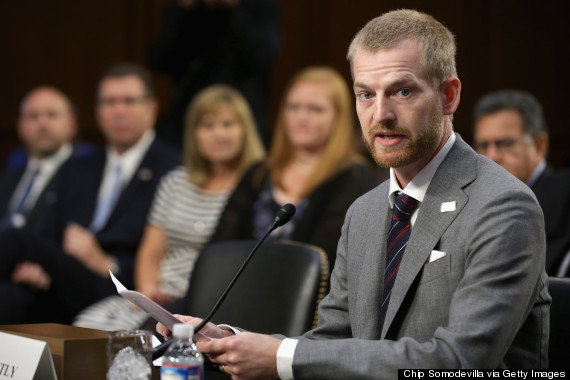 Brantly testifies before the Senate Health, Education, Labor and Pensions Committee on 'Ebola in West Africa: A Global Challenge and Public Health Threat' on Sept. 16 in Washington, DC. (Photo by Chip Somodevilla/Getty Images)
But to quarantine a person — to say you can't have contact with anyone and you have to be locked away for three weeks — that creates stigma against those returning from service. And I think that is harmful, overall, in a couple of ways.
I think it's a deterrent to recruiting more health care workers and aid workers to go work in the Ebola response in West Africa. But on a broader scale, the more we treat our returning aid workers that way, with that stigma, the more we lose our sense of compassion for the people they had gone to serve. We degrade our own humanity by decreasing our sense of compassion for people who are suffering when we stigmatize those that they're serving.
I think that it's important to share both parts of that message. It's important for people returning from West Africa to not act like they have zero risk and go about life as normal immediately. They do need to monitor themselves and modify their behavior in appropriate ways for public well-being. Not because they're a risk to the public, but because people are afraid and we need to acknowledge that. Hopefully we can overcome that through education.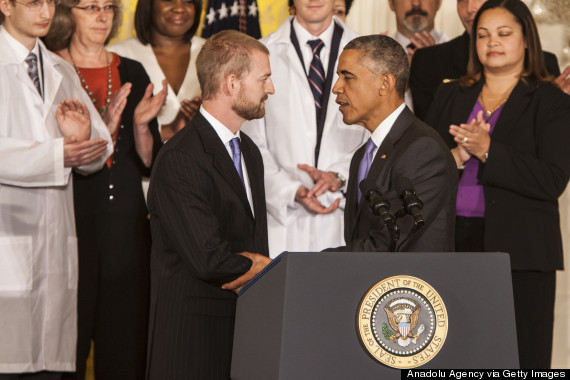 Brantly speaks on the U.S. medical community response to the Ebola virus as President Barack Obama listens during an event in the East Room of the White House on Oct. 29 in Washington, DC. (Photo by Samuel Corum/Anadolu Agency/Getty Images)
Ebola — and the stigma and fear around it — it's a lot like the HIV outbreak in the early 80s. When everyone was afraid of HIV and people were afraid of getting it from a water fountain if someone with HIV had had a drink from that water fountain. We've largely overcome that stigma with HIV in a lot of ways. You don't worry that by going to the grocery store and picking up a piece of fruit someone with HIV had touched, you might get infected. That's not how it works. You get HIV from someone who has it by having intimate contact with them.
Ebola, though a different disease, is similar in that unless you are having intimate contact and caring with someone who is acutely ill with Ebola, you're not at risk of getting it. If the public could seize on that comparison, and understand that they're not at risk for Ebola just as they're not at risk for HIV by going about their regular lives, I think it would help decrease the fear. And that would help decrease the stigma and help highlight our sense of compassion about the need for us to respond to what's happening in West Africa, where people are suffering so much.
Are you still in touch with the boy who donated blood to you [as part of your treatment]? I'm assuming this is the 14-year-old boy you treated.
I have not been directly in touch with that boy, although I have very recently been in touch with someone from his family who is going to relay a message to him from me. I was glad to hear he was doing OK.
What is your opinion on the international response to Ebola and the future of Ebola treatment?
As for the international response, I think we need to constantly be redoubling our efforts. There are some good signs of things possibly slowing down in Liberia, but that is not the case in Sierra Leone or Guinea. The people who have already gone to West Africa to help have made a difference. But there's a lot of work to do and we need a lot more health care professionals and other aid workers to volunteer and help in this fight. It is far from over.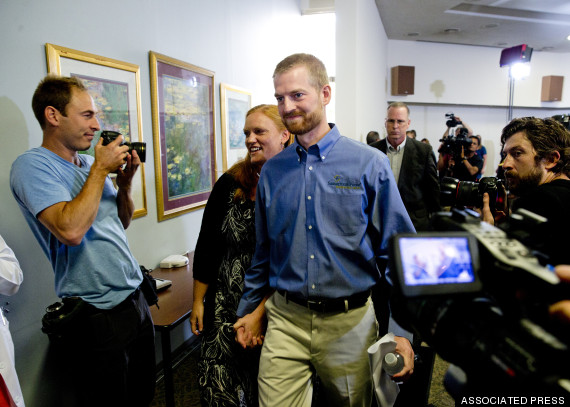 Brantly and his wife Amber leave a news conference after being released from Emory University Hospital on Aug. 21 in Atlanta. (AP Photo/John Bazemore)
This interview has been lightly edited for length and clarity.
Read more from HuffPost on Ebola:
The Uncensored Reality Of Covering Ebola As A Journalist
All The Times The World Tried To Warn Us
Why We Won't Have An Ebola Vaccine For Years
The Most Destructive Ebola Myths, Debunked
What Actually Happens When A Person Is Infected
Read more here:: Huffintonpost