By Sarah Klein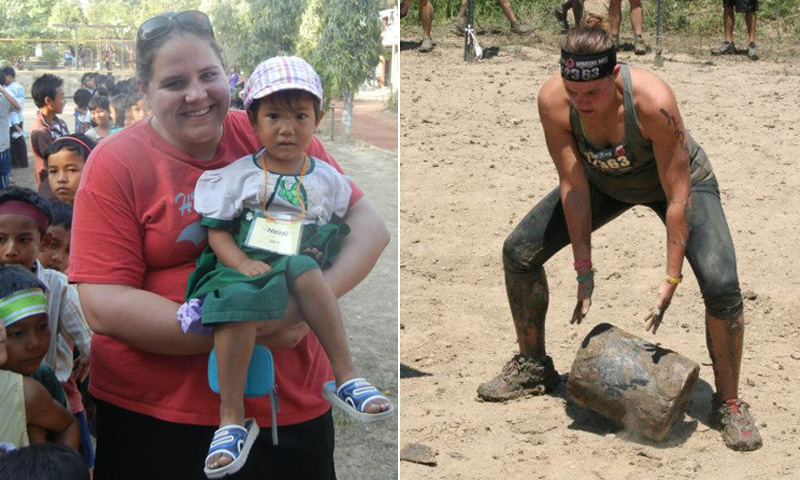 Name: Lacey Bertram
Age: 30
Height: 5'10″
Before Weight: 285 pounds
How I Gained It: I gained weight simply by being what I would consider lazy, unmotivated and unfocused. I had always been bigger, and I thought I had come to grips with the realization that I simply was destined to be that way for the rest of my life. As a lifelong athlete, I also was under the impression that as a relatively active person, I was invincible to the effects of excess weight. I was complacent.
Breaking Point: I stopped being asked to play softball because I simply wasn't as good as I used to be. When I was in college and at a smaller, healthier weight, I was playing six to seven days a week, traveling on weekends and spending even my free time at the softball field trying to pick up a few games here and there. When people stopped calling me to play and when I would overhear faster people complaining about having to bat behind me because I was so slow, I knew it was time to make a change. I was simply tired of being the way I was.
Additionally, at the time, I had a 3-year-old niece. I could not stomach the thought of that little girl remembering me as being anything but fit, and if I was going to make a change, I had to do it right then and there. I also knew that a person's metabolism slows down after around age 30, and I was getting dangerously close to that number. I was determined to be in the best shape of my life at age 30.
How I Lost It: My degree is in Exercise Science. I knew how to lose the weight, but I lacked the motivation and desire. It is easy to remain overweight. It is easy to eat whatever you want. It's not hard to lose weight, but it's hard to keep determination when the scale doesn't change or when you feel like you're depriving yourself of the good things in life.
In June 2012, I went to my family doctor after having a blood test at work. At 28, I was showing signs of pre-diabetes and high cholesterol. I told my doctor that he would never see me like that again. A month later, I had lost 30 pounds. A month after that, another 25 or 30.
I put myself on a strict diet, consuming around 1,200 calories a day (the minimum generally recommended). I joined a gym and swallowed my pride in hiring a personal trainer for added accountability. That was a tough pill for me to swallow, as a lack of knowledge in lifestyle modification wasn't the issue, it was laziness. I chose the most experienced and knowledgable trainer I could find, the owner of my gym. I promised him I would be his success story.
After losing about 45 or 50 pounds, I also started running. It was more like fast walking, with 20 seconds of slow, ugly jogging here and there. I decided that I was going to run a 5K. When I started the Couch to 5K program, I could not physically run for more than 30 seconds at a time. It wasn't comfortable. I had a knee surgery in 2010 that had never fully healed, and I also discovered I had at least one stress-fractured vertebrae in my back that was developing bone spurs.
My determination (and stubbornness) is what enabled me to keep going. The idea of quitting and not accomplishing my goals was harder to swallow than any embarrassment. Age 30 was closing in on me. I ran my first 5K without walking in April 2013. I ran a local half marathon in October, and since then I've done three more, a 50K, multiple trail races, multiple obstacle course races and more, some with my running team, Team Illuminati.
On my 30th birthday, I paid to have my hair and makeup done. I bought a new, bright red dress. My friends had a get-together planned for me. I'll never forget the feeling of walking downstairs to friends, all dressed up, knowing that I did it. I was in the best shape of life, 115 pounds later. I did it.
I have been able to push my body to extremes that I never imagined possible. I have been called an inspiration for the very first time in my life. I can look in the mirror every morning and be proud of what I have accomplished. I have gained confidence I didn't think I could have. I have learned how to be happy with my single relationship status knowing that it is my choice to be a strong, independent woman.
Because of me, my soon-to-be-59-year-old mother has also picked up running and is slowly gaining her health. For the first time in my adult life, I know that not only is a fitness-related goal possible to achieve, I know that any goal is possible to achieve if I'm willing to make sacrifices and dedicate 110 percent of my energy to it. Though I continue to chase my goals of running faster, running longer, becoming stronger and continuing to shape my body to the absolute best of my ability, I am happy. Losing 115 pounds meant living and loving life as opposed to simply existing.
After Weight: 170 pounds
The Huffington Post publishes photographs as they are submitted to us by our readers. As told to Sarah Klein.
Got a success story of your own? Send it to us at success.stories@huffingtonpost.com and you could be featured in our I Lost Weight series!
Check out more of our inspiring weight loss stories below:
Follow HuffPost Healthy Living's board Success Stories on Pinterest.
Read more here:: Huffintonpost