By David Moye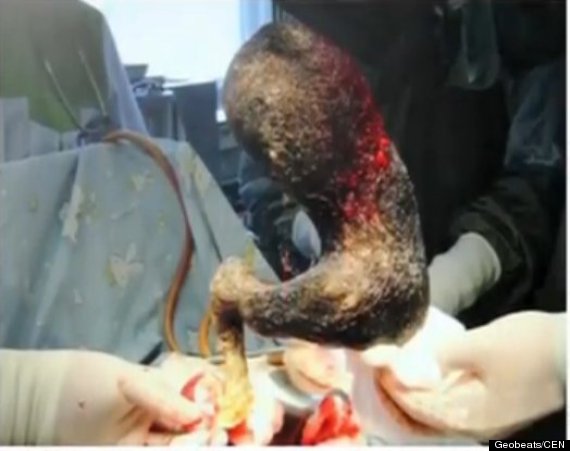 A 18-year-old girl in Batken, Kyrgyzstan went through a hair-raising medical procedure in order to have a nine-pound hairball removed from her stomach.
Ayperi Alekseeva was admitted into a hospital recently after she complained of stomach pains so severe that she was unable to eat anything, or even drink water.
X-rays revealed the hairy blockage and realized they needed to operate quickly.
"It was actually the only alternative, nothing else would solve the problem," surgeon Bahadir Bebezov said, according to News.com.au.
Bebezov said the hairball formed in Alekseeva's stomach because she had a nasty habit of picking up hair from the carpet and eating it and also chewing the tips of her hair.
"In fact her stomach was so badly swollen from hair and bits of wool from the carpet that it literally just oozed out as soon as the wall of the stomach was cut," Bebezov said according to the Telegraph.
After going through the ordeal of major surgery, Alekseeva has promised her hair-eating days are over.
She's not the only person who paid a price for having a bizarre taste in snack foods.
In October, 2012, doctors in Indore, India removed a hair ball weighing nearly four pounds from the stomach and small intestine of a 19-year-old girl.
Like Alekseeva, she too had a taste for hair, but combined it with chalk.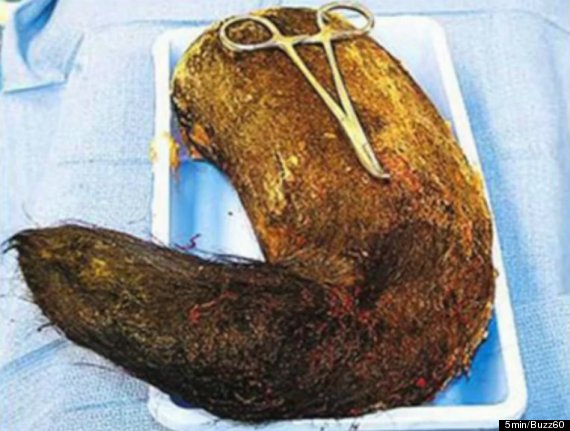 Like Us On Facebook |

Follow Us On Twitter |

Contact The Author
Read more here:: Huffintonpost