By Sarah Klein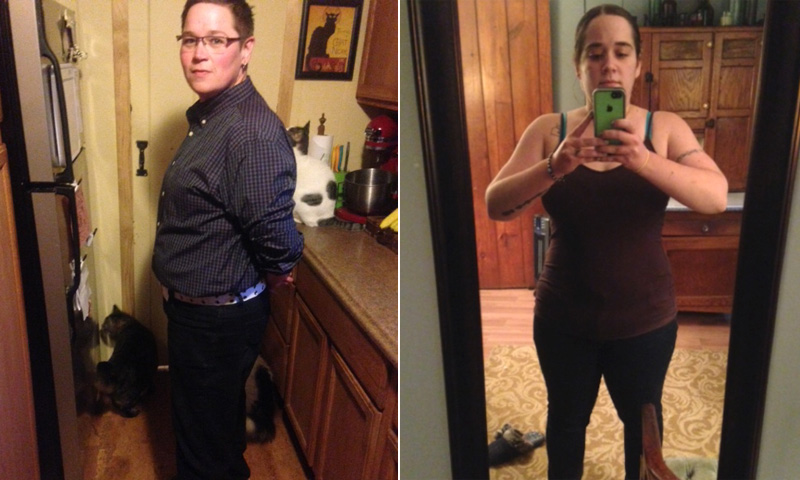 Name: Arianna Carparelli (right) and Michelle Anderson (left)
Age: Arianna: 28, Michelle: 38
Height: Arianna: 5'2″, Michelle: 5'6″
Before Weight: Arianna: 245 pounds, Michelle: 270 pounds
How I Gained It:
Arianna: I was always a chunky kid, nothing crazy, but never too thin, and I was always fine with that. My parents didn't cook meals for us kids much, so I lived on school lunches (my favorite being cheese fries), frozen dinners and frozen pizzas. I was fairly active in high school with a few sports, so I managed to keep my weight fairly in check and graduated high school at about 175 pounds.
I met Michelle when I was 19, and when I moved in, the weight started to come on. I've always loved to cook, and now I had my own kitchen to do it in. I cooked large, heavy meals often and baked a lot. Over the next eight years, I went from 175 to 245.
Michelle: I also was always a heavy kid. I graduated high school at an acceptable 180 pounds. The next eight years of my life were very difficult. A combination of medications and stress ballooned my weight up over 300 pounds. Coming off the medications let me lose some of it, but I stayed at a constant 270 pounds.
Breaking Point: The breaking point for us was shared. In August 2013, we went in for a doctor's appointment for Michelle and were told by the doctor that they wanted to put her on a third diabetes medication. We both looked at each other and then said to the doctor, "No more medications." Michelle wanted a chance to lose the weight. The doctor was on board with the plan, though a bit doubtful that we would succeed.
How I Lost It:
Arianna: We went home that day and I cleaned out the kitchen. I filled up a few grocery bags with all the junk food, processed food, anything overly starchy and anything with sugar and donated it to the local food pantry or to my friends. We started cutting out sugars and white starches and eliminating processed food and fast food. Our first goal was to get Michelle's disease in check. We did not limit our fruits or veggies and started to adjust to our much healthier diet. We did that for about five months and both lost around 30 pounds.
After that we started to hit a plateau, so we added in the use of the MyFitnessPal app on our phones to start tracking all our food, aiming to eat about 1,200 calories a day. I cook three meals a day, from scratch, every day. I pack our breakfast, snacks and lunches every day for work. It's been 14 months and we have now both lost almost 75 pounds apiece! Michelle is now off all of her diabetes and cholesterol medications. We have worked in a bit of exercise, hiking on the weekends since we live in the mountains, but generally stay active by working on various projects in our old home. We still have a little ways to go but have come so far now, there is no looking back!
My advice to those looking to lose weight: Do your own cooking! Learn about food and teach yourself to cook! The more you understand the food and how it works for your body, the easier it is to make good food choices.
Current Weight: Arianna: 173 pounds, Michelle: 195 pounds
Goal Weight: Arianna: 150 pounds, Michelle: 170 pounds
The Huffington Post publishes photographs as they are submitted to us by our readers. As told to Sarah Klein.
Got a success story of your own? Send it to us at success.stories@huffingtonpost.com and you could be featured in our I Lost Weight series!
Check out more of our inspiring weight loss stories below:
Follow HuffPost Healthy Living's board Success Stories on Pinterest.
Read more here:: Huffintonpost