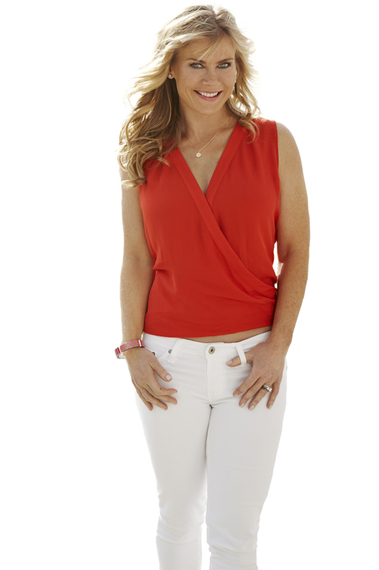 Alison Sweeney is many things: an actress, a television host, an author, a wife, a mother. She is also an athlete. Inspired by her ultra-fit colleagues and the contestants who are so determined to achieve epic goals on the Biggest Loser, Ali decided to run her first marathon in Los Angeles. Since completing her 26.2-mile goal, Ali has continued to participate in races. Realizing that running is a simple, easy workout that can be done anytime and anywhere, Ali has made it her go-to exercise, helping her maintain a healthy mental and physical lifestyle. This fall, she will be lacing up her running shoes for a great cause.
Ali will host and run Women's Health magazine's RUN10 FEED10 philanthropic race and wellness event in Chicago, IL on Oct. 19. The concept of the national race series is simple — run a 10k and feed 10 people in your community.
Women's Health sat down with Ali to talk about her tips for training for the race that will hopefully inspire more people to join her in this cause to help fight hunger in the U.S.
Women's Health: You are working with a great trainer. What are some of the tips he has given you?
Alison Sweeney: My trainer has always stressed the importance of form. He's worked with me on the best ways to protect my IT band and that speed isn't as important as control.
WH: Are you a morning or a night runner?
AS: I prefer to run in the mornings, especially when I'm traveling and want to get in a run before starting my workday.
WH: Do you prefer to run inside or out? What are some of your favorite places to run?
AS: I never liked running outdoors before I trained for the L.A. Marathon, but since then, I much prefer to be outside. I love running through Central Park when I'm in New York. When we were on location in Washington D.C., it was so inspiring to me to run past the monuments.
WH: How do you fit in a workout when you have a crazy schedule?
AS: I schedule a workout into my day just like I do any meetings or appointments. By making sure that my gym bag is with me, and building it into my calendar, I don't have an excuse to not work out.
WH: What are your favorite pre- and post-running snacks?
AS: Before my run I tend to make a blueberry smoothie and after I'm all about drinking lots of water.
WH: Tips for recovering after a long run?
AS: After a long run, I've realized the most important thing for me is to take time to stretch. It's the only way that I can recover for my next run!
WH: Have you struggled with anything while training?
AS: My biggest struggle is always my IT band and hoping it holds up.
WH: What is something you want to improve on?
AS: I need to improve my consistency, with my schedule, I sometimes have weeks when I can get in a workout no problem, and then sometimes it's the opposite. I would love for that to even out.
WH: Training for a race can be hard and daunting. How do you stay motivated?
AS: I always make sure to have great music playlists. With energizing songs, I'm excited for the run ahead.
WH: So what would some of your favorite songs be?
AS: Songs that really motivate me, like Journey's "Don't Stop Believin.'" But sometimes I skip ahead to find "Paper planes" by M.I.A. — that song has the perfect rhythm for me when I just need the beat to help me put one foot in front of the other!
Run with Ali at Chicago's RUN10 FEED10. Sign up at www.run10feed10.com.
Reporting by Lindsey Benoit, Director of Communications and Special Project at Women's Health magazine.
About RUN 10 FEED 10: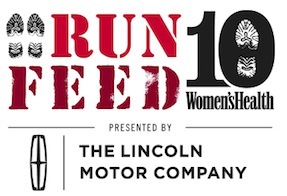 Women's Health and FEED host the 3rd annual RUN 10 FEED 10 national philanthropic race series to help fight domestic hunger. The concept is simple: register to run a 10K and feed 10 people in your local community. RUN10 FEED10 will host timed races at New York City's West Side Highway (9/21), Chicago's Diversey Harbor (10/19), and across the famed Golden Gate Bridge in San Francisco (10/26). Additionally, runners can participate in "Fun Runs" in cities including Minneapolis, MN, Denver, CO, Houston, TX, Los Angeles, CA, Phoenix, AZ, Atlanta, GA, Boston, MA and Washington D.C. If runners do not live in one of the Women's Health host cities, they can still participate by registering on Run10Feed10.com and using the RUN10 FEED10 training app, created by WalkJogRun, to plot their own course and run their own 10K anytime. To find out more go to run10feed10.com.
Read more here:: Huffintonpost