By Sarah Klein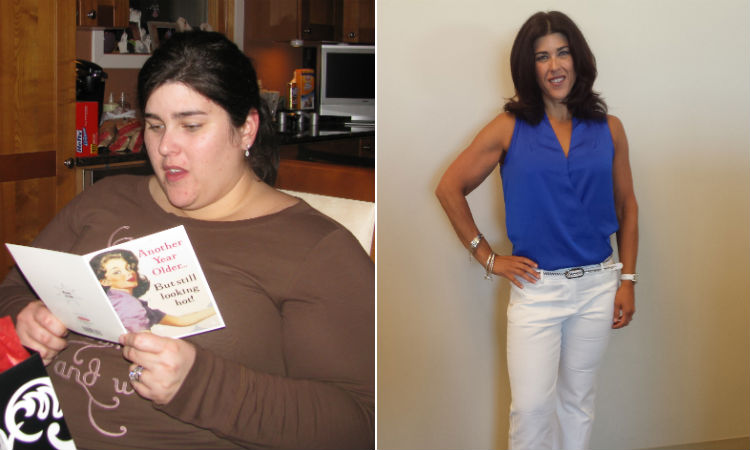 Name: Jamie Morgan
Age: 38
Height: 5'8″
Before Weight: 368 pounds (I was heavier, but only began tracking in January 2010.)
How I Gained It: The drive-thru speaker crackles: "Welcome to McDonald's, can I take your order?"
Me: "Um, I'm ordering for my family, so I'll take two double cheeseburgers, one quarter-pounder with cheese, super-sized, one nine-piece chicken McNuggets, one order of chocolate chip cookies."
The speaker: "What would you — or, um, your family — like to drink?"
Me: "A Diet Coke."
Once they passed me the food, I hurried to a remote corner of the lot and started eating. Bite for bite, the cycle was the same every time: euphoria, pleasure, reward, numbness and disappointment, in that order. The lasting disappointment always faded into guilt and shame, ultimately propelling me through the drive-thru line at the very next meal. I was living on a constant diet of pizza, cheeseburgers, fried food and sugary desserts. Nothing was ever enough (and it never would be) until I identified the hunger I was feeling wasn't actually physical, or even mental. It was driven by pure and profound emotional longing for protection, love and to be seen for who I really was: smart, funny, driven and passionate. But what I didn't realize until much later was that I was also eating in an effort to keep everyone from seeing my flaws, too. The physical ones had been on display for so long, I didn't think I could stand the ridicule on those less visible. This cycle of reclusive bingeing insulated me from others and reinforced my observation that despite being the biggest person in the room at any given event or function, I was consistently overlooked and ignored, as if I didn't exist or even matter. Adults would shun me at social gatherings and strangers next to me in airline seats would ask to switch seats, "so both of us would be more comfortable."
"But you have such a pretty face!" It was all I heard, all the time. All my life (and I do mean as far back as I can remember) that was the only compliment about my appearance I received. Observers glossed over my body size, ignoring the obvious. Those who were brave enough to address my weight became immediate enemies whom I was quick to write off or mount a pity-fueled mental campaign against. I was deep within an endless cycle of private binge eating coupled with a reclusive and sedentary existence.
Breaking Point: The past and present losses I'd experienced in my life (child of divorce, victim of molestation, sudden loss of my mother, job loss and subsequent brink of bankruptcy) shut me down completely, and I didn't want to partake in daily life, let alone social or professional endeavors. I opted out of countless parties and social events, projects and promotions at work because I was too afraid to put myself out there for fear of being ridiculed for the way I looked or how I ate. Like many others in my situation, I always ate very little in public. It was only with close friends and family that I served myself larger portions. And it was in complete privacy that I threw all caution to the wind and ate with reckless abandon until I couldn't feel the emotional hunger I was trying to dull anymore. It wasn't until someone I loved and trusted called me out by saying, "I think you're deeply depressed," that I realized I wasn't fooling anyone.
How I Lost It: I sought counseling, something I had put off for so long after the loss of my mom because I knew the can of emotional worms it would open. I knew, though, that if I had to wake up another morning with a feeling of dread, completely overwhelmed by what I had done to my body, mind and spirit, I wouldn't live to see my 40th birthday. And, quite honestly — some mornings — I didn't even think I wanted to. I had let myself get up to almost 400 pounds, a size 30+, and all the love and support from my husband and family didn't matter. I needed to love and support myself. It started with believing I was worthy of that love. I was so busy longing for others' love that I completely ignored the critical factor that the key to healing and recovering began with loving and accepting myself first.
About six months into counseling, I realized I wanted to do something about my lifestyle. I began to educate myself on food and exercise and their effects on the human body. A year after I started counseling, I was ready to accept the truths around sustainable weight management and began seeing a registered dietician, who gave me the tools I needed to address my eating. There are no magic pills, diets or quick fixes, just small, sustainable changes.
Exercise became a daily endeavor. Before I knew it, that endeavor turned into a joy and escape from the body I had hid in for so long. The final piece in my transformation puzzle fell into place when I began building a network of people outside my immediate circle who had a positive influence on my new lifestyle. This often-overlooked component was the absolute game-changer for me. My social circle quickly grew to include other fitness and healthy lifestyle enthusiasts, personal trainers, coaches, bodybuilders and triathletes. We all shared this common passion for wellness and vitality, and soon I started to adopt an athlete's mindset. That allowed me to pursue the one dream I never thought I could: competing in my first figure competition. The idea that one day I would be mentally and physically fit and healthy enough to stand onstage and be judged for the way I looked and performed would certainly put the demons I'd chased for so long to rest.
Four years later and 210 pounds lighter, I realize that the power to change and sustain my health was in me all along. It's been an amazing journey, and my outlook on food, my body and my life has changed immensely. I'm learning to love myself more every day, and loving myself means taking care of myself. That starts and ends with what I put in my body and how I choose to challenge it. Others have told me my outlook and enthusiasm are contagious, and many have asked me for guidance on how to begin their own journey. I know the pillars that fueled my transformation are critical for long-term success, and I base my feedback to others on that fact. I quickly realized I couldn't contain my enthusiasm for the potential that changes like these can have on the lives and well-being of others, so I decided to leave the corporate world behind to start my own healthy lifestyle coaching practice. I am truly inspired and completely impassioned to help others take advantage of the profound impacts emotional wellness, nutrition and movement can have on every aspect of life.
After Weight: 158 pounds
The Huffington Post publishes photographs as they are submitted to us by our readers. As told to Sarah Klein.
Got a success story of your own? Send it to us at success.stories@huffingtonpost.com and you could be featured in our I Lost Weight series!
Check out more of our inspiring weight loss stories below:
Follow HuffPost Healthy Living's board Success Stories on Pinterest.
Read more here:: Huffintonpost