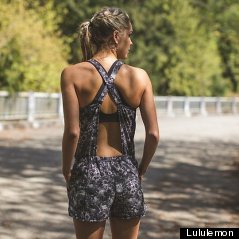 First it was Lululemon's Runsie, and now Brooks is set to grace us with a running romper in 2015.
Photo from Lululemon
But every runner we've talked to about the prospect of running in such a getup has the same question: Why?
Why make it even more difficult to peel off sweaty workout clothes? Why make it even more difficult to make a quick bathroom pit stop, mid-run? Why guarantee you'll be running with a wedgie?
The idea turns off us so completely, we can think of countless other things we'd rather do in these (undoubtedly!) cute designs. Please, just don't make us run in them.
1. Wear it as a beach coverup.
2. Wear it as pajamas.
3. Bowl.
4. Go to the club.
5. Use it as an apron while cooking.
6. Wear it as a smock while cleaning the apartment.
7. Wear it to go to a party we only plan to stay at for 10 minutes (and then go to bed).
8. Garden.
9. Run Do errands.
Read more here:: Huffintonpost