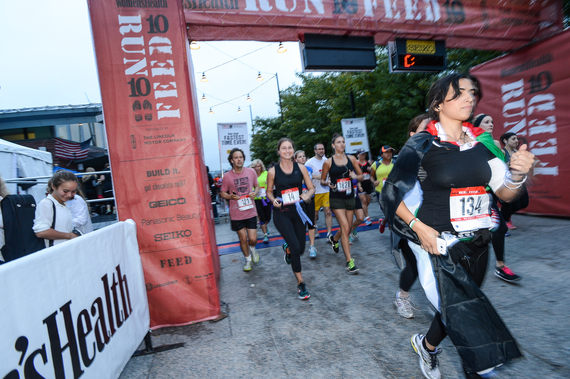 By Caitlin Carlson
Trying new things is particularly important when it comes to fitness. Doing so not only staves off boredom (which kills motivation to exercise — period), but also helps keep you body guessing so you'll continue to see results from your hard work. And what better way to do just that than to sign up for a race distance that you haven't yet conquered? Of course when you're new to anything, be it fitness-related or not, you're bound to have tons of questions. Aside from running-specific advice, there's nutrition, gear, and sports psychology to consider! Here, I've called out five of the most common questions we hear from virgin 10k runners prepping for the Women's Health Run10Feed10 race. Whether you're running one of our upcoming races, or just thinking about signing up for a 10k in the near future, these answers should come in handy!
Do I need to "carb up" before the race?
Nope. While taking in more carbs in the days leading up to longer distances, like the marathon, is advised, it's not necessary for a 10k. You do, however, want to be sure you're eating smart, well, always, but especially so in the week before your race. Particularly important is race day morning. The most unbreakable rule: Do not try anything new! Test out different foods during your training to see what sits best for you. It's a personal thing, but foods like peanut butter and a banana, oatmeal, or yogurt with honey tend to work well for many runners. Just be sure to get a good mix of carbs and protein (primarily the former) and allow time for it to digest before the race (or training run).
What gear do I need?
Absolutely invest in a good pair of running shoes. Dusting off an old pair you retrieved from the depths of your closet is a recipe for disaster. Instead, head to your local running shop that offers a run analysis on a treadmill. An associate will take into account the miles you'll log while training for your 10k in addition to things like whether you pronate (your foot rolls inwards when you land), and foot arch height to give you a recommendation. Also key is weather-appropriate clothing in a sweat wicking fabric — even if it's cold! (More important: Make sure you wear it before race day to avoid wardrobe malfunctions and chafing.)
What about a GPS watch?
While these are super helpful for helping you stay on track with your goals (say, for instance, if you're aiming to run the 10k in under an hour), it's not necessary. And it can actually have the opposite effect by making you obsess over maintaining a certain pace. Experts often advise runners to do a few runs per week based on time and perceived effort rather than mileage and pace. So if you opt to pony up for a watch (I like the Garmin Forerunner 220), consider leaving it at home on race day or during at least some of your training runs.
What do I need to know about the race itself, logistically?
It's smart to scope out the course before race day (you can typically find the course map on the event's website). Note any major hills, where the water stops and bathrooms are located, and the number of turns/curves (believe it or not, hugging the turns in your race can actually help you save seconds and maybe even minutes!). You'll also want to find out how and when you can pick up your bib, and if all runners start together, or in waves. If it's the latter, find out which wave you're in (it's generally based on your speed so if you're new, you'll likely be in the last wave). That means you won't begin the race at the official start time, which can affect how and when you eat and decide to take your final trip to the port-a-potty!
How I can calm pre-race jitters?
Make race day as stress-free as possible by arriving early and laying out your clothes (and pinning on your bib and attaching your time chip) the night before. If those butterflies still get to you on the starting line, try a visualization exercise (used by sports psychologists and pro athletes). Close your eyes and visualize yourself out there absolutely crushing it! Besides calming your nerves, a study in The Journal of Strength and Conditioning Research found that visualizing up to two minutes before racing can actually help you to run faster (not to mention what it does for your confidence).
–
About the author: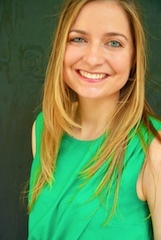 Caitlin Carlson was named Associate Fitness Editor of Women's Health in 2014. Caitlin's responsibilities include writing and editing front-of-book articles for the fitness section of the magazine and writing fitness features. Additionally, she writes and oversees fitness content for WomensHealthMag.com. Prior to her role as Associate Fitness Editor, Caitlin was Women's Health magazine's Assistant Editor. Prior to joining Women's Health, Caitlin wrote for Runner's World UK in London.
About RUN 10 FEED 10: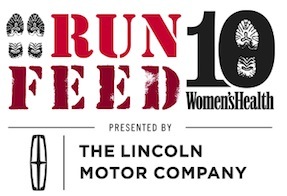 Women's Health and FEED host the 3rd annual RUN 10 FEED 10 national philanthropic race series to help fight domestic hunger. The concept is simple: register to run a 10K and feed 10 people in your local community. RUN10 FEED10 will host timed races at New York City's West Side Highway (9/21), Chicago's Diversey Harbor (10/19), and across the famed Golden Gate Bridge in San Francisco (10/26). Additionally, runners can participate in "Fun Runs" in cities including Minneapolis, MN, Denver, CO, Houston, TX, Los Angeles, CA, Phoenix, AZ, Atlanta, GA, Boston, MA and Washington D.C. If runners do not live in one of the Women's Health host cities, they can still participate by registering on Run10Feed10.com and using the RUN10 FEED10 training app, created by WalkJogRun, to plot their own course and run their own 10K anytime. To find out more go to RUN10FEED10.com.
Read more here:: Huffintonpost