By SELF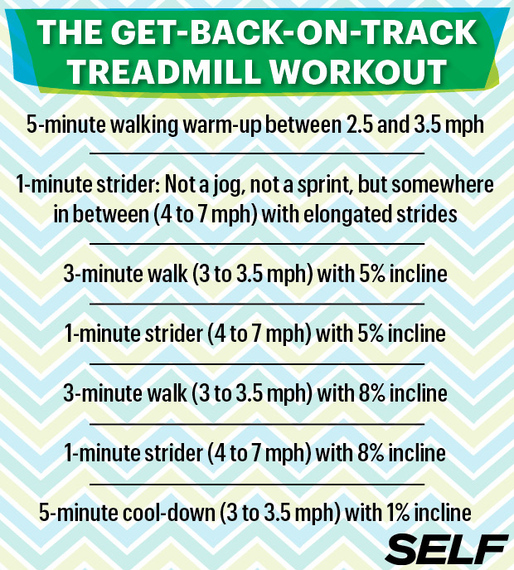 By Amanda MacMillan, SELF
Hate the dreadmill? These high-intensity interval routines will challenge your body and your brain, boosting your fitness level as the minutes fly by.
The Get-Back-on-Track Workout
The treadmill is the first place many people head when entering (or re-entering) a gym, says Andia Winslow, a personal trainer and sports performance coach at The Sports Center at Chelsea Piers in New York City. "Too often, though, their mind is elsewhere — and speed, incline and overall intensity is far too low to affect major metabolic change," she says. This routine keeps you engaged in the workout while gradually increasing intensity — no texting while trotting here!
The SideWinder Workout
Think you can't get a good treadmill workout without running? Think again. This walking-only routine targets the hips, gets your heart rate up and improves balance, says Katina Brock a personal trainer at the Biggest Loser Resort and fitness advisor for Motility Training, a mobile fitness app. "Don't let the lower speeds fool you," she says. "The amount of effort and sweat this produces will surprise you."
*Note: While walking sideways, use a light touch on the rails for stability but do not support with arms. Keep feet pointed to the side of the treadmill, not forward. You can shuffle feet together and apart or, at slower speeds, cross one foot behind or in front of the other.
The 5-4-3-2-1 Workout
This workout from Brock has blocks of descending time, and each one (including a Tabata routine) is completely unique. "If you love variety and can't decide between HIIT training, endurance work, gradual climbs or incline, than this is your workout," she says. "Before you know it, you're done!"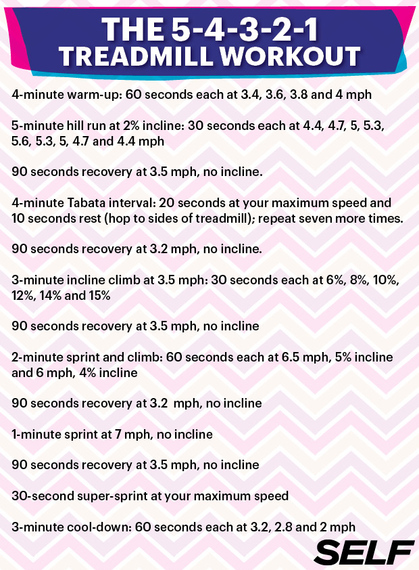 The Sprint-Ladder Workout
This routine, for experienced runners, takes you all the way up to a 6-minutes-per-mile pace — but don't worry, it's only for 30 seconds at a time. If these intervals feel too difficult for you to complete safely, do them at your fastest comfortable pace. (Huffing and puffing is a good thing, but flying off the treadmill is not!)
The Gauntlet Workout
Mix up your regular treadmill workout by incorporating a few full-body strength moves in between running sets. Hopping on and off the treadmill will keep your heart rate up and your body in prime calorie-burning mode, says Shinoskie, plus it puts harder-to-work muscles (like your arms and core) front and center.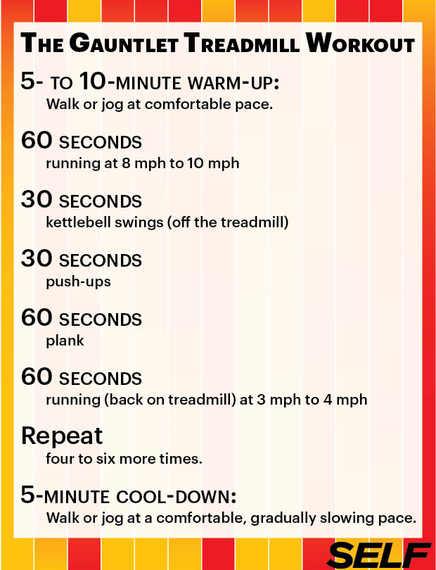 Click here for five more boredom-busting routines.
design: Cheryl Carlin
More from SELF:
1 Ingredient, 2 Recipe Dishes You've Gotta Try
20 Superfoods For Weight Loss
How to Lose Weight and Feel Great in 7 Days
5 Simple Steps to Cellulite-Free Skin
Sneaky Stomach Slimmers
6 Moves To Resize Your Butt and Thighs
Read more here:: Huffintonpost